Last week I managed to escape the confines of the office and accompany Derek Brockway and the team as they completed the last of the walks for a new Weatherman Walking TV series beginning in January 2011.
The weather was spectacular with blue skies and sun every day and apart from the odd blustery day (thanks to those easterly winds) - stayed remarkably warm too.
On Monday, with our trusty guide Kerry in tow - we wandered through the very heart of the Rhondda - starting in Blaencwm woodlands and hiking up to top of Pen Pych before trekking down past waterfalls and lakes and winding up on the Rhigos Pass which took us back to civilisation.
Derek next to one of the waterfalls on the walk: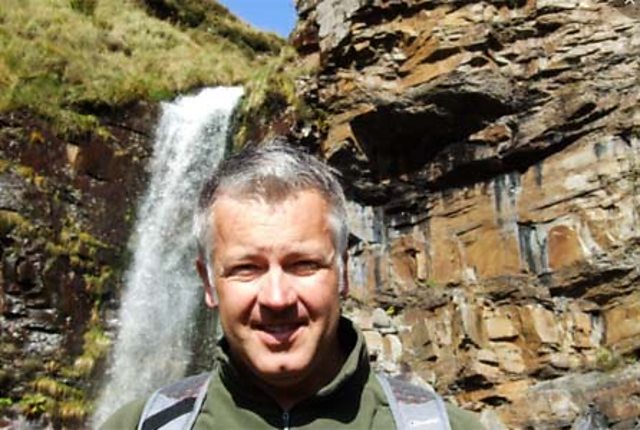 On the trek we took in some of the areas old industrial landscape as well as some stunning views across the Welsh Valleys. On a clear day you can see for miles and it was great to learn all about the local history; including the old railway tracks and tunnels which now lie dormant - buried deep within the mountains.
We were all amazed at what was on our doorstep - just 40 minutes drive from the centre of Cardiff!
Along the way we encountered all sorts of ramblers - including one canine fan who insisted on shaking paws with Derek: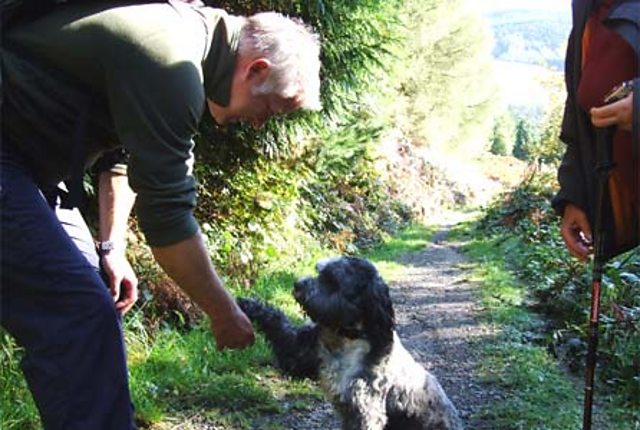 Then on Thursday and Friday we headed up to Mid Wales for an altogether different walk.
This one took us to Abergynolwyn on the edge of the Snowdonia National Park. After a quick bit of filming on an old steam train used for slate transportation back in the day, we were off.
We met up with our guide and local librarian/ farmer - Lisa and proceeded to take in stunning waterfalls and luscious green valleys as well as the odd mountain or two as Cader Idris loomed in the distance.
Derek letting off some steam: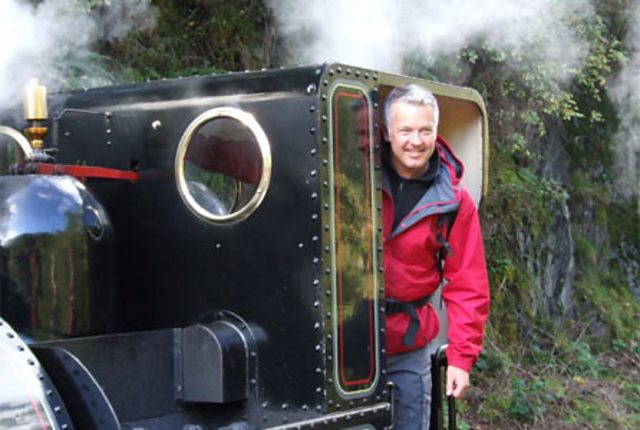 From the village we made our way up to an imposing 12th century castle - Castell Y Bere, slap bang in the middle of a wide valley, surrounded by hills and mountains - not the sort of place you'd attack easily.
Next stop was Mary Jone's Chapel where we learned all about the little girl who decided to walk to Bala (approx 25 miles away) in bare feet to get her bible.
This of course was pre 'Weatherman Walking' - otherwise she'd have been watching repeats on the BBC iPlayer instead ;)
After wandering around the chapel it was onwards and upwards through an oak forest, which skirted yet another amazing waterfall and up into wide green valley with views over the Bala fault line before descending back down into Abergynolwyn.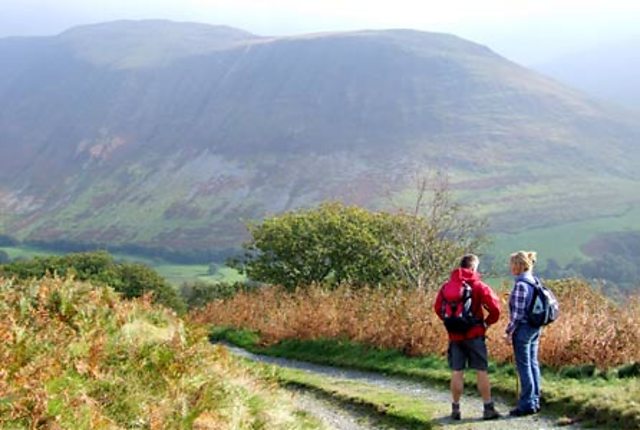 The crew are a hardy bunch and it was a real eye opener to see how much kit everyone has to lug around over all kinds of terrain - up steep hills, across streams, through marshland and gorse and those cameras and tripods aren't light!
Needless to say we all felt absolutely shattered on the Saturday.
I took plenty of photographs for the website galleries and had some new GPS kit with me (which I just about managed to get my head around) so the online walks will be a lot more detailed for the next series.
The new walks, photos and maps will be available on the website in early January 2011 so keep an eye out for those.
That's it for the time being - the walking boots are now drying out!
Gull