My Christmas: the turkey farmer
It's hard to talk to Jennifer Kitching without slipping into clichés.
The facts of life, however, are that turkeys cannot vote, or talk, and if you have 150 of them to pluck in time for Christmas then you really need a few mates.
Jennifer and her partner Michael Stevens have run their turkey farm in Llanllwni, near Llanybydder in Carmarthenshire, for the past 20 years.
In that time she says they have seen trends come and go among their customers, but one thing has remained true throughout: "People want a traditional turkey for Christmas," says Jennifer.
"When we first started everybody wanted our biggest turkeys," she says, "but now, because of the recession and because people's habits have changed. They want a smaller turkey, one that won't last forever, and maybe a few other bits and pieces of pork or beef to go with it."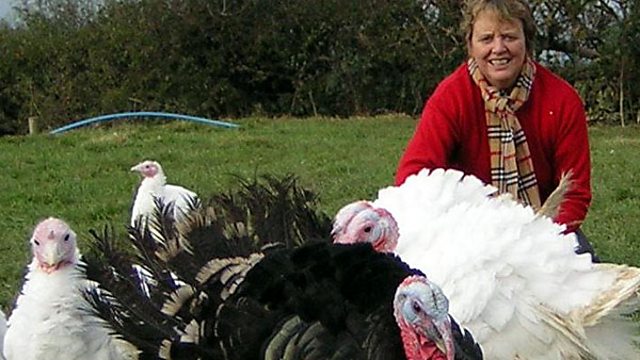 Turkey farmer Jennifer Kitching
Christmas begins in June for Jennifer and Michael, when they buy in day-old chicks - 150 of them this year, both mixed traditional black turkeys and white.
For 24 weeks they are nurtured as free range birds able to forage for food around the farm's fields .
Preparations for the Christmas market start "near the beginning of December".
"About four or five of us will pluck 150 turkeys," says Jennifer. "It's a sociable event. People come over every year to help us, and we have a meal before we start. We have a bit of fun, and there's a lot of talk going on while we are feathering."
Each bird takes between 15 and 20 minutes to pluck, and then they are refrigerated whole for a couple of weeks.
"Some people worry about that," says Jennifer, "but during this time the birds mature and start to improve."
Work on the farm hots up again about a week before Christmas, when they birds are dressed and trussed ready for delivery.
"We are only a small hill farm, but we supply quite a big area of up to 30 miles radius," says Jennifer. "We have a lot of loyal customers who have stayed with us over the years.
"We haven't noticed a dip in sales, but more and more people like to have either smaller birds or even turkey joints
"We have one or two very large turkeys which might be a problem to sell this year, but the restaurants still like a big Christmas turkey."
When all turkeys are accounted for, Jennifer and Michael and their family will finally settle down for their own Christmas celebrations.
"It's such a busy time but by Christmas day itself most of the turkeys are gone and we are just very glad to sit down and have a long dinner with our children," she says.
There's little point guessing what takes pride of place on their dinner table.
"We always have turkey for Christmas dinner," says Jennifer, "and we always enjoy it.
"None of us are vegetarians. We are all very much into our meat."