The tragedy of Ruth Ellis
Many people will know the name Ruth Ellis, the last woman to be hanged in Britain. But far less well known is that there was a Welsh connection to the tragedy.
Ellis was born on 9 October 1926 in Rhyl, north Wales, under the name Neilson, which her musician father had adopted for himself. She was the third of six children and spent her early years in the Welsh seaside town. However, the family led something of a nomadic existence and she was still fairly young when they moved to Basingstoke.
Ellis left school at the age of 14 and worked at a number of jobs, in factories, offices and as a waitress. Living in London during the Blitz period of World War Two, she became pregnant by a Canadian soldier and gave birth to a son, always known in the family as Andy.
A pretty, if brassy, young woman, she soon gravitated to the club scene of London, working as a hostess and for a while dabbling on the fringes of prostitution. She appeared in a film, Lady Godiva Rides Again, becoming friendly with the actress Diana Dors, and in 1950 married George Ellis, a violent and drunken dentist from Tonbridge.
The Carroll Club
By 1953 she and George Ellis had separated and she was living with her parents in London. She was hostessing once more, in the Carroll Club, and here she met racing driver and playboy David Blakely. It was another sordid and violent affair with Ruth Ellis regularly subjected to beatings – one of which led to a miscarriage.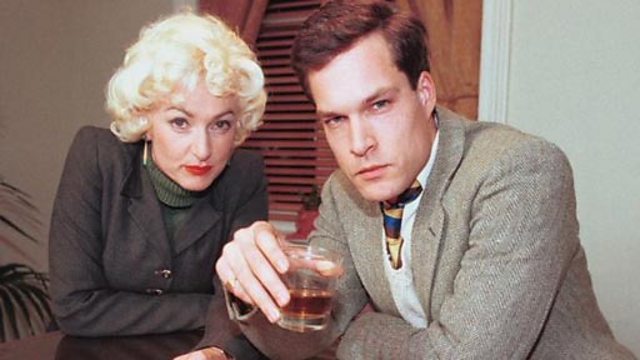 Fiona Ormiston as Ruth Ellis, the last woman to be hanged in Great Britain.
The violence was so bad that, on several occasions, the police had to be called. They did very little. There was, in any case, little they could do.
Web of passion, hatred and love
Both Ruth Ellis and David Blakely regularly saw other people; she even moved in with a man called Desmond Cussens. It did not stop their love for each other. It was as if they were caught up in a web of passion, anger, hatred and love – and neither of them had the power, or even the desire, to break it.
When Anthony and Carole Findlater came into their lives it was the beginning of the end. Anthony, like Blakely, was obsessed with racing cars and together they worked on Blakely's machine. Blakely had an affair with Carole, for which Anthony soon forgave him. The passionate and emotionally driven Ellis did not.
Matters came to a head on Easter Sunday 1955 when Ellis followed Blakely to the Magdale public house in Hampstead. They had quarreled and Ellis was furious that he would prefer to spend time with his friends rather than her.
She waited in a doorway for him to leave the building and when he emerged about 9pm she confronted him with a pistol. She fired five shots, chasing him around the car in order to put the bullets into his body. The final shot was fired from no more than an inch away. When Ellis hurled the gun to the ground it went off once more; the bullet hit Gladys Yule, a passerby, on the finger.
There could be no question of Ruth Ellis' guilt. Several people witnessed the shooting and, besides, she admitted what she had done as soon as the police arrived on the scene. In the dock, during her trial, she said: "It's obvious when I shot him that I intended to kill him."
The jury took just 15 minutes to arrive at a guilty verdict and Justice Havers – grandfather of actor Nigel Havers - had no option but to pronounce the death sentence. He did, apparently, write to the Home Secretary suggesting a reprieve as the murder was clearly a crime of passion, but this was refused.
A plea for clemency
Ruth Ellis was executed on 13 July 1955. The hanging was carried out by Albert Pierrepoint, the public executioner. The case aroused huge public controversy, with a petition of 50,000 signatures begging for clemency presented to the Home Office. With a willful stubbornness that only government departments could possibly display, all appeals for clemency were refused.
Part of the trouble lay in the way Ruth Ellis presented herself at the trial. Despite the advice of her lawyers she seemed to relish the role of the peroxide blonde and made no attempt to play down her lifestyle of hard drinking on the fringe of the gangster scene.
The method of killing – five shots, some from very close range – and the fact the a passerby was injured also had an effect. Gladys Yule, the injured party, was clear – Ruth Ellis should die for her actions that Easter Sunday.
In the wake of the execution public opinion slowly gathered force and although it was 10 years before the death sentence was abolished in Britain there is no doubt that the execution of Ruth Ellis was instrumental in the final decision.