Huw Edwards on retelling the story of Wales
Huw Edwards spoke to BBC Wales History about why he wanted to be involved in the new history series, The Story of Wales, which starts tonight at 9pm on BBC One Wales.
When BBC Wales suggested my name for this series, it really was a dream come true. No self-respecting Welsh broadcaster would turn down such an offer. To bring the nation's story to life is a daunting challenge, to say the least. Great men have laboured in this field, and I enter it with respect.

The last major television history of Wales was The Dragon Has Two Tongues in the mid 1980s, when the great Gwyn Alf Williams and Wynford Vaughan-Thomas slugged it out in one of the best history series ever seen on British television.

The Dragon Has Two Tongues mesmerised viewers: each presenter vigorously promoted his own story of Wales, engaging in endless argument about people, places and events. They conveyed the volatility of that period: there was a palpable uncertainty about the very notion of Wales. The country seemed to be in flux, the political landscape dominated by the year-long miners' strike. Gwyn Alf and Wynford taught viewers that the best history provokes debate and encourages reflection.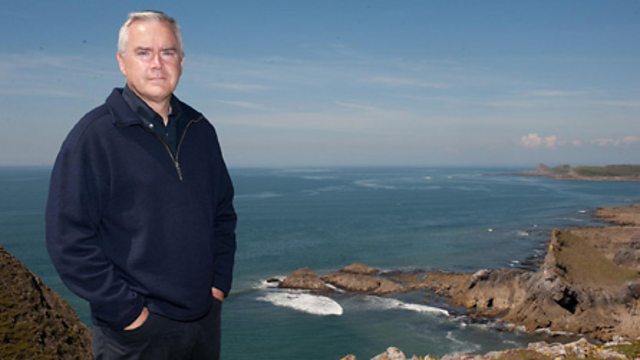 Huw Edwards on location for The Story of Wales
We made this series, 26 years later, in a rather different climate. Wales is in many ways a new country, clearly energised and boasting its own government and law-making National Assembly. For the first time in the history of our nation, laws are being made by elected Welsh representatives in Wales for Wales.
So it was high time for us to re-tell the story of Wales for the 21st century.
Wales has a remarkable story to tell: we start our series on the rocky Gower coastline where an English clergyman made the first discovery of a human fossil anywhere in the world, and the oldest ceremonial burial discovered anywhere in Western Europe. We end our series in my home town, Llanelli, where we reflect on the rapidly-changing shape of Wales in the 21st century.
In between we criss-cross the country visiting places and times whose significance we try to explain in a lively and accessible fashion. I am endlessly fascinated by the dazzling growth and ambition of Victorian Wales. Our Victorian ancestors were remarkable people and we are still in their debt today.
Some of the locations were exceptionally thrilling. The site of Crawshay's immense iron furnaces in Merthyr is still impressive in scale and form. The sadness and tranquillity of Llyn Celyn in the early morning light was a very special experience. The ruins of Strata Florida Abbey near Pontrhydfendigaid offer a haunting glimpse of life in medieval Wales.
The vivid lunar-like landscape of Parys Mountain in Ynys Mon, with its old copper workings, is unforgettable. Dinefwr Castle, majestically sited above the Tywi, is probably my favourite castle in Wales. And who can resist the peace and beauty of St David's Cathedral, a prime site of Christian worship for the past 1,400 years?