Reggie's Roller Palace at the Mission Gallery, Swansea
Think Strictly Come Dancing meets the X Factor meets Crufts, only this time with ceramic dogs, then perhaps you might be a little closer to imagining Olivia Brown's latest art installation.
It's a wry look at the cult of celebrity, audience need and the prevalence of mass marketing tools and is heading to the Mission Gallery in Swansea.
Brown is clearly an animal-lover, as each of her creations is lovingly hand-crafted from clay and imbued with its own personality and characteristics.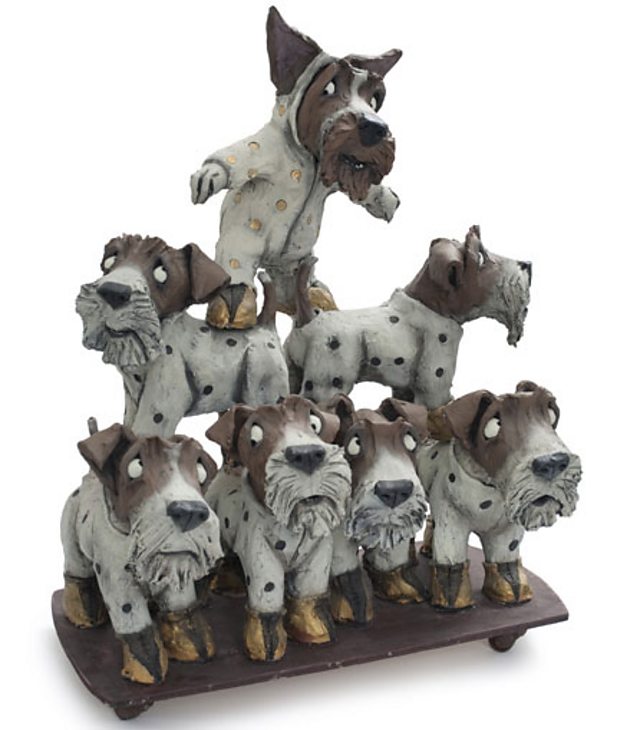 Ceramic dogs in Olivia Brown's installation Reggie's Roller Palace. Image courtesy of the artist
The exhibition is expressed through the eyes of another of Brown's beloved animals, Reggie the rat, but involves around 120 dog characters who star as contestants, judges and audience members in the Canine Rolla Dance.
Built around a roller event not dissimilar in style to the BBC One hit show, it follows a cast of ceramic characters through the highs and lows of such a competition and how the audience members take vicarious pleasure in the success and misfortune of those competing.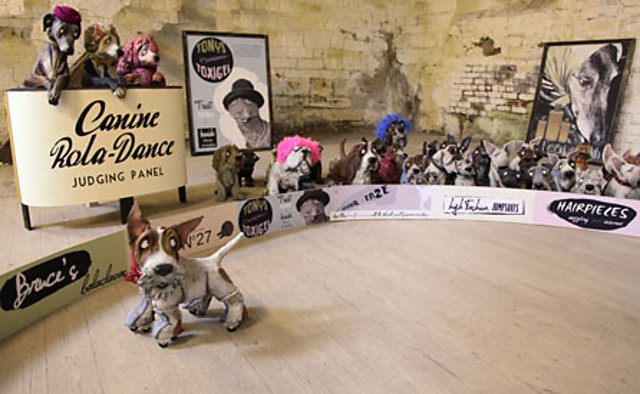 Photo from Reggie's Roller Palace by Olivia Brown. Image courtesy of the artist
Brown says: "My aim has been to capture the excitement and tension associated with such an event.
"I'm fascinated with the explosion of the current cult of celebrity and the audience's need to feed on it.
"I wanted to examine this 'worship of the worthless' in greater detail from both the onlookers and the icon in question's viewpoint."
The work is set in a roller rink, complete with billboards, ticket machines and display teams. It is accompanied by a commentary and film clips, but Brown admits she is also partial to reality TV, so it is not merely dismissive of the format.
One of the aspects that fascinates her is the prevalence of branded goods and celebrity endorsements, and the way the unsuspecting audiences are exposed to product placement and having an entire lifestyle with all the trappings advocated to them. She even has one of the characters emitting a waft of a desirable cologne.
The installation also touches on the requirements of living in the limelight, with Tony the badly stuffed otter inviting the audience to reflect on the current thirst for botox or the frozen face of the eternally young.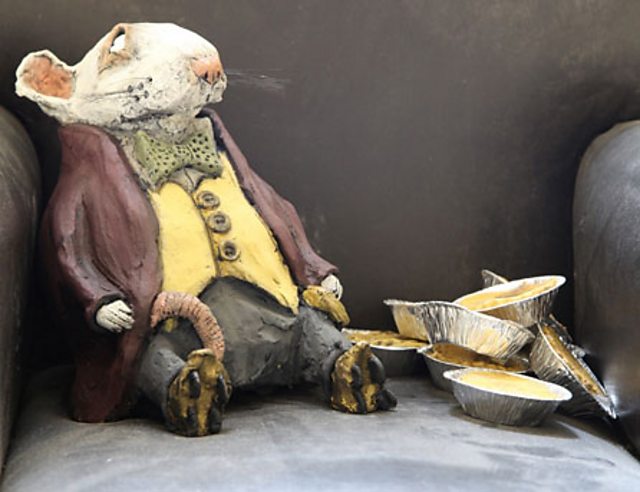 Another of Olivia Brown's creations. Image courtesy of the artist
Brown has thrown herself into creating a world around the exhibition with a blog and souvenirs like tickets and badges for visitors. The idea is to create a story around each character, which the audience can follow in this unique setting.
Currently on show at the Ruthin Craft Centre, Reggie's Roller Palace moves to the Mission Gallery from November 19 until January 2012.
For more details visit www.oliviabrown.co.uk.