Rachel MacManus, shooting director for Police 24/7 talks about accompanying the South Wales Police on raids as part of filming for the series.
When you film with the police, you never really know what you're going to get. Although we prepare and research as much as possible to find out the sort of situations and scenarios we may come across, the beauty of working on Police 24/7 was that every day provided something unexpected. 
It was really important in setting up the filming that the team built up good relationships with the officers we'd be working with.  They needed to trust us to observe them doing their job properly, and we all had to work together to make sure everyone stayed safe.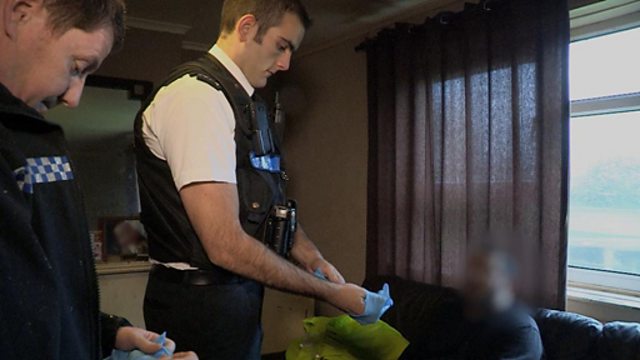 Sgt Chris Peters and PC Andrew Gibbons execute a drugs raid in the Rhondda
Many people assume the role of a response officer is purely reactive, answering 999 calls as they come in.  But when we met Sergeant Chris Peters and his team at Ton Pentre in the Rhondda, it was clear that Chris expects pro-active policing from his constables. They don't wait for the calls to come in; they're always gathering intelligence and submitting warrants to search properties if they suspect illegal activity.
The first day we filmed with the team it was obvious this would be a busy shift. As soon as we set up our equipment we began filming the daily briefing where we learnt a drugs warrant would be executed on a flat in the area. With safety paramount, after putting our stab-proof kit on and making sure everyone knew our roles, it was time to head to the location of the raid. 
With the suspect well-known to the officers, this would be a "soft-knock". There was no smashing down the door - the officers and our film crew were allowed into the flat while the occupier and her family waited in the living room, and the search for evidence began. 
It's hard to explain the scene which confronts officers searching an addict's property for evidence of drugs. Drawers full of used hypodermic needles are a huge risk of potential disease.  It wasn't long before the search paid off though, and suspicious bags of pills and powders were found in drawers and the freezer. What none of us expected was the moment when PC Kyle Smith found what appeared to be a handgun in a kitchen cupboard. 
For a moment everyone's attention was focused on making sure that gun didn't go off accidentally. After calling in the Armed Response Unit – specialist officers trained to make sure the weapon was made safe - the search continued and the suspect was arrested on suspicion on drugs and firearms offences. 
While this was going on, the whole team had to be alert in case an urgent response call had come in which needed extra police presence – it's fair to say, there's never a dull moment when you're policing the Rhondda! 
It's not only private properties which get raided by the police. Later in the filming week we joined Community Safety Sergeant Richie Gardiner's team on a Friday night operation to crack down on underage drinking in the Merthyr Tydfil area. With planned raids on a number of pubs and licensed premises where under-18s had reportedly been sold alcohol, there was huge potential for public order offences.
It was good to know that we'd been allocated a police officer whose main role that night was to keep an eye on the film crew and make sure we were safe. Thanks to PC Stacey, heading into a pub full of dozens of underage drinkers was a slightly less intimidating experience than it may otherwise have been! 
As Richie's team conducted a headcount and it became apparent that the majority of customers in the pub were underage, it was another job well done for the team trying to curb drink related anti-social behaviour.
Police 24/7 is a four-part series, shown on Wednesdays on BBC One Wales at 8.30pm.