With them all nestled up snuggly, side by side you can't help but wonder how they decide who stands where and how on earth they get their place back once they've flown off for a spot of fishing?
Some of them literally only have an inch of rock to hang their toes from and it can't be comfortable clinging onto that all day.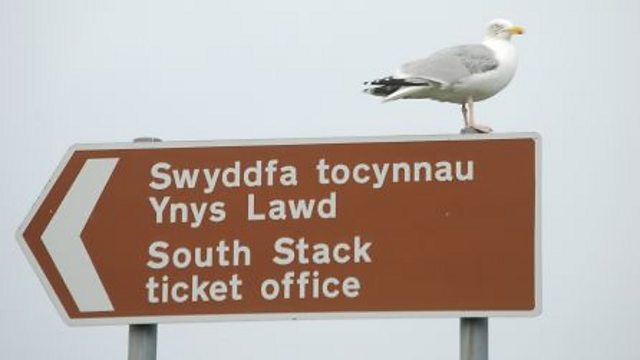 They must have very strong toes too and could probably win toe wrestling competitions if the whole sea bird thing doesn't work out...
Scattered among them are the stockier razorbills, with their thick black beaks and white stripe.
From grassy vantage points above sit the herring gulls, greater and lesser black backed gulls, all eagerly keepng watch - ready to ambush any eggs or chicks that remain unprotected for the briefest of moments.
If you look really hard and with a bit of luck you may also spy that famous clown of the sea - the puffin, with it's brightly coloured bill and bright orange feet.
Puffins unlike on many of the islands off the Welsh coast are very rare here.
The few that have made it here are forced to make do with small clumps of grass and boulders to nest in and around.
Unlike their cousins on Skomer Island, they don't have nice soft earth to burrow into. As a result there are only around 16-20 birds here in total. So far I've only seen two though!
Guillemots clinging on: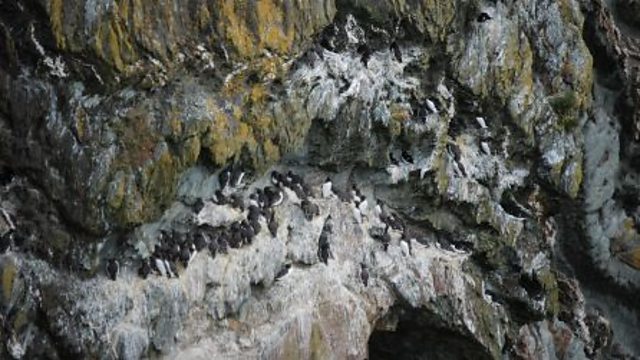 The 'chough cam' at South Stack is really worth a visit. I popped in to have a chat with the wardens there and they told me all about the nest site and seabird colonies.
The camera feed is displayed on a nice big plasma screen inside, so you can escape the weather and enoy the live action.
Initially there were five chicks and when you see the size of the nest, you begin to understand why, there's now only one left.
The remaining chick basically fills the entire nest, so who knows where the others would have sat!
It's thought that the rest may have fallen or been pushed (but I'm not accusing anyone) out of the nest as the other four chicks dissappeared over night a few weeks ago.
The nest itself, is situated deep within a sea cave, so the webcam provides a unique opportunity to see this shy, quirky bird at it's best.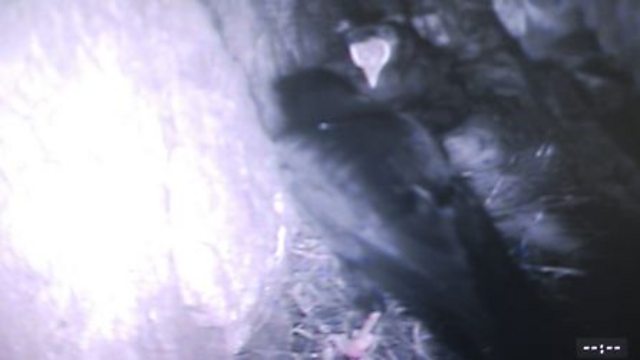 While I was watching, both parent birds put in an appearance and fed the hungry fledgling.
The bird noise here is incredible as hundreds of hungry seabirds fight for their small patch of real estate, on uneven, vertical sea cliffs.
Beyond the cliffs lies a small island with the famous lighthouse neatly perched on top. Access is strictly controlled though so don't expect to get onto it anytime soon.
Porpoises are known to cruise past the lighthouse feeding, so we'll have our cameras trained, ready to record if we spot anything.
You may also see passing manx shearwaters on their way to Bardsey island as well as gannets out dive bombing helpless fish and the occasional peregrine falcon.
Gull
Links
South Stack - RSPB

South Stack video clips