Interview: The Gentle Good
His moniker The Gentle Good could not be more appropriate a description for Cardiff musician Gareth Bonello. With a new album on the way on the Welsh label Gwymon, I thought it was high time to find out more about him.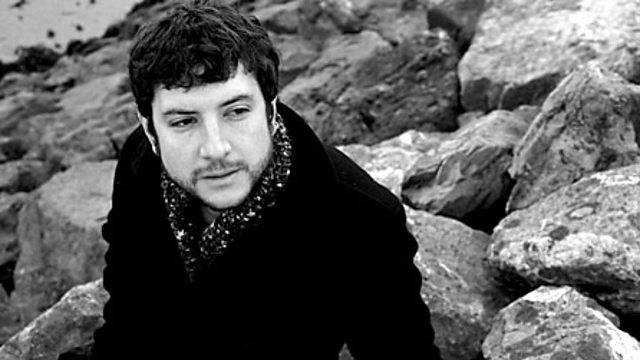 Gareth Bonello
Hi Gareth. Can you give me a little synopsis of who you are and what you do?
I'm a musician based in Cardiff, I've been playing on the live scene here for about five years and in that time released a few records. I play acoustic folk guitar and sing both traditional songs and my own compositions in Welsh and English. The music is a blend of traditional folk, '60s finger-picking guitar playing and soaring strings with a tint of psychedelia.
I hear you'll be releasing a new album this year. Is it all ready to go?
I'm releasing a new album called Tethered For The Storm in March and it is indeed all ready to go. I recorded it mainly in Cardiff - some at Music Box Studios on Penarth Road and other parts at various peoples' houses. We also recorded a string quartet and grand piano at the Reardon Smith Theatre in the National Museum in Cardiff. That was really special.
Listen to Old Window Song from Gareth's new album:
Tell me about the songs and what's been a driving influence behind them.
Quite a diverse range of influences inspired the album but mainly it's my outlook on life in Cardiff. The first song is called Aubade, which is a poem set at dawn with two lovers lying in bed wishing the sun wasn't coming up. Philip Larkin has a poem by the same title and John Donne has one called The Sun Rising.
Poetry was a great source of inspiration for the whole album; another track, Colled, was written according to an old Welsh meter found in the Hen Benillion. A lot of traditional Welsh songs were written in the same meter and when its done right the words can really sing.
Traditional Welsh music has obvious influences on tracks like Deuawd, which has just myself and Lisa Jen from 9bach singing a cappella. I don't think the album sounds very traditional overall though. I got a piano before writing this album and the songs I wrote on it such as Old Window Song have a more contemporary sound.
One of the clearest links to Cardiff on the album is the last track Cysgod y Dur, which uses the story of Ernest Willows to talk about the history of the steel industry in the area. The sound of the steelworks can be heard at the start of the track.
A few years ago you went over to South By Southwest festival. Would you say this was one of your musical career highlights? What else stands out as experiences that makes you glad to be a musician?
Absolutely, I was very surprised to be invited out to SXSW a few years ago - I hadn't even released a record at that point. It was a fantastic experience and definitely one of my highlights. I have so many memories that make me glad to be a musician; playing Glastonbury Festival and the Kennedy Centre in Washington DC a day apart in 2009 was pretty special!
I've always really enjoyed The Green Man Festival - which I've managed to play several times - as well; it just has a magical atmosphere. Sometimes it's the little gigs that are the best though, playing to a room full of people who are all listening intently and really enjoying the music and the whole experience.
Print journalism has quite an important effect on how a musician is portrayed. What sort of reviews and reaction have you had in the past?
Overall I've had quite favourable press really. I've been compared to musicians such as Bert Jansch, John Renbourn, Nick Drake and John Martyn, which is great as they are very prominent influences. My vocals have come in for some criticism in the past but I just try to sing in my natural voice so there isn't really anything I can do about that.
Will there be a tour to coincide with the new album?
I'm still getting some of the dates together but I'm going to try and cover a large chunk of the UK between now and June. I'm doing some gigs with Jo Bartlett in March as well as some dates with Richard James in May/June.
I'm launching the album on 2 April at the Globe in Cardiff. Richard James and H Hawkline are supporting and I'm going to be joined on stage by a full band and a string quartet. It's going to be an amazing night.
What's been your favourite gig ever to play?
It has to be the Green Man Festival but I couldn't pick the year - every time I've played it's been different and thoroughly enjoyable.
Which musicians are really inspiring you right now?
I've really been enjoying the local scene here in Cardiff recently. H Hawkline's album A Cup Of Salt is fantastic and Rhodri Viney has an album out under the stage name Ratatosk called C'est La Vie Tragique, which is absolutely beautiful. Richard James has written a great collection of new songs and I've been to several No thee no ess gigs that have been brilliant.
Internationally speaking I've been getting well into a Colombian band called Grupo Cimarrón and an album called 'beasts of seasons' by an American singer called Laura Gibson. I'm looking forward to seeing CW Stoneking in the Globe next week as well.
The Gentle Good on the web: