Tonight, in the lovely acoustic of St David's Hall, we perform Gustav Mahler's Ninth Symphony with our principal conductor, Thomas Søndergård. I love playing and listening to Mahler's music, and this is my first Mahler Nine.
I've obviously been excited for weeks (thank you to my colleagues who have resisted the urge to sedate me) and during this rehearsal period the symphony has most certainly not disappointed. The conductor Otto Klemperer said of the Ninth, 'I believe it to be not only his last, but his greatest achievement', and I am inclined to agree.
In 1907, Mahler's daughter Maria died from complications due to diphtheria and scarlet fever, and soon after Mahler was diagnosed with a serious heart defect. This symphony was composed during 1908 and 1909, but it is not what you would expect from a man whose personal life seemed to be disintegrating. It is sweet, by turns it rages, it struggles, then it transcends into bliss.
For many composers, one's ninth symphony was seen as an ominous portent, with Schubert, Dvořák, Bruckner, and of course Beethoven passing after the completion of their ninth symphonies.
Many musicologists believe that Das Lied Von der Erde is actually Mahler's ninth symphony - a canny step to try to outmanoeuvre whatever harbinger of death he felt was waiting on the final bar line.
Schoenberg said "It seems that the Ninth is a limit. He who wants to go beyond it must pass away". Obviously it's just a silly superstition, Haydn after all composed 104 symphonies, but there was an undeniable significance to a composer's ninth.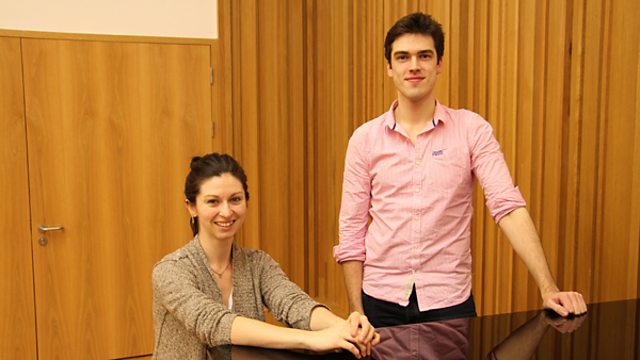 Laura Sinnerton and student Ben.
This work is a huge beast. It is incredibly long, and for the players, a physically exhausting play. I've been joined this week by Ben, a lovely placement scheme student from the Royal Welsh College of Music and Drama, and the stamina needed to approach this music is something that we have discussed.
The complexity of the music requires the utmost technical accuracy in order that the character and direction of the music not be lost. It is a marathon of concentration.
Mahler's music is always dense texturally, but this is something else. There are moments when there are more than seven melodic lines twisting and twirling around each other - sometimes trying to grasp one line is like trying to pick up one strand from a slippery mess of spaghetti! Thomas has sought to bring clarity to these lines in rehearsal, urging us to bring character and verve to each nuance.
Members of BBC National Orchestra of Wales preview Mahler's last complete symphony – his Ninth.
This is a four movement work, and while the final movement is one of sublime transcendence, for me it is the first movement that stops my heart. In it, all the struggles, pains, disappointments, yet hopes and beauty of life somehow seem to be expressed.
To me, it feels like the symphony is narrated by a number of solo voices - a solo violin, solo horn and flute (look out for their duet in the first movement), and at the end a solo cello. There are other solo voices that seem to me to be commentators more than protagonists - solo trumpet, cor anglais, oboe, clarinet, contra bassoon and viola.
Just as in life, many voices throw in their two pennies' worth - some kindly, some threatening, some just as passing acquaintances.
Growing up in the time and place that I did, I was aware from a very young age of how fragile life was, but also, and perhaps even more so, of the indomitable resilience of the spirit and how beautiful a thing it was to be alive. Mahler never heard his ninth premiered as he passed away the year before it was performed by Bruno Walter and the Vienna Philharmonic Orchestra.
In spite of the difficult circumstances under which he composed the symphony, or whatever reservations he may or may not have had about completing the ninth, he died in 1911 planning concert tours, sketching his tenth, living life to the full.
This symphony is a celebration of life, and the life that it celebrates is beautiful, warts and all.
The National Orchestra of Wales perform Mahler's Symphony No 9 tonight, Friday 7 February, at St David's Hall, Cardiff. For ticket call the St David's Hall Box Office on 02920 878444.