BBC Wales releases Richard Burton archive clips
The Richard Burton Diaries, a one-off documentary which examines the wonderfully candid and frequently indiscreet diary entries of Richard Burton, is broadcast tonight at 10.35pm on BBC One Wales.
Through broadcast interviews and the recently published diary entries, it allows us to reassess the man, putting the flesh and the voice back into our collective understanding of one of the great cultural figures of the 20th century. To mark the broadcast and the recent publication of the diaries, we release a collection of archive clips now available online.
When Richard Burton died in 1984, aged 58, he left more than 400,000 words in pocket books, desk diaries and loose papers describing his innermost thoughts. In neat, handwritten notes he recorded watching his weight, his drinking, or watching other men watch his Elizabeth, and reveals both his passion and his shame.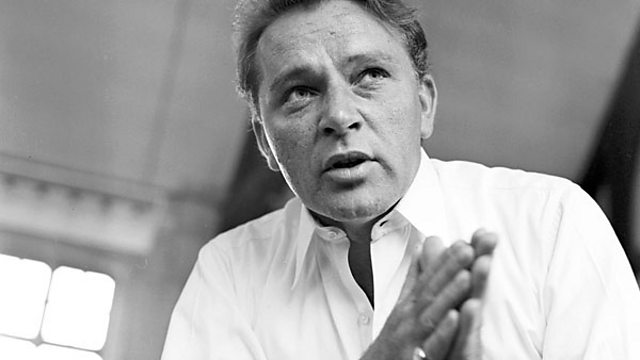 Richard Burton in 1960 in BBC's The Sunday Night Play: A Subject Of Scandal And Concern
The gifted son of a Welsh miner, Burton charted his life, most notably from the mid-1960s to the early '70s (his "superstar years"). Sometimes the notes were handwritten, but often typed out. They provide a unique and illuminating view of the world in which he moved, among actors and directors, writers and poets, millionaires and royalty.
The most personal entries record his romance with Elizabeth Taylor and reveal the depth of his feelings towards the woman he married twice. They show him on top of the world, in love, in despair and fighting the alcoholism that had killed his father and which he knew was killing him.
The diaries also give an insight into his approach to acting, his insecurities, his drinking and his volatile and tempestuous relationship with Taylor, his "eternal one night stand" and "wildly exciting lover-mistress", at a time when they were the most famous couple in the world.
"He reveals himself to be down to earth and without pomposity," says the editor of the Burton diaries, Welsh history professor Chris Williams from Swansea University.
Prof Williams describes Burton as a complex and, at times, a sad character as well as someone "very engaged with the history of the world, the problems of the world".
He fought his way through life through force of will, love and voracious reading. It is this side of the man that made him such a remarkable presence. It is also a side of him captured in a rich vein of BBC archive and interviews.
Richard Burton archive interview for Wales Today, December 1962
This interview was recorded shortly before Christmas 1962 while Burton was making the film The V.I.P.s. He mentions his teachers Meredith Jones and Philip Burton, his home in Céligny, Switzerland, and having watched London Welsh beat Aberavon at Old Deer Park at rugby union.
Interestingly, there is no mention of Burton's involvement with Elizabeth Taylor, which had dominated the headlines in late 1962.
Richard Burton is interviewed by Emrys Walters for Wales Today Christmas 1962.
Richard Burton and Elizabeth Taylor in Cardiff, January 1965
Burton and Taylor are shown here at Cardiff Station being interviewed by BBC Wales' Brian Hoey on Friday 15 January 1965. They were in Wales to watch Wales play England at rugby union the following day.
Burton had been in London for just over a week, filming scenes for The Spy Who Came In From The Cold, and would travel on to Dublin to continue work on the project. He and Taylor had recently completed The Sandpiper, filmed in California. The interviewer also refers to The V.I.P.s, the first film they worked on together after the 1963 blockbuster Cleopatra.
Wales did, as Taylor hoped, beat England, by 14 points to three, on their way to the Triple Crown.
Burton and Taylor at Cardiff railway station with Brian Hoey for Wales Today in 1965.
Previously unseen footage of Richard Burton attempting a piece to camera, September 1970
In September 1970 Burton was making the British gangland film Villain in London. Here he snatches a few moments between takes of the film's closing scenes to attempt a piece to camera for a National Coal Board short safety film.
He explains that although he never really worked in the mines, many of the men in his family did, and that consequently he was aware of the serious risks involved. All of Burton's brothers and his father spent at least part of their working lives underground, as did his brother-in-law Elfed James.
The safety film, produced by the NCB, sought to communicate the message that travelling "on haulage" - essentially hitching an unauthorised lift on journeys of drams (trams) or on conveyor belts - could be extremely perilous. It is not known whether Burton's preface formed part of the final version of the film.
Burton on the set of 'Villain' where he records a film for the National Coal Board.
Richard Burton's family head for Elizabeth Taylor's party, February 1972
On 27 February 1972 Elizabeth Taylor turned 40. Burton organised a spectacular birthday party held in Budapest, where he was based while filming Bluebeard.
He invited members of his family to travel to join the celebrations. His brothers Tom and Verdun and his sister Hilda, accompanied by their spouses, are interviewed on 24 February aboard a train heading from south Wales to London, where they would stay at the Dorchester Hotel before flying to Budapest the following day.
They shared the limelight with many other famous guests attending the party, including Princess Grace of Monaco, Ringo Starr, Stephen Spender, Michael Caine, Susannah York, Raquel Welsh, Victor Spinetti and Frankie Howerd.
The interviewer refers to a telegram that had been sent on 16 February explaining the arrangements and which included the phrase "All expenses paid including caviar and bloaters". The present the family gave to Elizabeth turned out to be a stainless-steel rose, chosen to remind her of her husband's town of origin, Port Talbot.
Richard Burton's family travel to Elizabeth Taylor's 40th Birthday party in Budapest.
Watch The Richard Burton Diaries tonight, Monday 12 November, at 10.35pm or on BBC iPlayer for the seven days after transmission.
Related links