Live Review: Melys & John Lawrence, Hendre Hall, 30 September 2009
They're profiled
elsewhere on this site
, just to say that the support they earned from
John Peel
, and the resultant UK and European audience it gave them, was as close as north Wales has had to a success story this millennium,
Duffy
notwithstanding.
They stopped recording and playing live half a decade ago. So, even in this age when pop music is increasingly dominated by remasters and comebacks, I was surprised when I heard that they planned to reform for a one-off gig.
Clearly, they don't have the commercial potential of Take That. They won't even have the commercial potential of Fake That. But this isn't about commerce. I'm not a nostalgist, I prefer tomorrow's promise of the unknown to the diminishing returns of relived yesterdays. But the fact that they were going to do a gig made me realise that I had missed them, that I'd rather enjoy hearing them tear through their set again, that I'd like to try and blag a gig DJ'ing on the night, if they'd let me.
Once I'd begged my way onto the bill, I wondered why they had bothered with all the rigmarole of disturbing their domestic lives (kids, running a successful bistro) for a solitary gig. I got the answer to that question right at the end of the night.
Co-founder Paul told me: "We wanted our kids to see us. We wanted to know if we could still do it." We wanted to know that, too. Welsh music has definitely progressed in the five years since Melys last smashed seven bells out of a traffic sign on stage. It's more accomplished and has greater expectations. Given the radically changed landscape, would Melys sound like a throwback to a more primitive time? Could they be anything more than a nostalgic indulgence?
For those who don't know, Hendre Hall is about as atypical as you can get as a venue for a returning indie band. Imagine the polar opposite of a Barfly and you'll have Hendre Hall. Standing outside watching other people smoke, John Lawrence told me it used to be the farm for a country estate. It's a great place to witness live music. Atmospheric and evocative.
John - who must hate being referred to as "former member of
Gorky's Zygotic Mynci
, John Lawrence" - provided first support for the night. He is a striking figure. A mountain shaman with hair that would have Samson weeping into his Old Testament cornflakes.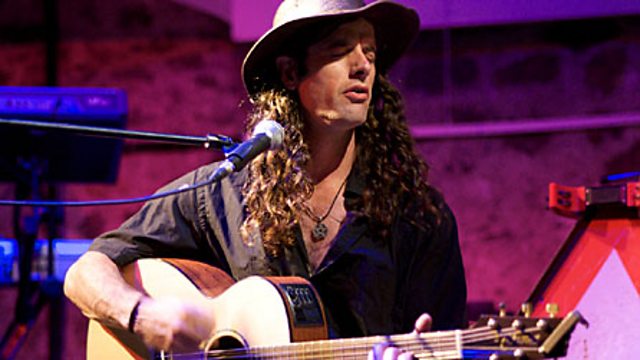 He's also someone who doesn't suffer noisy fools gladly. The hubbub that vandalised his thoughtful lyrics was unintentionally ignorant rather than deliberately rude. The majority of the audience were Melys' friends and family. A lot of beer had flowed in celebration of their comeback and in such rowdy circumstances John was a curious choice of support act.
But I got the sense that John relished the challenge. He wasn't entirely in danger of getting swept away in the tide of drunken chatter. He fought the hubbub with barbed between song asides and took out any violent frustration on his guitar. The result was breathtaking and added a real dynamism and drama to his set that wouldn't have been as apparent in front of a quiet and reverential audience.
He told me afterwards that he has a whole new album recorded and mastered. If I promise not to talk over them, he promised to send me a copy. I can't wait to hear it and share it on the show.
After a spirited and courageous (given the state of much of the audience) set from
Emma Williams
, a local performance poet who has rewritten Kipling's 'If' in a way that would bring exceedingly large tears to his eyes, Melys were on stage looking no different to the last time I saw them.
Okay, it's not Lennon and McCartney, it's not, even,
Cerys and Mark
, but for everyone present Melys were an important band, and every song in a set that spans all of their releases demonstrated why. We got silver melodies sweetening nightmarish lyrics over a noise that eddied from playful to coruscating.
In many ways it's pretty standard fayre: hummable tunes, straight down the line rhythms, sonic surges and climaxes ripped out the well-thumbed pages of the 'Indie Songwriting Handbook'. But there is also something natural and uncontrived about Melys that sets them apart.
Some bands write songs that are like cocker spaniel puppies seeking affection at your ankles; Melys' songs are more feline and diffident to your approval. But they won our approval anyway. The room soon became all flailing limbs and celebratory faces.
Personal highlights like Diwifr, So Good, Cuckoo and Chinese Whispers sounded timeless and thrilling. Andrea's voice, in particular, was stronger than I remember it being.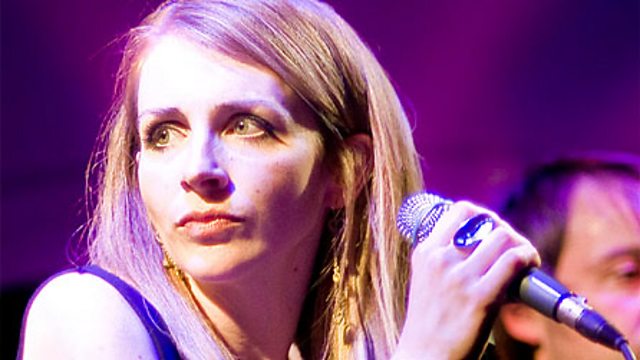 So, it was excellent to hear these songs again. It helped that they were delivered with a fury that tore at the song's darker roots than pandering to their brighter melodies. Andrea Adams is a remarkable woman: mother, businesswoman, songwriter, singer and performer. There's nothing sweet in the thought that we might be denied this provocative and astonishing mixture of talents for another five years.

Adam