Bosom bread and dismembering Butcher Beynon: Staging Llareggub Revisited
Raw Material: Llareggub Revisited was a National Theatre Wales production in collaboration with BBC Cymru Wales, devised by myself and Jon Tregenna.
The event took place in Laugharne over three days last weekend when 600 people experienced a sensorial treasure hunt throughout the towns described by Dylan as, '...the strangest town in Wales.'
In Laugharne, groups of 'tourists' arrived for the Thomas centenary tour that took in its iconic landmarks, introduced and supposedly led by their guide Roy Ebsworth-Williams of Super Elite coaches. At the start of the tour, Roy was 'diverted' and the tourists were hijacked by Voyce, a wiry eccentric bearded madman who wanted to present his own homage to Dylan Thomas, Laugharne and the world of Under Milk Wood.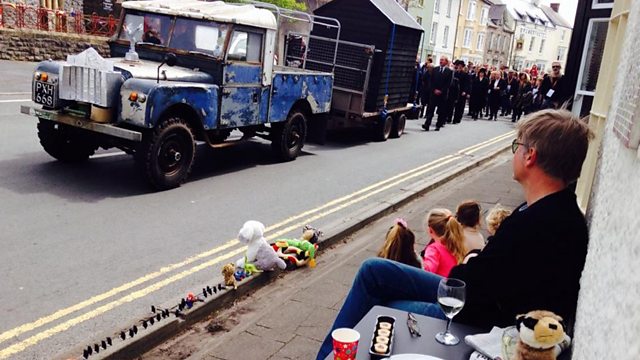 Funeral procession at King Street. Photo: Warren Orchard/National Theatre Wales
The tour parties were given a copy of Roy's map (which had been altered by Voyce) and presented with a plethora of installations and interventions that gave an insight into Dylan's fascination with the town and its people.
Voyce believed that if Dylan was alive today he could still pen Under Milk Wood as the characters - or those just as colourful - are still there. Voyce was a pilferer, a poacher and a pirate and using raw material 'gathered' around the township, as well as local people and their stories, he created a unique immersive experience for the audience.
Along the route the audience saw multiple sheds, live owls, stuffed birds, a phantom carnival float, salt lace, a pendulum buoy, a canvas 1950s replica, a mirrored graveyard, singing web-footed cockle women, a ship-shaped shed, a corrugated tin terrace, the real-life Willy Nilly postman, a condemned sail, a slow-motion film of chattering jackdaws, school-kids rapping Dylan, knitted Under Milk Wood figures, OSB coffin lids, a guardian heron, brassiere bunting, Tom Jones as Captain Cat, bosom bread, a bloody livestock crime scene, bible black beer, golden cockleshells, sampled Stravinsky, a suspended swinging black canoe and a Rolls Royce fish and chip van.
Quite a trip for them and for me making it! As I write this from my very own bed in Cardiff I can't believe that it's over. It has been an extraordinary experience. My intention was to explore the underbelly of Laugharne - well, I certainly did that! Jon describes it as, 'Not a town nor a village but a magical town-ship tethered by a frayed rope to the shire of Carmarthen'.
During the funeral procession down King Street, a wonderful impulsive intervention took place where a group of children selling books outside a house lined up all their toys along the pavement to show their respect as the cortège passed by.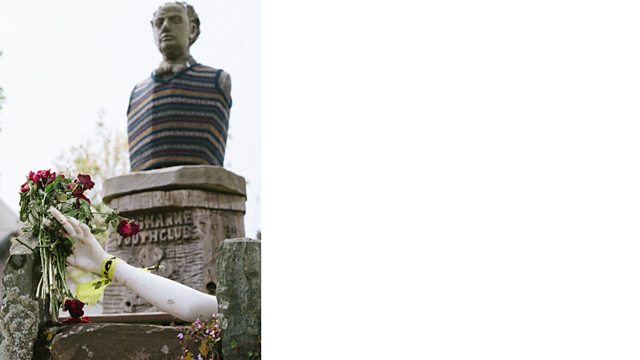 Wooden sculpture of Dylan Thomas. Photo: Warren Orchard/National Theatre Wales
For me these moments make it all worthwhile. Another of these was watching the screening of the BBC Wales re-imaging of Under Milk Wood in Browns' bar and hearing the Laugharne Players (fuelled by much ale from the post-show party at Tin Shed) merrily quote along with Tom, Bryn, Jonathan, Charlotte and all. It was glorious.
And finally, overnight the 'statue' of Butcher Beynon, which we made from multiple mannequin parts, was butchered and dismembered, with only the torso and head left! I imagined his remains scattered around the township, shelved in sheds or hung as strange trophies above mantle dogs.
Later, as I walked towards the wooden sculpture of Dylan to retrieve the knitted tank-top that Voyce placed upon on him, I noticed a bunch of flowers at the base, held aloft by a plastic arm and hand, a spontaneous shrine made from 'found' material, raw and hugely poignant and simply wonderful!
You can catch up with the one-off television production of Dylan Thomas' famous 'play for voices' and intercut with part of National Theatre Wales' live event until 12 May here.
To discover more about the life, work and legacy of Welsh poet and broadcaster Dylan Thomas go to bbc.co.uk/dylanthomas