Stunning Snowdonia film to be screened in deep mine
Hawk - a film shot against the breathtaking backdrop of the steep Snowdonia mountains, is taking a trip deep into the belly of the earth for a special screening this weekend.
Filmed by Michael McMahon from Rhyl and Sean McArdell from Barmouth, Hawk is about a boy who retreats into a world of fantasy based on Celtic folklore and features the figure of the antlered god Gwyn ap Nudd.
On Saturday theatre company Cytser has organised for it to be shown in the deep mine of the Llechwedd Slate Caverns in Blaenau Ffestiniog, as part of a series of events utilising the spot's natural acoustics and incredible setting.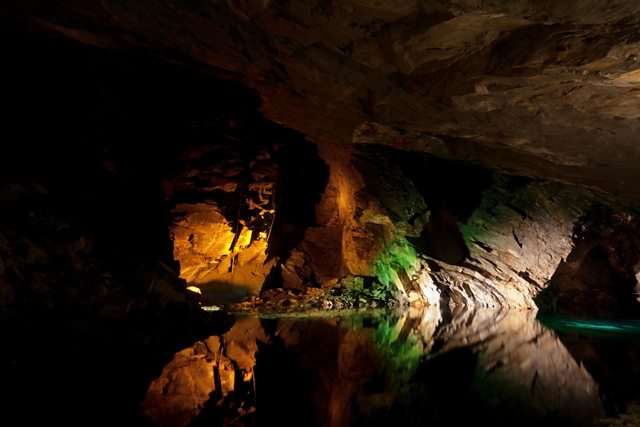 Llechwedd Slate Caverns in Blaenau Ffestiniog
If you're claustrophobic like me, the very thought of travelling underground to sit and watch a film for an hour may bring you out in hives. But Cytser's artistic director, Ian Mackenzie-Thurley, assures me that once you're through the entrance tunnel, the cavern has high ceilings "like a cathedral".
He said: "The ceilings are about 100ft high so there's no need to crick your neck while watching the film, and the acoustics are so amazing, it really adds to the atmosphere.
"There's also a lake which is under lit and we have space for about 60 seats, although we have kept films to about an hour as it does start getting cold after that length of time under ground."
Viewers will be given hard hats and are advised to wear warm clothes.
It is the second underground screening hosted by Cytser, a theatre and arts company based in Gwynedd, which aims to touch new audiences and bring the arts to unique settings.
A planned screening of Y Chwarelwr (The Quarryman) by Sir Ifan ab Owen Edwards, in January had to be cancelled due to technical problems.
Not to be deterred, Cytser was able to go ahead with the screening earlier this month.
And on 21 October at 3pm, the Welsh National Opera will also be performing live underground.
Ian says: "The acoustics are unbelievable as you have these sheer slate walls on every side. We're also bringing an electric piano down to accompany the live singers, which will add to the effect."
Choosing to screen Hawk was an easy decision for Ian, because it is shot locally and promotes the film talent in the area, one of Cytser's aims at inception.
The directors and producers, both former students of NEWI, Wrexham, spent two weeks shooting in Snowdonia, Ruthin and Dinas Brân in Llangollen.
The film focuses on the story of one man and his hawk alone in the wilderness and features actor Philip Madoc.
Director and producer Michael McMahon said he was thrilled about the screening.
"It's the perfect venue for it - the depths of Wales. When I was designing the mood board for the film, Welsh slate featured, as I wanted it immersed in Welsh heritage, something that has become increasingly more important to me as I've got older.
"We had a Welsh classical score and used the choir Serendipity which worked wonderfully with the backdrop of the Welsh landscape."
Hawk recently won Award of Excellence at the Accolade Competition in LA, USA and he has also been invited to Milan in mid October to receive another award.
Actor Rutger Hauer will present it, as Hawk is part of the Official Selection of his 'I've seen films International Film Festival'.
Michael, or Mac as he likes to be called, is currently working on a feature film called Playing Mercy, which will be shot in Rhyl and is based on the book by Cardiff author Matthew David Scott, which was nominated for the Dylan Thomas Literary Award. The film's executive producer is Mark Foligno, who produced The King's Speech.
The screening will take place at the Deep Mine at Llechwedd Slate Caverns, Blaenau Ffestiniog this Saturday at 7.30pm.
Tickets can be booked online at www.llechwedd-slate-caverns.co.uk or by phone 01766 830306.
For more details about Hawk visit hawkthemovie.com. And for the latest news up-dates go to the Facebook page.
Cytser has arranged another screening of Y Chwarelwr (The Quarryman) at Oriel Caffi Croesor in the Snowdonia National Park on 26 October.
In 2006 Ifor Ap Glyn of Cwmni Da and the National Screen and Sound Archive of Wales recovered and restored the film to its original condition. He will be at the screening to talk about the film.