Temperatures rise in Llangollen
Last Monday afternoon the BBC National Orchestra of Wales bus rolled into Llangollen.
A few of our number had already been in Llangollen and the surrounding area over the weekend, entertaining and educating in local nursing homes and schools, and now the rest of our merry band were converging upon this picturesque little town to play at the Children's Day of the Llangollen International Eisteddfod.
One of the key issues about playing outdoors (or in a tent), is the lack of acoustic. Frequently, to compensate for this, and also, so that the music is relayed to the actual audience, and not just carried downwind to unsuspecting campers, outdoor gigs are very heavily miked. Which on stage sounds weird.
You know the horns are blowing very loudly, but alas, you cannot actually hear them. Similarly, you know there are cellos playing because you can see they are all bowing like mad things, but, you cannot actually hear them. You'd imagine the proliferation of mics would make it all very easy, but that is all designed for the audience to hear the music, not for the orchestra's benefit.
The only option is to block your ears somewhat and go with the conductor's beat. If you wait to respond to your colleagues' music, you will be later than the White Rabbit in Alice in Wonderland.
After an evening rehearsal on Monday, we were back at the tent early on Tuesday for our two concerts. We were, of course, in time to grab a coffee from one of the very nice coffee stands around the tent pavilion (I believe in the maxim 'no coffee, no workee').
We were also very glad to note that the temperature in the tent was considerably less than it had been the previous evening, when it was discovered that the sheet music for Grieg's Peer Gynt makes a very effective makeshift hand fan.
The concert began with Morning from the aforementioned Peer Gynt, and the Intermezzo from Carmen, over which were read two Poems for Peace, one in Welsh and one in English.
We were then joined by a choir made up of pupils from Ysgol Morgan Llwyd, Wrexham for two pieces (Sing by Gary Barlow and the Rugby World Cup theme song World In Union). The concert concluded with a performance of Gareth Glyn's bonkers but very entertaining SPM-1.
Come the second concert, the temperature in the tent had risen considerably. Summer had definitely come to Wales, and had unfortunately coincided with us, under canvas, wearing our long sleeved, heavy cotton education project t-shirts. I tried to take my shoes off to see if it cooled me down at all. It didn't.
I would have liked a little more time to explore Llangollen itself, but with Proms looming it was back to Cardiff. As we departed, our management left bin liners for us to leave our education tops in. They normally get them cleaned in preparation for their next outing. Considering the amount of sweating that went on in Llangollen, I think the shirts may be beyond salvaging on this occasion.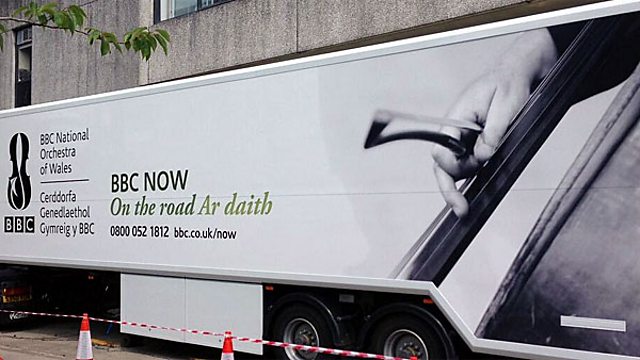 The BBC NOW truck
On another note, we now have a new orchestra truck! If you spot it around the country, take a photo and tweet it to us on @BBCNOW with the hashtag #wheresthetruckNOW. You get extra points if you can guess the owner of the hands featured on the truck sides!