The stories behind the Welsh headstones in Grand Forks, British Columbia
I regularly receive wonderful emails from across the globe, one of which came from David Cynon Bevan. Born in Pontypridd, David has now settled in Grand Forks in British Columbia.
Grand Forks is an old mining community which obviously had an attraction for young men aiming to make their fortune or perhaps just a decent living with a hint of adventure thrown in.
For such a small and relatively new community it has a large cemetery. When David examined the inscriptions on the headstones they revealed such sad stories that he was keen to share the details in the hope that distant relatives could take some comfort from knowing more about the last resting place of their ancestors.
1901 smallpox outbreak
Grand Forks suffered 15 fatalities during a smallpox outbreak in 1901 before making a disproportionate contribution to World War One, considering its small and remote population. Cruelly the Spanish Flu arrived with a vengeance in 1918 and claimed another 16 lives.
Even today its population is only just over 4,000, not a vast difference from the 3,200 miners who were employed in the area in 1899 according to the Grand Forks city website.
The Boundary Historical Society has done a fantastic job of caring for all the headstones, taking photographs and recording the details of the inscriptions before nature and the harsh winters erode the personal information.
Many of the old wooden crosses have now perished but if you contact the society they will send any information they store including details taken from the original burial registers for Phoenix and Greenwood cemeteries and a photograph where possible.
A number of the headstones bear the names of Welsh emigrants: John Evans, Thomas Williams, Robert Hughes and Samuel Jones.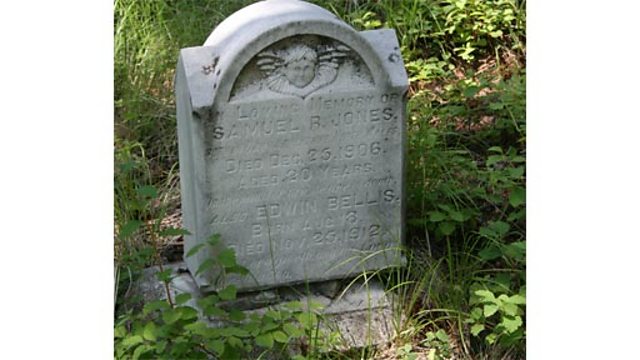 Gravestone of Samuel Jones
Baby Edwin Bellis
Some, such as Edwin Bellis, were just babies dying before their first birthday. The notes in the burial register state that Edwin died in Phoenix hospital of erysipelas (a bacterial skin infection also known as St Anthony's fire). The cause of death given in the notes for Samuel R Jones is gangrene and septicaemia.
Other deaths are even more graphically described.
Thomas H Williams
Thomas H Williams was born in Caernarfonshire and died on 7 December 1911 aged 40 at the Emma Mine. "It is supposed that while engaged in bulldozing a large boulder he drilled into a missed hole and was instantly killed. he leaves a widow and a large family to mourn his loss".
Since Edwin Bellis' details are inscribed on the same headstone as Samuel Jones' I felt sure they were buried in the same grave and therefore were probably related.
On Ancestry's website I found a link to a family tree which included a Samuel R Jones who was born around 1886 in Caernarfonshire and after sending a message the reply confirmed that Samuel Rees Jones was born in 1887 in the parish of Llanddeiniolen, about four miles from Caernarfon.
The New York passenger lists from 1820-1957 show 15 people called Samuel R Jones but none in the correct age range. The records from Ellis Island reveal another possible 12 people called Samuel Jones among the incredible 12 million immigrants who entered the United States through there between 1892 and 1954. But of course the Samuel Jones I am searching for is not among them!
William and Harriett Bellis
Changing tack I decided to revert to the Jones family tree posted online and noticed a familiar surname: Bellis. It seems that one of Samuel's sisters called Harriett married William Bellis and on entering their details into the passenger lists I was amazed to see Harriett Bellis travelling across the Atlantic with such regularity it makes me think that perhaps William Bellis was one of the success stories in Phoenix.
It appears that William and Harriett Bellis had other children including Laurence, Laura and Sarah before baby Edwin was born in 1912 and so the mystery surrounding one of the headstones is solved.
Since then I've received another email confirming that Samuel Rees Jones was a young unemployed quarryman who made a last minute decision to join his two sisters on their journey to Canada, leaving Caernarfonshire late in 1905.
His great-great nephew added that Samuel was a strong and stocky typical Welshman with a talent for whistling. Apparently he didn't intend to stay long in Canada and was just tagging along for the adventure. Sadly Samuel's adventure was cut short when his leg was crushed in an accident in the mine and without antibiotics gangrene quickly took hold and he died on Christmas Day in 1906.
But what about the remaining Welsh headstones? Have you lost a Jones or Roberts or a Williams from your family? Study the names below closely and the images.
The names below are some of the names that appear in the Phoenix cemetery:
John A Evans. Born Merionithshire. Died 20 March 1911 aged 32
Thomas Pritchard. Born Caernarfon. Died 30 April 1914 aged 29
Thomas H Williams. Born Caernarfon. Died 7 December 1911 aged 40
Robert Hughes, born 5 October 1911 and died in January 1916
In Greenwood cemetery there are:
Evan David Williams aged 8 years
Gwin and Kathleen Evans
Charles Pasco
Do they belong to your family tree? If so why not contact the Boundary Museum Society?
Cat Whiteaway joins Jamie and Louise on BBC Radio Wales thismorning (Thursday 6 September) to talk more about the stories behind the gravestones. You can listen live to Cat on this link.