Wales
is in for a heat-wave with temperatures rising into the high 20's Celsius.
I wouldn't be surprised if somewhere reached 30 Celsius, 86 Fahrenheit.
It's also going to be very sticky and the combination of heat and humidity will spark off a few heavy showers and thunderstorms.
And the nights will be warm making it difficult to sleep. The hot weather has prompted the Met Office to issue the first 'heat health' warning of the summer.
Office workers enjoying the sunshine: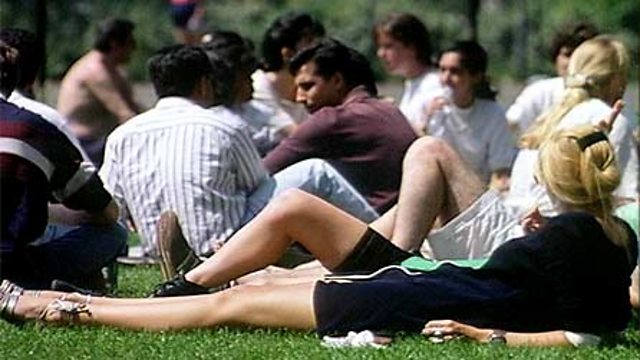 The last major heat-wave to hit
Britain
was in 2003 when 2000 people died.
A sweltering 39 °C was recorded in Brogdale in
Kent
on 10 August 2003 - a record high which still stands today.
Extreme heat can seriously damage your health and can be fatal.
Here are some tips on how to stay safe:
Avoid dehydration and sun stroke by drinking plenty of water, use a high factor sun-cream and stay in the shade.
Keep an eye on any elderly neighbours and relatives
Never leave animals locked in a car.
If you don't like it too hot, there are signs it will turn cooler and fresher next weekend with westerly winds from the
Atlantic
bringing a drop in temperature.
Take care
Derek
Met Office article on heat wave
Welsh Assembly Government - heat wave guidance