A dry and settled start to June
Normally May is the driest of the spring months in Wales with an average rainfall of 85.9mm, but this year it's been wetter with 124mm of rain, 45% more than usual. 
Each of the spring months (March, April and May) have been warmer than average and it looks like this spring in Wales is the third warmest since 1910.
Much of Wales has been dry today for a change and there's plenty more dry weather to come over the weekend thanks to a ridge of high pressure extending northeast from the Azores; one or two showers will break out but no more than that. 
I can't promise wall-to-wall sunshine, cloud will come and go, but a few bright or sunny spells are likely. The west coast and places such as New Quay, Cardigan, Aberaeron and Goodwick should become clear and sunny tomorrow afternoon.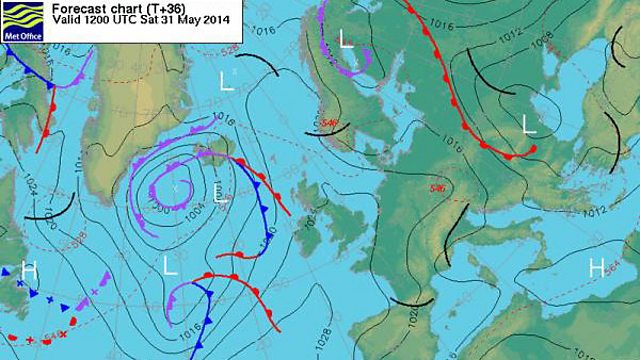 Forecast chart Saturday 31 May
Top temperatures tomorrow will reach 16 to 19°C with light winds and sea breezes. 
Sunday will bring more dry weather with only the odd isolated shower. Some cloud is likely but there will be some sunshine as well. Temperatures will reach 15°C in St. Davids to as high as 19 or 20°C in Flint with a light to moderate west to south-westerly breeze. The sea temperature is currently 12 to 14°C. 
So a dry and settled start to June which is good news for the Big Lunch on Sunday but next week will turn more changeable again with low pressure bringing rain and showers at times. Some heavy rain is possible later in the week.
Derek