The Muni Arts Centre, Pontypridd
The
closure of Muni Arts Centre
in Pontypridd, along with the Cynon Valley Museum in Aberdare, marks the end of a long and distinguished history in the field of arts education and entertainment.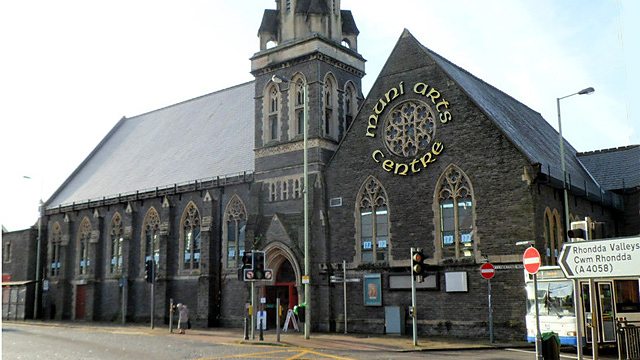 Muni Arts Centre, Pontrypridd. Copyright Jaggery, licensed under Creative Commons
The Muni was originally an old
Wesleyan Chapel
built in 1895 to the design of Pontypridd architect Arthur O Evans. Standing on Gelliwastad Road near the old Town Hall and St Catherine's Church, the place was conveniently close to the centre of the town.
It was, so they said, a place where the community could gather together to sing and celebrate – a sentiment that the Muni in its guise as an arts centre did its best to continue.
Pontypridd had developed rapidly in the closing years of Victoria's reign, the place being turned from a sleepy agricultural town to a bustling centre of industry. In those long-gone Victorian days religion and attendance at church was, if not compulsory, then certainly expected.
The building has a distinctive geometrical look, the outside being finished in the gothic style. A three-stage tower with spire and several angle buttresses simply add to the effect. It is now a listed building which supposedly has a ghost who regularly roams around inside, simply listening to the music.
With church and chapel attendance falling away, the building closed for religious worship and eventually became a municipal hall. Then, in the 1980s, it took on the guise of the Muni Arts Centre. Since then it has specialised in holding concerts and workshops for young people in the first stages of their musical careers.
The Muni has also hosted art and craft exhibitions. It has been the venue for puppet shows and, each Christmas, has put on a large-scale pantomime. The most recent of these was written by Rhondda-born Frank Vickery and was a huge success with both critics and the general public earlier this year.
Established acts and talent such as Amy Wadge, Andy Fairweather Low, Alphabeat and Steve Harley & Cockney Rebel have all performed there over the years.
The auditorium has also shown films and acted as a host for comedy acts. What most people who stand on the stage do not know, however, is that the original font used when the place was a church is still there under the stairs.
The closure of the Muni Arts Centre is a blow for the community in Pontypridd. In the best traditions of Victorian pragmatism, the building has always been adapted according to need – from a church to a municipal hall to an arts centre. Hopefully, it will continue to find a role for itself in the months and years ahead.