Climbing the Welsh Matterhorn
Wales was blessed with some beautiful sunshine over the Easter weekend although not everywhere stayed dry.
Sunday was much cloudier with some rain, showers and even a few thunderstorms in the south on Sunday and Monday evening.
Good Friday night into Saturday was cold with a clear sky and air frost. At Tirabad in Powys the temperature fell to -3°C. 
Bank holiday Monday, though, was significantly warmer with temperatures reaching between 15°C and 20°C in the afternoon.
I spent the weekend in Gwynedd and took advantage of the good weather by climbing Cnicht, also known as the Welsh Matterhorn, which I filmed for Weatherman Walking a few years ago.
Back then I got wet but this time it was dry and I could see for miles.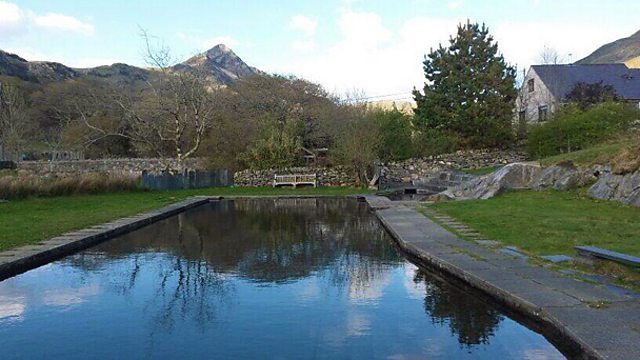 The outdoor swimming pool at Croesor
The views from the top of Cnicht were amazing and it was nice to visit the village of Croesor again and its outdoor swimming pool! 
Today a front has brought some showery rain but this will clear with a much drier day in prospect on Thursday apart from a few scattered showers.
Sunny spells are likely too once any morning mist, fog and low cloud clears. 
Looking ahead to the weekend, low pressure near south west Ireland on Saturday will bring more unsettled and breezy conditions. 
Saturday could see some showers and longer spells of rain so any cyclists doing the Tour of Pembrokeshire could find themselves with a damp saddle.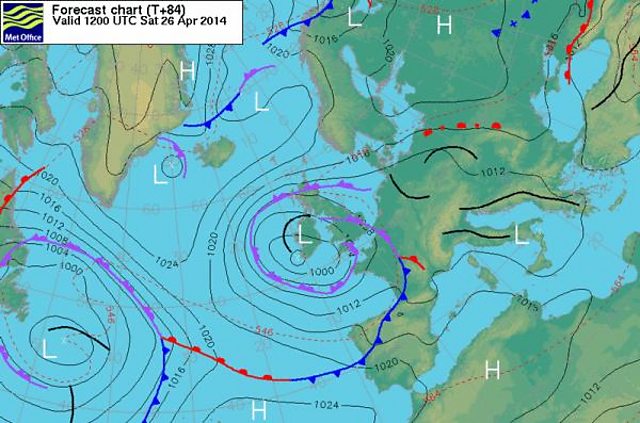 Forecast chart 23 April 2014
It's not all bad news though as some drier, brighter spells and a little sunshine are likely over the weekend with daytime temperatures ranging from 12°C to 15°C.