Tuesday represents a milestone during Cardiff Singer week. It's the last day of the Song Prize preliminary round, so the appreciative audience which has been attending this event will now have to find something else to do with their afternoons for the rest of the week. They have been able to enjoy Geraint Lewis' pre-performance talks, and then feast themselves on the very varied diet that makes up the Song Prize repertoire.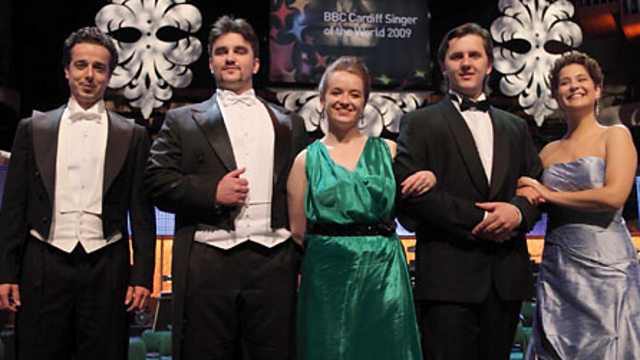 Competitors from concert three
Now they have to wait for Friday's final, which will feature singers from Croatia, Ukraine, Chile, Czech Republic, and Wales, who will perform in that order.
If the audience is really missing the Song Prize, they can always make a date with the BBC Radio 3 coverage, which started on Tuesday and continues through to Friday, at 1pm. Extensive coverage of both competitions can be found in these 90-minute programmes, in the lunchtime concert slot. The Radio 3 blog has attracted some comments already - why not read them and perhaps add your own?
Tuesday also marks the halfway point in the BBC Cardiff Singer of the World competition in St David's Hall. Concert three brought us singers from Croatia, Poland, Hungary, Ukraine and Israel.
There was some very familiar repertoire - it was Hungarian baritone Csaba Szegedi's turn to sing Figaro's Largo al factotum - this piece is being performed in every concert in the preliminary round except the fifth! Other familiar competition fare included many Mozart favourites - Leporello's Catalogue aria from Don Giovanni (Croatia's Tomislav Lučić), Pamina's aria Ach, ich fühl's from The Magic Flute (Izabela Matuła from Poland), Parto, parto from La clemenza di Tito Yuriy Mynenko from the Ukraine and Susanna's Deh vieni, non tardar from Le nozze di Figaro (Claire Meghnagi from Israel).
Claire also brought us one of the most unusual repertoire choices ever - Non monsieur mon mari from Les mamelles de Tirésias by Poulenc. During this entertaining aria, her character, Thérèse, turns into a man, having declared herself fed up with playing second fiddle to her husband.
Read programme notes for this and all the repertoire in concert three.
Ukrainian competitor Yuriy Mynenko had a very good Tuesday. He was declared the winner of concert three, having found out earlier in the day that he had been selected for the Song Prize final.
There is a bit of a Ukrainian club developing in this competition. As well as the Ukrainian competitor himself, there is also the American competitor, Vira Slywotzky who is of Ukrainian descent. Here in Cardiff with her is her sister - who has been helping out with interpreting for Yuriy - and her parents. Plus, Natalya Romaniw from Wales also has Ukrainian descent! Her grandfather used to sing her Ukrainian folksongs when she was a little girl.
Talking of the Welsh competitor - her turn on stage comes tonight. If you can't get to the concert but are in Cardiff and happen to be passing St David's Hall between about 8.30 and 9pm, make sure you glance up at the BBC big screen - you'll be able to catch her live performance from the stage!
And finally - in the unlikely event that you are in Cardiff and reading this and don't yet have tickets for tonight, or for any of the remaining concerts, you can get any available ticket for just £5. Call the box office - details are here.