Horizons: The story so far
I've always loved retro. I'm at Hay Festival in a custom built American Airstream, converted into a radio studio. You can hear the choruses of 'wow' from people walking past. We're here at Hay, causing serious congestion on the walkways with a small music stage and live radio platform as part of the Horizons project.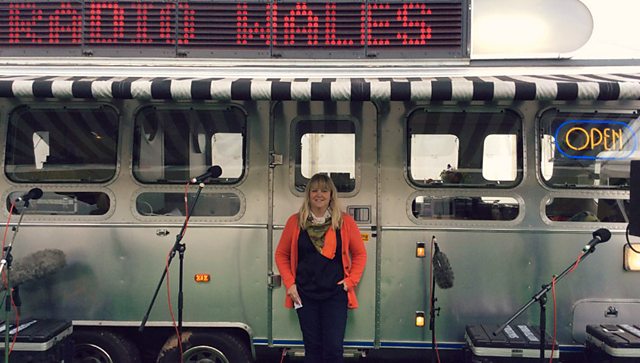 Bethan Elfyn outside the BBC Radio Wales Airstream
Horizons is an exciting new music project run by the BBC and the Arts Council of Wales in a unique partnership. My role as project manager has been to oversee the development of the project and help get it off the ground. This culminated in the launch at Focus Wales, a stage at Laugharne Live and Machynlleth Comedy Festival, and before the first month is out we are here at Hay-on-Wye.
Thousands of visitors are catching a glimpse of some of the most exciting new names in Welsh music. The overflowing warmth of the reaction shows that there is a great enthusiasm to hear good music, even here at a literary event. The musicians are entertaining the crowds as they queue for the next event, and even in the downpours have put on incredible shows.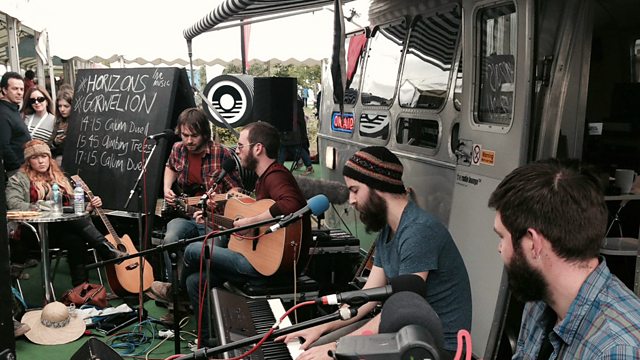 Climbing Trees performing at Hay Festival
Matthew of Climbing Trees said:
"We loved Hay. Jamie's show was a pleasure, and the set outside the airstream was really enjoyable. I think the fact that it started hammering down and we had to just abandon our instruments and sing into the crowd worked strangely in our favour! Everyone sang along with Burning Candle, and it was definitely one of our festival highlights so far."
Horizons is about trying something different. Through the panel process we've selected 12 very different musicians to work with throughout the year. We're taking them to as many events as possible, looking for unique situations, collaborations, and celebrating the music through regular support on BBC Radio Cymru and BBC Radio Wales. So far so good, and the momentum is really building.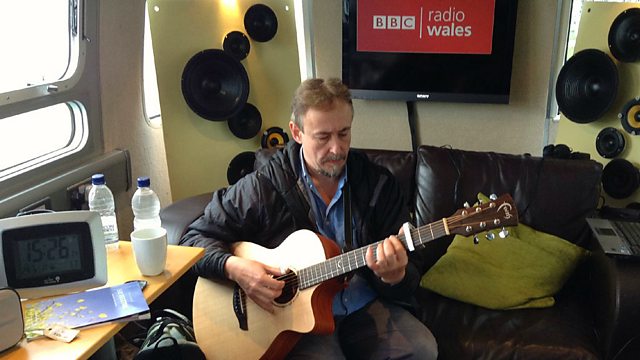 Chris Jones tuning up before his performance
Each month we'll be highlighting one of the 12. Horizons' featured artist for May is Chris Jones, who was selected to perform at a BBC National Orchestra of Wales event last Friday evening, called Now its Your Turn. Chris dueted with Georgia Ruth, someone who has championed his music from day one.
Like all good folk artists Chris has a unique tale to tell, and his music has had to take a backseat for a number of years while recovering from two back accidents. We're pleased to be part of project that can help musicians from all walks of life at all different stages of their musicial careers. Sain Records will be releasing an album by Chris in the summer, and I look forward to hearing it.
After Hay, the Horizons stage rumbles on to Dinefwr Festival, where we'll be curating a stage in the wonderful setting of Dinefwr house courtyard. Come see us there.