Tuesday, 2 Feb, 7.30pm on BBC Two Wales.

Iolo Williams has spent the last 12yrs or so making wildlife programmes with the BBC.

He started out as the species officer for the RSPB but a BBC series about 'Snowdonia' catapulted him onto our screens.

During that time a lot has happened, not only to his career but to the wildlife and landscape he has featured.

Now Iolo, who remembers finding his first nest on the moors of the Berwyn mountain above his childhood home in Llanwddyn, is a full time wildlife presenter.

His new series - Iolo's Wild Times starts tomorrow night - Tuesday, 2 Feb, 7.30pm on BBC Two Wales and runs for four weeks.

First port of call is Puffin Island, off Anglesey, which, when Iolo first visited for his 'Birdman' series in 1999, had just a few remaining pairs of the eponymous birds, the majority having been killed by rats which arrived after a shipwreck.

Iolo's first visit to the island was when he worked for the RSPB, and poisoned the rats to encourage puffins to nest. Now he returns to the island to see if it is still rat free and find out the effect on seabird numbers.

Iolo diving off Skomer Island for the new series: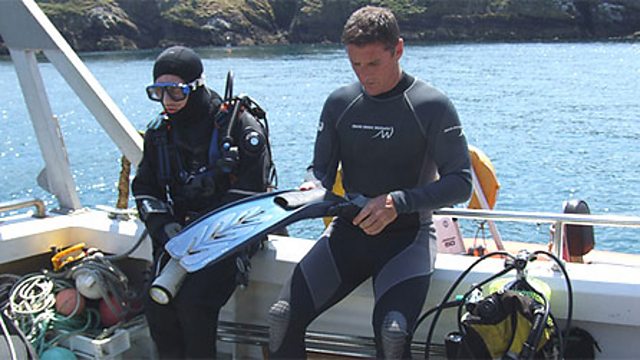 "It was an odd sensation to return to some former haunts for the first time, in many instances, for over a decade," says Iolo.
"Puffin Island, now that rats have been eradicated, was a revelation. The habitat had changed and we saw nesting eider ducks - a first for Wales."
Iolo says the "greatest privilege" of the series was being allowed to land on Grassholm Island with a group of scientists".
"The island is home to 39,000 pairs of breeding gannets and has been closed to the public for a decade".
Don't try this at home kids! Iolo releasing a gannet:
"However, I was allowed to land with two biologists from Plymouth University who are studying gannet movements at sea by fitting satellite transmitters onto these huge seabirds."
Iolo also finds out what has happened to the red squirrels in Anglesey that he first encountered in Wild Wales in 2000.
Skomer marine nature reserve off the Pembrokeshire Coast is another stop, to see how the ban on scallop fishing has changed marine life, and finds how otters have fared in Porthmadog.
In many cases, the changes have been for the better, thanks to the hundreds of volunteers across Wales who pitch in to monitor, record and fight for the wildlife in all its many forms across Wales.
But Iolo says that with the loss of habitat such as rough field edges and scrubland, cleared to make way for grazing, or reclaimed for housing or factory use, Wales's wildlife continues to struggle.
He cites the decline of the water vole, which he covered in his Welsh Safari programme in 2006, as an instance where, after a 98 per cent drop in population in just 30 years, the animal is in danger of dying out in the wild altogether.
But one incident still stands out for Iolo - the destruction of an area which he says was the "single most important site in Wales" for the increasingly rare lapwing, cleared to make room for factories, which, as he discovers, have still not been built.
"The former lapwing site at Ebbw Vale, destroyed by political vandalism, brought back a mixture of despair and anger - it still makes my blood boil 13 years on!" he says.
You can watch more of Iolo's wildlife archives by visting our video collection
.
BBC Programme information page