The story of Professor Hermanne Ethé and the Aberystwyth 1914 riot
Hermann Ethé was a German Professor of German and Oriental Languages at Aberystwyth University. Following the outbreak of war, his continuing presence in the town sparked a series of disturbances that targeted him and his wife.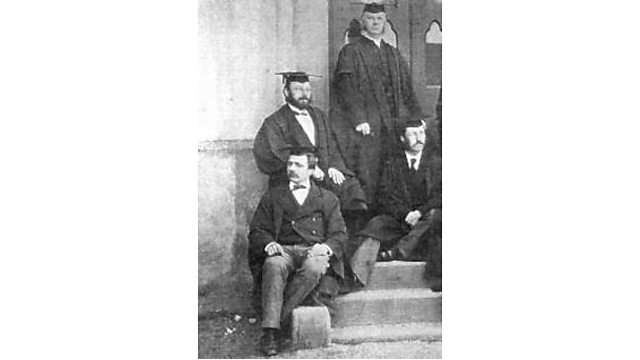 Hermanne Ethé (top left) and colleagues
Local newspaper accounts at the time confirm the naked hostility many people in Aberystwyth felt towards their foe, as, on the 14 and 15 October 1914, a mob numbering upwards of 3,000, paraded through the town, Union Jack to the fore, seeking out German nationals. 
The crowd confronted Mrs Ethé at her home in Caradoc Road, causing damage to the property. They also assaulted other college academics who attempted to intervene on her behalf. Eventually, Professor Ethé was forced from his home, seeking refuge in Reading.
The story of Professor Ethé does not end in October 1914; in 1916 questions were raised in the House of Commons about his continuing employment at the India Office, and his pension rights became the target of Aberystwyth Council. He did have his supporters – a letter in Amman Valley Chronicle of 9 November 1916, by Professor Herford of Manchester, highlighted Ethé's anti-Prussian credentials as the reason why he settled in Britain in the first place.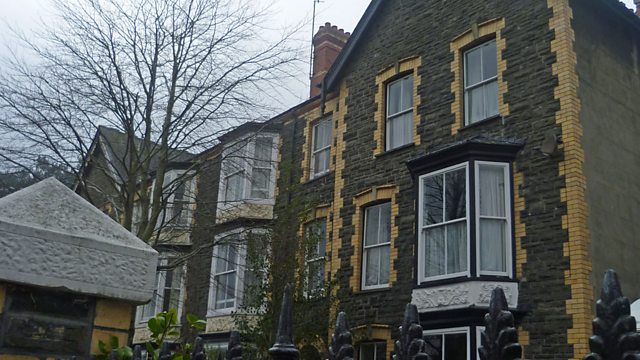 Ethé's house on Caradoc Road, Aberystwyth
Letters written by Ethé in 1915 to former colleagues highlight the fears and anxieties shared by him and his wife. They talk of his hopes about naturalisation and fear of deportation, his quest to seek permission to visit his ailing in-laws in Clifton, Bristol (he eventually died at Clifton in June 1917, despite earlier references in the correspondence to his robust health). His letters asked what would happen to his books and papers in Aberystwyth, and expressed his fears about his wife's return to the town in order to sort out their possessions. They also include a death threat on his life, received by the college.
The Ethé case highlights a wider story of intolerance, bigotry, even racism, towards so called 'enemy aliens' that pervaded British society at the time, which was sometimes tinged with anti-Semitism. This was fed by early 'atrocity stories' around the behaviour of German troops in Belgium and France, and 'black' propaganda, circulated in newspapers like the Daily Mail and the populist magazine John Bull.
Some of the atrocity stories were based on fact, but many were outlandish and based on urban myths spread by soldiers on leave, and a gullible and credulous public. These including the infamous 'corpse-rendering factory', where it was alleged the remains of fallen soldiers were used by the Germans in the manufacture of glycerine. 
Later, the shelling of Scarborough and Hartlepool, Zeppelin raids, and in particular the sinking of the Lusitania in May 1915, only added to anti-German hatred in Britain. The Lusitania incident, coupled with the German deployment of poisonous gas at Ypres in April 1915, prompted serious anti-German rioting in other parts of the country, including London and Liverpool.
It is not difficult to see why, in this heated atmosphere, the likes of Hermanne Ethé remained a target for those in authority. His liberal views and his record of service at Aberystwyth counted for nothing. 
These events must be judged against the mood of the time, but by any standard this was not Aberystwyth's finest hour.
You can explore documents relating to Professor Hermanne Ethé on the Wales Experience of WW1 website, that include documents from the National Library of Wales.
Listen to the story of Dr Hermann Ethé with BBC Radio Wales and World War One at Home.