The Forestry Commission in Wales
About 12% of the land in Wales is now covered by forest or woodland, a far cry from the pre-Neolithic Age when virtually the whole country was swamped by trees.
Over the centuries, however, a process of gradual deforestation – including a period of deliberate, military based destruction during the campaigns and despotism of Edward I – gradually eroded Welsh woodlands.
In the rest of Britain there was a similar situation, something about which nobody seemed to care until the world erupted into war in August 1914.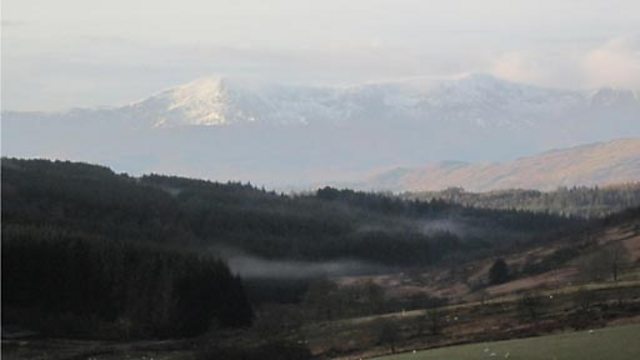 Bronaber (Image from Joysaphine on BBC Wales Nature Flickr group)
World War One exposed Britain's weakness as far as a ready supply of timber was concerned. Wood alcohol was a crucial component of cordite and, without this ingredient, the guns of war simply could not fire. Consequently, Britain was forced to import huge amounts of timber.
In an effort to halt this high level of dependence on imported wood, the Forestry Commission was established in 1919. This new government department immediately began to purchase large amounts of land.
By the outbreak of World War Two in 1939 the commission had managed to buy some 28,000 hectares of what was once rich Welsh farmland, much of it in the highlands of the country. In Wales and in Britain as a whole the Forestry Commission had become the single largest owner of land.
The demand for timber was equally as high in World War Two as it had been in World War One. As a result, between 1946 and 1951 a further 20,000 hectares of Welsh farmland was acquired. By 1975 the commission owned 134,000 hectares of woodland in Wales. Unfortunately, much of this land was obtained through compulsory purchase orders which brought about considerable bad feeling and great hostility from Welsh sheep farmers.
It wasn't just the acquisition of land that caused problems. Forests of non native conifers, invariably set out in rigid straight lines and blocks, brought the complaints that the Forestry Commission woodlands were ecologically and aesthetically unpleasant.
A change in policy
By the end of the 1960s Forestry Commission policies began to change. Long, protracted military conflicts, it was felt, were not likely to occur. Any future world war would simply destroy the planet and with the emphasis increasingly on localised conflicts, the need for huge forests of conifers diminished.
Native deciduous trees were now planted and the commission harvested and even sold off some of its holdings. By the end of the 20th century, privately owned woodlands actually exceeded those of the Forestry Commission.
It was not now just about the production of timber. Scientific research and recreation were also brought within the remit of the commission. Projects such as the successful forestation of what had once been the south Wales coalfield became more important than merely acquiring land and planting trees for the sole purpose of supplying timber.
Despite this the commission still owns 135,000 hectares of land in Wales, the largest forests being Coed y Brenin in north Wales and Brechfa in Carmarthenshire. It has been something of an about turn for the Forestry Commission after a history that has been more than a little turbulent.