Welsh National Opera kicks off season with Tudor triple bill and Tosca
Popular culture's obsession with the turbulent Tudors shows no sign of abating, with the RSC soon to stage Hilary Mantel's novels Wolf Hall and Bring Up The Bodies, the V&A's recent Tudor and Stuart treasures exhibition and the ongoing popularity of the BBC Two series.
This season Welsh National Opera will perform Donizetti's three Tudor operas, Anna Bolena, Maria Stuarda and Roberto Devereux - the first time they have ever been staged together in the UK.
It marks the start of WNO's three-year exploration of the Bel Canto repertoire. Kicking off next week in Cardiff, the triple bill will accompany a new production of Michael Blakemore's classic Tosca with all four shows then touring to Swansea, Oxford, Liverpool, Bristol, Birmingham, Llandudno and Southampton.
And because of the evident fascination and appetite for this period in history, a raft of off-stage events will accompany the tour.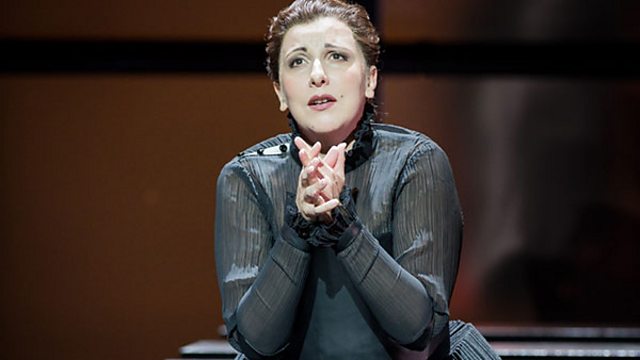 Serena Farnocchia as Anne Boleyn in a dress rehearsal. Photo: Robert Workman
For the first time WNO has forged a partnership with the National Trust to breathe new life and understanding into the torrid affairs of the Tudor court.
I caught up with the company's trainee dramaturg Sophie Rashbrook, who has helped co-ordinate a series of special events and days out at National Trust properties close to each of the tour venues.
She told me: "We have been working with the historian Anna Whitelock who says our obsession with the Tudors stems from the huge consequences their private lives had for Europe. They were really the first celebrities and left such a fascinating legacy that is still part of our heritage today.
"Anna Whitelock and the novelist Suzannah Dunn are taking part in a programme of site specific events under the title Fact and Fiction, and will help audiences re-imagine the historical events these operas are concerned with.
"Suzannah will talk about why she feels inspired by the Tudors as a novelist while Anna will talk about the departure Donizetti makes from the historical facts."
Also starring will be Lynn Boudreau and Caryl Hughes (mezzo-soprano, covering Giovanna Seymour in Anne Boleyn) who will sing excerpts from each opera in costume.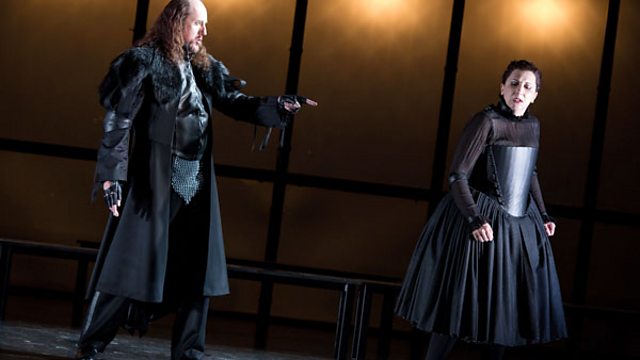 Alaistair Miles (Henry VIII) and Serena Farnocchia (Anne Boleyn). Photo: Robert Workman
The events will also feature read extracts from Mary Stuart's letter the night before she was beheaded and Anne Boleyn's trial speech to further interweave fact with fiction.
They will take place at Tredegar House near Newport, Packwood House and Baddesley Clinton near Birmingham and Plas Newydd Country House and Gardens, Anglesey, when the operas are on tour in each area.
There will also be the opportunity to explore the Tudor Merchant's House in Tenby, and Speke Hall and Little Moreton Hall near Liverpool, with a speaker putting Donizetti's operas into historical context.
To tie in with the National Curriculum work on the Tudors, WNO will be working with primary schools throughout the tour via an interactive project at National Trust properties. Pupils aged 7-11 will be able to take part in a creative adventure which will use 'time travel' to link history, literature and music during two day-long workshops held both in the classroom and on location at the houses.
Experts will also hold talks at each venue to introduce audiences to the stories, background and music of each opera and on Thursday there will be a talk with WNO artistic director David Pountney in conversation with historian Peter Stead and the director of Anna Bolena and Roberto Devereux, Alessandro Talevi, exploring The Tudors season at the Wales Millennium Centre in Cardiff.
The operas mark a WNO debut for both directors - Alessandro Talevi and Rudolf Frey - and offer a dramatic re-imagining of some of history's most infamous characters.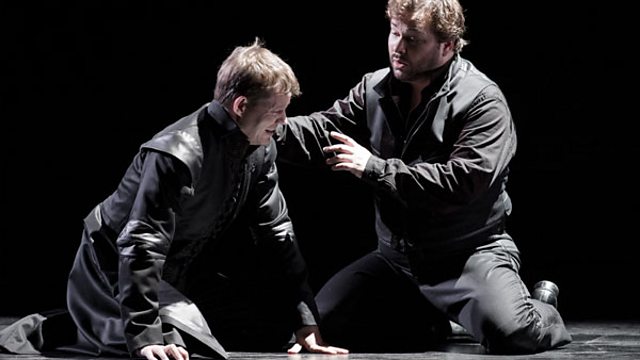 Daniel Grice (Lord Rocheford) and Robert McPherson (Lord Percy). Photo: Robert Workman
Sophie added: "The events of the operas do differ wildly from the facts, particularly in Maria Stuardia where you have a showdown between Elizabeth I and Mary Queen of Scots as the climax of the piece, although that meeting never actually happened."
Director Rudolf Frey says the meeting of the two queens in Maria Stuarda will make for gripping theatre: "The simple presence of the two queens has an enormous explosive power. In this production we will give them their own equal but distinctive habitat on stage - the larger than life queens will almost appear as if they were precious artefacts in a contemporary exhibition.
"Obviously the opera concentrates on a love-theme with Count Leicester as the catalyst of this triangle. This raises questions about Elizabeth's status as the 'Virgin Queen' when compared to the affairs and crimes Mary Stuart is being accused of.
"We get an insight into the most vulnerable point of the two monarchs as they are being driven by their will to rule, survive and retain their female identity in a male-dominated society."
Each opera will share a set designed by Madeleine Boyd which will be modified for each production and is an abstract take on the Tudor court.
This modern reinterpretation of classical style is echoed in the costumes of the chorus, which will have articles added and removed to them throughout each opera. While the corsets and long waistcoats of the Tudor period are in evidence, the costumes will also appeal to modern tastes. And Queen Elizabeth will borrow some of her style from the 80s visions of designer Vivienne Westwood!
Detail from Madeleine Boyd's costume design for Henry VIII. Image courtesy of Madeleine Boyd
Sophie added: "Donizetti wrote these operas to entertain but they also feature very elegant singing and incredible virtuosic ornaments. Audiences will be fascinated by the historic elements but will also get to enjoy a gripping drama and there will be surtitles so you don't have to be fluent in Italian to understand what's being said."
Also featuring on the tour is a new production of Puccini's Tosca with American soprano Mary Elizabeth Williams and Austrian baritone Claudio Otelli making their WNO debuts, as well as an appearance from Gwyn Hughes-Jones.
The new season kicks off on 7 September and runs until 30 November. For more information on WNO visit wno.org.uk.