How to talk tidy and the search for MCAT
Producer Claire Hill gives an insight into what it's like for the police and filming crew for Police 24/7
When you are out filming as a crew you always have to be prepared for the unexpected. There is no way to truly plan for - or predict - reality. However, working with an emergency force like the police this is especially true. 
As soon as you step out of the station and into the police cars you are entering into a world where anything can happen, and the officers first on the scene need to be able to deal with that unknown every single day.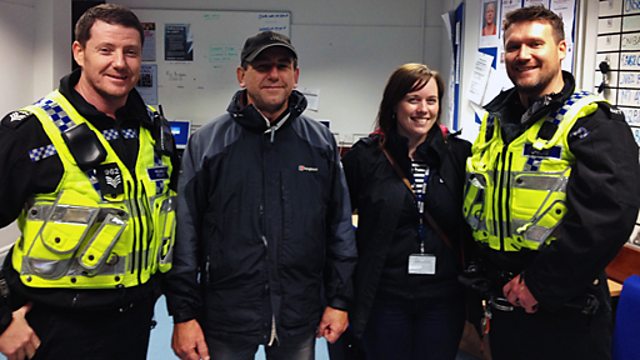 Sgt Chris Peters and PC Geraint Rees with the Police 24/7 team
In just seven days we saw the police dealing with everything from missing persons to a dog being run over on a busy road, domestic crime, people using drugs and even an attempted break in at a bakers – they were after the safe not the pasties. 
Whether it is 1am in the morning, many hours into a 'supernoon' shift (that's the 4pm to 3am shift) or moments after they step on shift, the officers have to be ready to react to whatever call comes in. And in our case that meant the cameras needed to do the same. There are a few key things when filming the police to keep in mind. Firstly, never turn down a hot drink and always drink it quickly, as you never know when you will get another chance to refuel. But more importantly you have to always be alert and aware of your surroundings and also adapt to the situations you find yourself in.
This is especially true if you are carrying out warrants or raids on people's houses. During the filming week we followed two different teams on very different raids looking for drugs. With PC Steve Pace and the team in Merthyr we went on shift knowing that they planned to target a property they suspected was linked to drugs. Following the Task Force and the police we were in the house in moments and the occupier calmly watched as the teams searched his house. It was a different story later in the week with Sgt Chris Peters and his team in Pontypridd. 
A 999 call to investigate a concern at a property set Sgt Peters' radar going. Always keen to crack down on drug use on his patch, especially his current concern MCAT, he quickly informed us and his team that he wanted to seek a warrant from the magistrate to search the house for drugs as well. After signing off his request with superiors based on intelligence and an out of hours call to the magistrate to sign off a warrant, Sgt Peters and his team headed to the house with the big red key. This time there was no-one in the property and after a struggle with a resilient door, Sgt Peters and his team were able to search the property thoroughly. 
Searching a property is a painstaking task. It is unlikely that drugs will be kept in plain view, and it seems that people have their own special hiding places. It is up for the team to methodically examine each individual room, and that can take time. 
While there was evidence of drug use in the property, I started to think the team would come away empty-handed before PC Geraint Rees looked in one final place and found what turned out to be a large bag of MCAT. The rest of the night turned into a search for the owner of the property. 
In the weeks before filming I heard a lot of the officers using the term 'talk tidy'. It was their way of saying that they need to be able to communicate effectively with everyone that they come across, from potential criminal to victim, and the best way to do that was to speak to them with a certain level of respect, you know 'tidy, like'. And during filming we got to see that in action in various different ways across the different teams. 
Sgt Peters used his skills to talk the property owner into returning home so they could take her into custody and investigate their drugs find. PC Pace would use it to speak to the community on the Gurnos in Merthyr turning his neighbourhood rounds (and even run-ins with the familiar faces) into something which is an example of good policing and community work. And even at 2am, on a freezing cold Saturday night outside a nightclub in Merthyr where the drinks had stopped flowing and tensions were running high, Sgt Tim Morgan and his team were using it to talk down those people who wanted to only communicate with their fists.
For South Wales Police, a lot can happen in a week, and response always needs to be ready.
Police 24/7 is on Thursday, March 13, BBC One Wales at 8.30pm