Most of Wales enjoyed a fine Bank Holiday weekend but the combination of a brisk and gusty easterly wind, and very dry conditions unfortunately led to more grass and forest fires.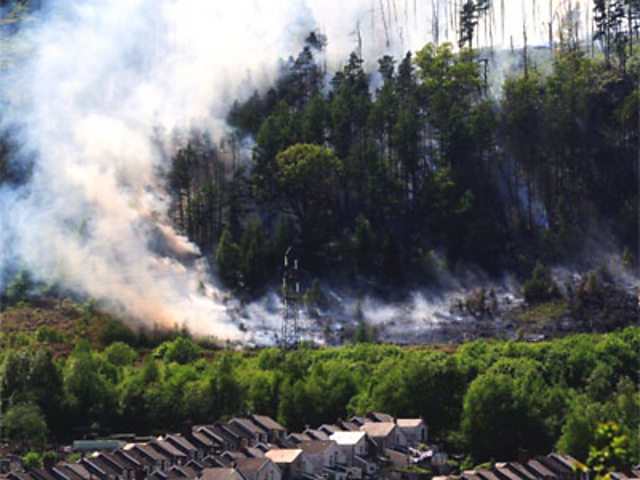 Retired firefighter, Gerwyn Gibbs took this amazing photo of a forest fire from his garden in Mountain Ash yesterday.
The ground is now parched and some people are crying out for rain including a colleague who has recently sown a new lawn!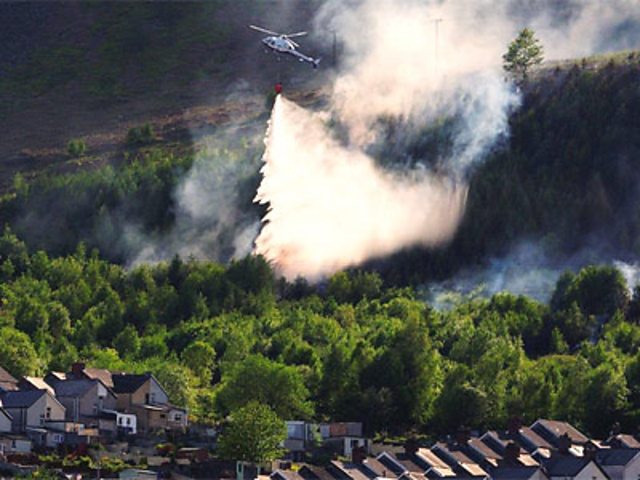 Retired firefighter, Gerwyn Gibbs took this amazing photo of a helicopter dousing the fire near Mountain Ash with water yesterday.
In Radnorshire in Powys, only 32mm of rain fell in March and April. Well below the average of 172mm (nearly 7 inches).
While Neville Dunn from Mold in Flintshire has recorded even less, only 7mm of rainfall in the past two months, making it the driest spell since he started taking rainfall records in 1983.
The last time he recorded any 'measureable' rain was on 11 April 2011, making it the longest drought he has known since 1989.

The reason for the current dry spell of weather is high pressure to the north and east of Britain. It's called an Omega block, a bit like we had last November and December 2010.

Forecasting exactly when the block will break down can be difficult. At the moment, it looks like the high will give way later this week allowing low pressure in the Atlantic to move closer towards Britain.
This means cloudier conditions over the next few days but with the wind turning more into the south temperatures will rise by a few degrees. However, there is still a risk of ground frost tonight, mainly in rural parts of mid, north and east Wales.

The odd shower is likely on Thursday and Friday but we may have to wait until the weekend before we see any useful rain.
Even then the rain may be thundery in nature so some places may end up with a soaking, while others get very little rain.

Derek