Music artist Pete Fowler on diving into Oceans of Fantasy for his latest exhibition
If you're a fan of the Super Furries, Gruff Rhys or The Horrors, then it's unlikely you're a stranger to the psychedelic creatures of artist Peter Fowler's imagination, which adorn many a hip album cover from the late 1990s.
These funny little fellas are the inhabitants of a parallel world Pete has created, the world of Monsterism, a place where he says "banjos are played by horned owls and synths tweaked by mutant horses". I don't care how far away it might be I want to go there!
Now the motley crew that make up this intriguing land are starring in their own exhibition alongside Pete's "many-tentacled" other projects, one of which is being one half of the musical duo Seahawks.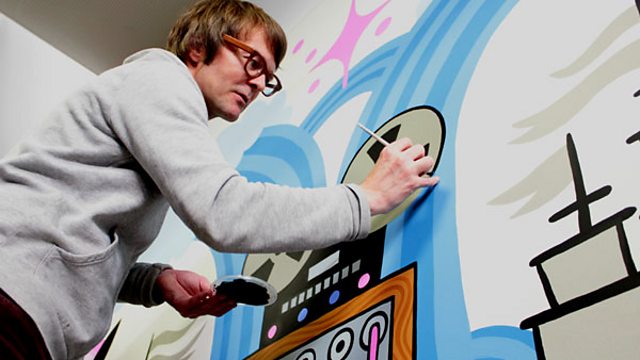 Pete Fowler working on a mural created for the Wales Millennium Centre exhibition
His Oceans of Fantasy exhibition opened at the Wales Millennium Centre in Cardiff last week and runs until 24 February 2013.
It's been a stressful week for Pete, with the opening of his biggest homecoming show to date marred by the theft of his laptop, keys, passport and several watercolours from the gallery as he was setting up, and a resultant frantic scrabble to back up work.
The scale of the exhibition, running over two floors, with 3D work in the main lobby of the centre and a specially created mural, is like no other he has contributed to in the past.
"Usually shows I do comprise maybe no more than 20 pieces confined to the wall. I've had a lot more scope with this and it's great to have so many pieces, with over 70 to look at and, if you're lucky, play with," he said.
 "I think it's true to the variety of work that I do as it encompasses paintings, ink drawings, animation, sculpture and mural painting.
"Being Cardiff born and bred it's fantastic to come back with some of the best new work I've created to date and some of my favourite pieces from the past.
"It's such an auspicious place to show my work and I'm thankful to Rob Ashelford and the team at the Wales Millennium Centre for inviting me and working so hard to make the show everything it is."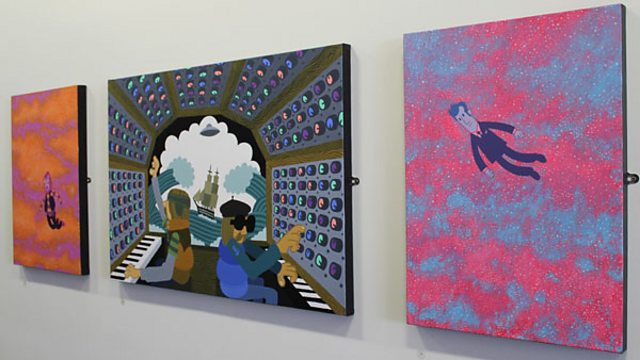 Pete Fowler's art work at the Wales Millennium Centre
Oceans of Fantasy includes some archive works as well as some newer pieces and takes its title from a Boney M LP.
He told me how the moment of inspiration came to him: "The said LP has an amazingly over the top cover and the title track ticks a lot of boxes for me.
"The ocean, disco and spacey sounds! It seemed to me to be an obvious choice for the title as the LP was leaning against my stereo at the time I was trying to think of a name.
"I'm fascinated by the sea, synthesisers and the world of fantasy and the imagination and there's a theme throughout the older and newer pieces that link them together. Be it music, the sea of hirsute gentlemen, perhaps with the odd UFO flying past."
He said the show has enabled him to look back over his work over a 12-year period and fall in love with some of his older pieces all over again.
Pete has been a long term resident of the world of Monsterism for more than a decade and each of his wonderfully unique cosmic characters comes with their own story.
The cast of crazy creatures is inspired by growing up on comics and watching cartoons and an early love of pop art. It has also resulted in a successful foray into collectable toys, comics, skateboards and even a compilation album – The Sound of Monsterism Island.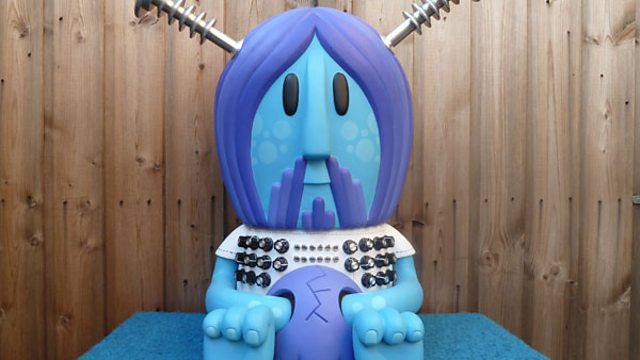 Pete Fowler's sculpture Van AudiOrlax. Photo courtesy of the artist
"The monster creations were something I had going on in my sketchbooks for some time that slowly came off the page onto paintings, toys and elsewhere," he told me.
"I first released Monsterism toys in 2001 through Sony Creative Products in Japan then formed my own company, Playbeast, to manufacture them myself.
"I think being into dinosaurs and the world of the unknown (Loch Ness monster, UFOs, Bigfoot etc) when I was a child planted this interest in my head only to seep out years later into my work."
This exhibition at the WMC marks a moment of pause and reflection in his career and sees him taking a bit of a sabbatical from Monsterism Island, but he vows to come back.
"It seems to me to be a natural development of my work over the years and coming away from the Monsterism world has given me a bit more freedom to do what I want rather than feeling I have to create monster like work for ever.
"I think every artist should be open to new paths and inspirations and that's where I am right now with my work."
It's impossible not to see the references to trippy psychedelia in his style and a love of that 60s-70s musical genre infuses every piece he creates. He describes the creative process as "bringing child-like wonder" and a very rewarding sense of freedom to use and explore the limits of his imagination.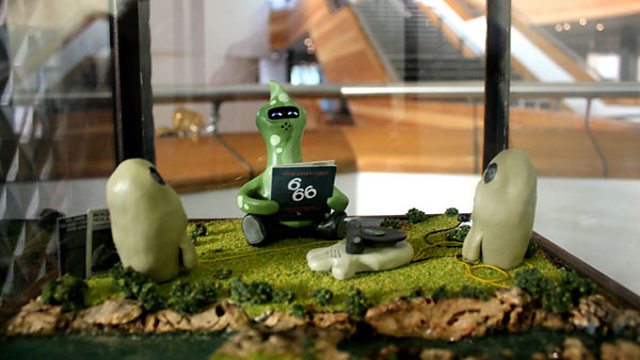 Detail from Pete Fowler's 3 Dioramas. Photo courtesy of the artist
The newest works in the collection were begun before the WMC commission was on his radar and are inspired by some of the work he has been doing with the Brushes app on the iPad 2.
He said: "It's like a stripped down version of a painting application that I use with a drawing stylus.
"I've re-explored my colour work and style to a certain degree while using it that has crept into both my painting and illustration work.
"There are themes that run through the pieces like the sea, boats, synths, hirsute men and UFOs, all liberally sprinkled with psychedelic nutrients.
"They've moved away from the more monstrous creatures I usually work with, but humans were a big inspiration for my monsters originally. We can all be a bit monstrous in our own ways sometimes."
Following the WMC show Pete has an exhibition lined up for August 2013 in London and is still deciding between a wealth of ideas he has for it.
"I still love making digital artwork but I'm looking into new ways of using that for different projects and have some interesting ones lined up.
"Also I want to get into cross stitch and make more lino cut prints next year, I turned my studio into a print workshop a few years ago and loved it. The creation of a print that starts and ends in my studio with no digital technology is great, although I do love giclée prints."
His final engagement of the year is a Seahawks gig coming up in Manchester on Saturday where he will be joined by the extended Seahawks Electro Harmonix orchestra and Tim Burgess from The Charlatans.
Oceans of Fantasy is at Wales Millennium Centre, Cardiff until 24 February 2013. For more on Pete's creations visit monsterism.net.