New collaboration for Bangor artists
Ever wondered what could become of all those shops left empty by the economic downturn?
Well for the past few years a group of artists and performers in Bangor have been using the neglected spaces as a forum to express themselves and bring their artistic work to the masses.
Bangor Greadigol was set up in 2009 with the aim of filling disused buildings in the city with exhibitions, performances and "happenings" - although not of the supernatural kind.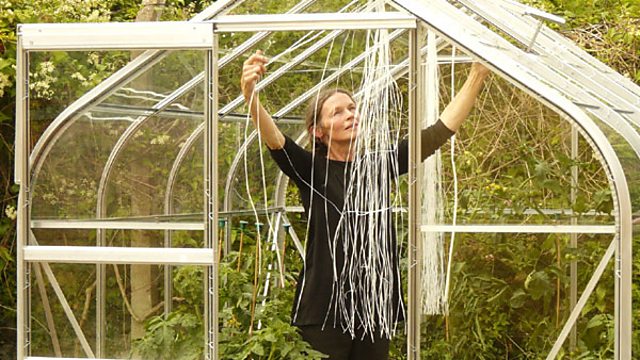 Jaci Atkinson
The thrust of the project was to transform non-traditional spaces and attract new audiences to the arts, but also to play a pivotal role in how Bangor develops culturally and aesthetically in the future.
Over the years they've produced a variety of exhibitions and performances, with their latest involving a collaboration with the Nigerian performance artist Jelili Atiku at The Old Goods Yard in Treborth, where some of the Bangor Greadigol artists also known as The Old Goods Yard Group (TOGYG) have studios.
The site, near Treborth Botanical Gardens, opened in January this year with the aim of becoming a local arts hub. It is a community of local artists, musicians, film makers and performers.
Jelili is a sculptor, actor and video artist who has a fierce interest in human rights and justice issues and uses his work as a form of protest art.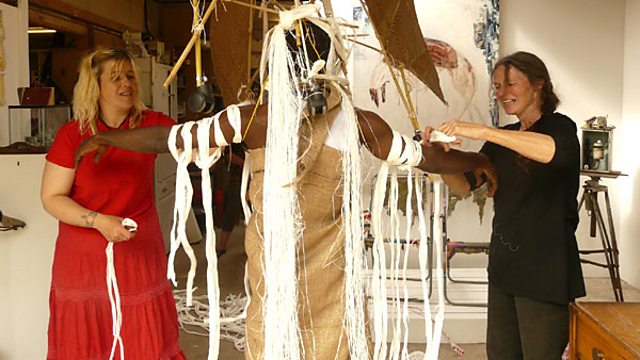 Artists Lisa Hudson and Jaci Atkinson with Jelili Atiku
On 12 August TOGYG opened their studios to the public for the day while they worked with Jelili to devise a performance together under the title One Person Seven Hurdles.
The piece used an enormous costume Jelili wore, crafted by the artists out of found materials and some of their own recycled sculptures.
Those taking part included Wanda Zyborska, the sculptor from Anglesey, the illustrator Femke Van Gent and local artists Jaci Atkinson, Jo Alexander, Richard Houghton, Andrew Agace and Lisa Hudson.
The materials used included performance threads, stuffed stripy stockings protruding from some of Wanda's sculptures, which are all made using industrial materials like tractor inner tubes, car and bicycle tyres and parcel tape.
Wanda Zyborska
The idea of the performance was to help viewers reconnect their lives with their environment and saw each artist swapping items to devise a costume.
Wanda said: "We were delighted to have an artist who is so internationally renowned visit us but he is really into the sort of work our group is doing and the way we use discarded materials.
"Over the weekend we had about 100 visitors and the performance was rather impromptu but it was great as Jelili is very inspiring and encouraged three of us who had never performed before to take part."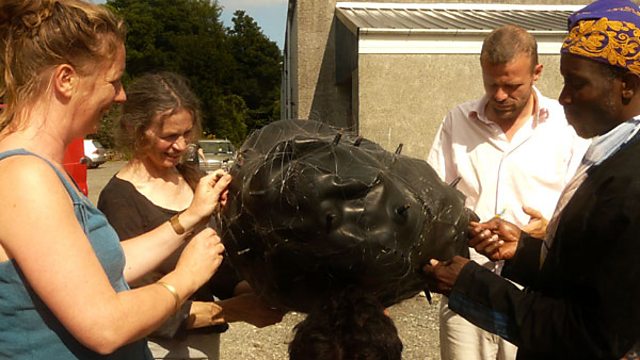 The Old Goods Yard Group artists with Jelili Atiku
Jelili Atiku is currently visiting the UK as part of a tour of Europe and recently took part in the new Tanks at Tate modern. He is also performing during the Manchester Festival.
Related links: