When heroes become friends: The John Hartson story
I first met John Hartson back in 1994. I was working as a television producer in BBC Wales Sport and had travelled up to Luton on a wet and windy February night with football commentator John Hardy to watch Luton Town's FA Cup fourth round replay against Newcastle United. Cardiff City were due to play the winners in the next round and we were due to televise that match so we were on a research trip.
I had heard that there was a young player from Swansea making his mark at Luton Town and when we got to the Kenilworth Road ground the name John Hartson was on the teamsheet. John scored one of the Luton goals that night as they upset the form book and dumped Newcastle out of the cup.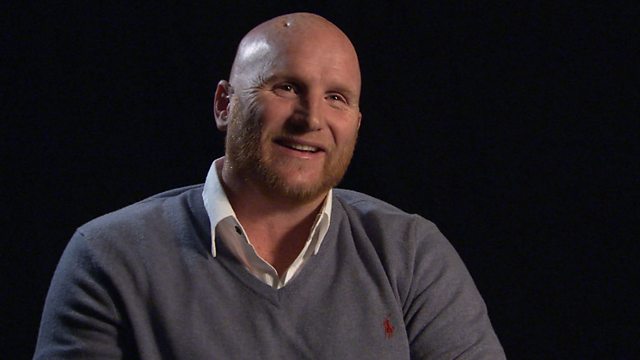 John Hartson
After the match we interviewed John and after the recording we chatted in Welsh with most of the conversation being about our home town of Swansea and some people we may have in common. He was a down-to-earth boy from Swansea and in over 20 years since then has not changed one bit.
Within a year John became British football's most expensive teenager when he moved from Luton to Arsenal for £2.5 million. Once the news was out I suggested producing a programme on John's life as a top flight footballer with Arsenal. The idea was accepted and over the next months I spent a lot of time with John and his family.
Filming interviews with his parents Diana and Cyril in the family home in Llansamlet was always a pleasure and the welcome was second to none. I spent a lot of time with John around the St Albans and Hemel Hempstead area where he lived. One of the highlights was being allowed to film the traditional Sunday breakfast gathering at Vinnie Jones' house. Vinnie even made the crew breakfast!
I used the title 'John Hartson – Portrait of a Hero' for the programme. Attaching hero status to an 18 year old is unusual even for a professional footballer. Twenty years on I can genuinely say that it was one of the most suitable titles I have ever used.
As John's career flourished and he moved from club to club, we would bump into each other while he was on duty for Wales. By the time his career was coming to an end I was working for S4C. We were looking to beef up our football coverage and one of the first things I did was bring on board John and Malcolm Allen as pundits. The audience would appreciate their straight-talking and knowledge and standing in the game.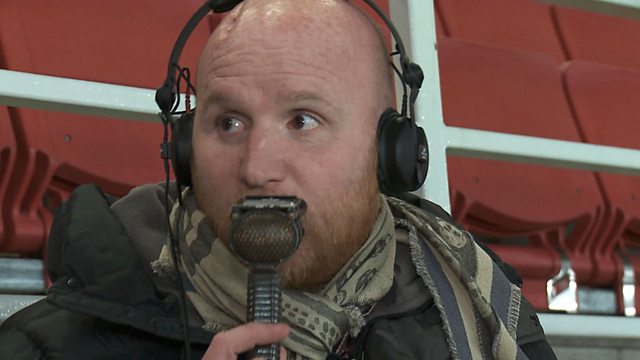 Hartson commentating
In late summer 2009 we were televising a European Cup qualifying match in Llanelli and John was due to commentate. I received a text from John saying that he would not be able to make it as he was in Singleton Hospital having some tests. I knew at the time that Sarah, John's second wife, was pregnant at the time so I took it for granted that she was the one having the tests.
A few nights after that match I read the front page of the Evening Post with horror – John had cancer and was fighting for his life.
The following weeks were a blur of worry as everyone waited to see whether Big John would pull through. He was incredibly ill and all the odds were stacked against him. I remember travelling across north Wales during this time. We had just been covering a Rhyl match and the presenter Gareth Roberts told me that John may not make it. As night fell on the north Wales coastline along the A55 I, like thousands of others, would be praying for John.
He did make it through that night. His recovery was incredible. Against all the odds he pulled through.
We are now five years on from that time. John and Sarah have three wonderful children as well as John's children Rebekah and Johnie. The Hartson home in Skewen is a busy one full of family life.
His life has come a long way from that wet and windy night in Luton and what a life it has been. High profile footballer, hell-raiser, gambling addict, the idol of football fans, family man, cancer survivor, charity organiser and fundraiser.
What a journey.
In our latest film on John's life, The John Hartson Story, John reflects candidly on his life since his illness. He talks openly for the first time as a recovering gambling addict.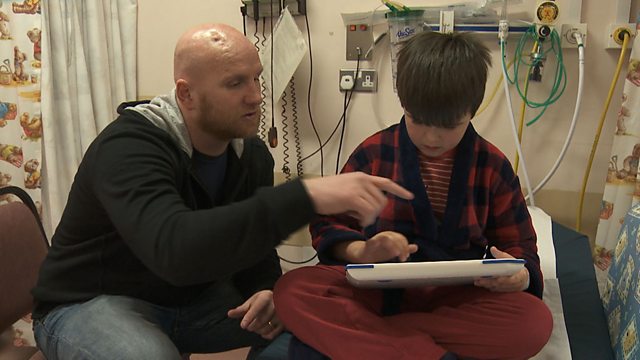 Hartson visits a hospital
Some of the most important parts of the film show how John is helping other cancer sufferers. This may be through his charitable work for the John Hartson Foundation raising money for childrens' cancer hospitals, or by raising awareness of testicular cancer.
The great Ray Gravell once told me how proud he was of the fact that his hero Delme Thomas had become his friend. I had the same pleasure with Grav himself and the same is now true with John Hartson. A hero through his exploits on the football field – no. But as a person and a very human being most certainly yes.
The John Hartson Story is on Wednesday 11 June, 9pm on BBC One Wales.