Weekend sunshine and warmth
The forecast today is far more positive than this time yesterday.
There are two weather fronts to the east and the west of Wales but they are both pretty weak features, so we should be fine sandwiched in the middle.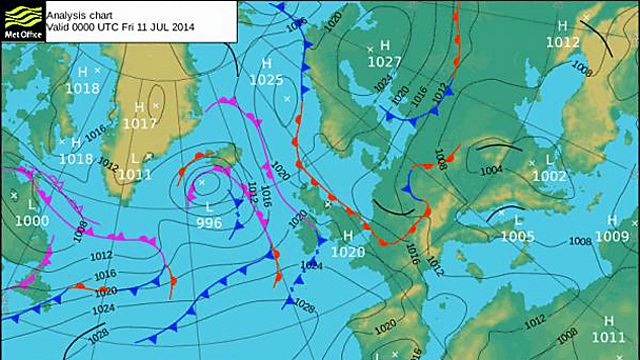 Forecast chart July 11 2014
It is feeling rather warm and humid so it may feel a little uncomfortable as the winds are light too.
On the plus side, there is plenty of blue sky to enjoy across much of Wales.
Through the afternoon we could see the odd isolated shower but the bulk of the country should be dry.
It will remain fine this evening, the perfect conditions to sit in the garden or take a nice stroll. So, a lovely end to the week. 
The weekend is not too bad either. Saturday will start off dry, but cloud and patchy rain will spill in from the west reaching Powys by mid-afternoon.
That rain will clear on Sunday morning to leave another fine day. 
The pollen count is moderate-to-high, so hay fever sufferers beware.
If you are going to Abersoch for Wakestock or the International Food and Drink Festival in Cardiff Bay, I would take some sunscreen and plenty of fluids as it's going to be warm and rather humid.
Pack a raincoat too, as there is a little bit of rain in the forecast for tomorrow.
Enjoy the sunshine and the warmth as it is going to feel a little bit fresher for the start of next week.