The Joy Formidable at Hendre Hall, Bangor
A few months ago, The Joy Formidable told me they wanted to do a 'hometown' gig somewhere in north Wales. They hadn't played up here for over two years. The strong currents that sweep great bands along had pushed them far, far away from the land that shaped their first album.
A week ago they were in Mexico City; the night before last they opened for Muse in front of 12,500 people at the SECC in Glasgow, tonight they play in front of 160 at Hendre Hall in Bangor. Some contrast.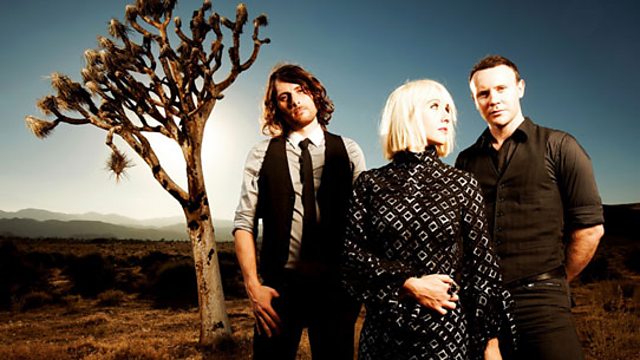 Photograph of The Joy Formidable
I had recommended the venue to their agent. They wanted somewhere off the beaten path, away from circuit venues, not out of any misguided snobbery, but because they wanted to do something a little different, a little special, for this momentous gig.
Hendre Hall is a world away from your average circuit venue. It hasn't been renovated to the point of it being unrecognisable to the medieval stone masons who originally hewed it from Snowdonia limestone. It's a haven for bohemian artistic souls. The courtyard is surrounded by workshops inhabited by nomadic, artistic folk.
The Joy Formidable's (excellent) American crew must feel as if their Sat Nav has taken them through a wormhole. Fortunately the wormhole still has 240V wall sockets, otherwise powering up the PA would be somewhat problematic.
"This place is older than your country," I tell Andy Tinsley - their indefatigable tour manager. Nothing fazes Andy, not even Chinese running ducks crapping on the venue's slate floor. Or idiot radio presenters trying to break the air doors on his tour bus.
This time round there is no tour bus. The band are in a splitter van. It's a far from luxurious way to travel.
"Eighteen hours from Nantes to Glasgow, in one go..." says Neak Menter, the band's brilliant sound engineer. "You can't sleep. It can make you a bit cranky."
Well, you wouldn't know it, the way the crew go about their work in this rather unusual environment. Once you stick a PA and a mixing desk in a room - any room, anywhere - the techs and engineers would professionally fall into their roles line-checking, mic-ing up drums, checking FX units, even if they were in a boat heading over the edge of the Niagara (Dyserth?) Falls. That rush of white noise would need to be compensated for in the PA, though.
Rhydian and Ritzy are in the courtyard doing an interview for C2's Lisa Gwilym. Matt stalks round the courtyard laughing at the ducks and the hens. He is irrepressible, almost all the time: the band's percussive engine - the foundation of their sound. He's not so great at finding the right Parisian hotel after a few drinks, though, by his own account.
Interview completed, you can tell Rhydian and Ritzy are so excited and emotional to be this close to home:
"Weird driving past Mold and not being able to call in to home," says Rhydian.
So near, yet so far.
"I've never really missed home before, we've been too excited going to other places. Our philosophy's been that 'variety is the spice of life'. But this time..."
He's sniffing that mountain air, like a lost cartoon animal in the final reel of a Disney film.
They're a little different from the band I saw laser-focused on finishing their second album in the US in March. They seem calmer, wiser, but a little more worn down by an incessant workload. There is no moaning from the band, though. Not one negative peep. Which is somewhat surprising, given than Ritzy and Rhydian are both in the clutches of severe colds.
Ritzy's talking voice sounds shredded. She's putting a strong face on, but you can tell she's concerned. This gig - despite the tininess of the audience in comparison to the masses they've been playing in front of recently - means an awful lot to them. No one wants this to be perfect more than Ritzy. She sips hot, honeyed water, applies warm towels to her neck, is the model of gracious civility with everyone who comes her way, but in a whisper... saving as much of her voice as possible for the show.
I can't tell you how strange and wonderful it is to see them around the wood burner in this cosiest and most ancient of dressing rooms.
They soundcheck and make a noise more full-throated than a flock of the dragons that mythically inhabited the mountains around. Seriously loud. Seriously ace. I shut my eyes and I'm back in Boston, on the balcony of the The Paradise Club, getting swept up in the best set of live music I have ever witnessed. This is going to be something way north of great. I open my eyes. A hen is pecking at my jeans.
Support for the night comes from Denuo. Tom and Sam Denuo come from north Wales originally. In a strange convulsion of space and time, they're accompanied by Adam Whitmore, who I saw an awful lot of, buzzing around as one of the main organisers of Swn Festival last weekend, and Dan Williams - front of house sound for Islet, Cut Ribbons and Future Of The Left. Falco affectionately calls him their "sound foetus", given his youth.
So many friends here already, and the audience haven't even begun to arrive.
I'm here to DJ and compere. I set up my record decks. The doors open and one of the best nights of my life begins.
Recognisable faces from all parts of North Wales and Chester have made their way up, or down, the A55. Neil Crud is here. Andy Black. Geraint, Jane and Dave from Nannerch. Ritzy's dad, John, a music enthusiast who I first met at Golden Fable's album launch, comes to say hello.
"Do you get nervous for her?" I ask.
"Not for the performance," he says. "I just worry something may break down."
Buckley's producer extraodinaire - Marc Joy (Tim & Sam band, Golden Fable) - shakes my hand. Mike, Joe and Ali from Telford's Warehouse are here too. It's like all parts of my life are intersecting in the most wonderful Venn Diagram imaginable. Producer Daulby, Crackling Vinyl campadre Elin Bach (also childhood friend of Rhydian - a coincidence that just feels like perfect fate tonight). Paul and Katie, passionate fans of The Joy Formidable, are here too. I met them in the dressing room at Terminal 5 in New York. This is getting to be like the end of Lost. With less suspension of disbelief and a more satisfactory denouement.
I play some Hendrix and Super Furry Animals. Elin plays Sandy Nelson and Spirit In The Sky. I play Mclusky's To Hell With Good Intentions, because it's great and I know it will psych Dan Denuo (bass).
"We're not going straight to hell," I say by way of introduction to Denuo on stage. "We've come straight to Bangor... Tom and Sam are from up here originally, but we'll forgive them for moving to Cardiff, won't we?"
Audience says 'yes' and Denuo play a fine set of crafted songs that uplift like balloons borne aloft by melody and melancholy. Ritzy stands next to me, side of stage, to watch them. Denuo were picked by her to play.
"Great choice," I say. And it is.
"Before I knew we were playing tonight, I was coming anyway," says singer Tom. "I'd bought a ticket for the gig."
We all laugh. It's one of the moments of the night.
I hadn't prepared an introduction for The Joy Formidable, I just gob on from a too sweary heart. I love the band, in a complicated fusion of friendship, awe, respect, memories and music. If you cut away the awe, respect and memories (but please don't), I'd still love them. I love a big, raging, clever noise - but I only love that noise if it's built on a swell of emotion. The Joy Formidable move me. They fix my heart when it's all too frequently life-broken. They inspire me because I know the humble roads from which two-thirds of them originate.
They're touring with Muse - a band who want to make a similarly big noise, but Muse do it with zero emotional clout, for me, at least. One band has a bruised and bloody heart at their core, the other has a Queen DVD with all of the humour edited out of it.
So, The Greatest Light Is The Greatest Shade roars through Hendre Hall at a volume that has the mountains that shaped it vibrating in glorious empathy. Bliss is the word, I think. I write it on my hand in biro. Neil Crud tweets the same word almost simultaneously.
Ritzy's voice cracks part way through Austere and deserts her entirely. My heart breaks for her. She so wants this to be perfect. The band reach out to hold her up. Rhydian sings the high notes. Matt's arms are a dazzling blur of thunder. So, one leg crumples and the other two strain to take the extra weight, and we all help carry them aloft over the line.
They will do better gigs because Ritzy's voice is the dazzling light at their core. But they may never do a more moving one.
Tears on my keyboard? You bet.