Maggi Willis, resident Frockwatcher for BBC Cardiff Singer of the World, considers the tricky question of how to present yourself best on stage.
Few music colleges prepare their students to develop their own personal presentation style, however excellent the quality of their musical tuition. But we live in a visual age and often opera reviews contain as many words about the visual as about the aural.
It is important that each Cardiff Singer competitor makes full use of their short time on stage – both with voice and presentation – to capture the attention of jury and audience alike. So, leaving aside the music, Frockwatch's role is to look at how they present themselves onstage.
Of course, the most immediate impact often comes from the outfit. Let's consider first the female competitors. Where do they start?
The design can be a tricky choice. Personal style and comfort are important but there are other points to consider. Strapless dresses may look 'naked' in TV close-up – those cameras can get quite close!
Then there is the question of repertoire. While no one expects authenticity, too much flesh on display sits uncomfortably with tormented nuns and consumptive virgins.
Off-the-peg or made-to-measure? Off-the-peg may be cheaper but, even with alterations, may be inappropriate onstage: fabric too flimsy for stage lights or too revealing of muscle action; straps not reliable - all sorts of unexpected disasters could await.
Many singers prefer the support of a corsetted dress which can require a specialist costumier. This also gives confidence and allows her to choose her own colour and fabric, with the help of an expert. Budget obviously plays a major part and many singers have told me of their families' contributions to the costs.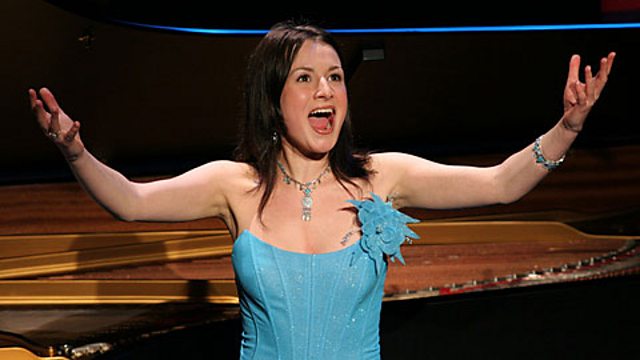 Irina Lungu's corseted bodice allowed her the freedom to make dramatic gestures.
There is one other danger area that may be best avoided. Looking back over 30 years' worth of outfits, it's the contemporary fashion styles that have not stood the test of time. No fingers will be pointed here – but one decade's fashion is another decade's faux pas. Beware!
Female singers have an advantage over the men because they can wear colours to stand out against the all black worn by the orchestra. Now what about those men?
My most over-used phrase when writing Frockwatch is "he wore tails". There are practical reasons of course. White tie and tails is a serious investment for a young singer and will see him through many engagements. A well-made suit is constructed to pull back the wearer's shoulders and make him stand upright – ideal for singing.
Some men add personal details. In 2001 Leigh Melrose had his jacket lined in red silk; not visible to the audience other than an occasional tantalising flash and surely a confidence-booster. He also had a handsome cream brocade waistcoat. Not all men remember to elegantly conceal that untidy shirt/trouser waistband junction.
There are variations of evening wear that are less reminiscent of Pavarotti. The long-line jacket, single-breasted, with either a Nehru collar or slim lapels, is a handsome choice. It also gives a sense of early 18th century fashion without appearing to be fancy dress.
Just occasionally, the male peacock is seen in the land - the countertenor. Now, most countertenors dress conventionally but some embrace their theatrical side more readily.
Sergejs Jegers stood out in 2005. I remember vividly a suit with a red piped line running from mid-left shoulder, down the left trouser crease and onto the co-ordinating shoes.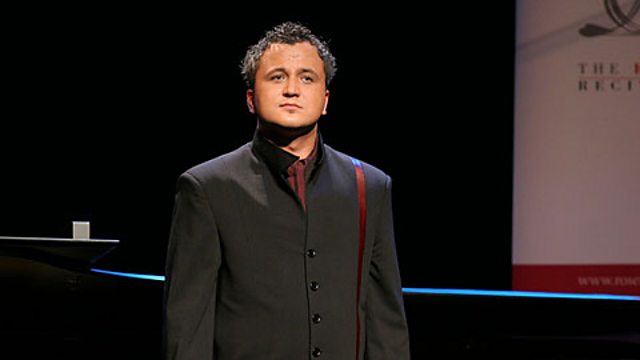 Sergejs Jegers (Latvia, 2005) showing countertenor style in his Song Prize recital
So, you've chosen your dress or suit. How to add the finishing touches? Ah yes, accessories.
Most singers have a favourite heel height they feel comfortable in and which helps their posture. I remember Natalie Christie's high high heels, long before the current fashion, that gave a tiny lady height and presence.
But too many singers (OK, men) forget that their shoes are at the eyeline of the stalls audience. If you are wearing evening suits, smart shoes please, thin soles not stout walking shoes and CLEAN. Toes and heels polished to a shine! And leather soles need to be scored to avoid the 'walking on ice' entrance.
Shawls and stoles are another potential danger area. Ideal for Carmens to flounce and women under threat to hide behind but all too often they slide off the shoulder or force the singer to cling to them like a drowning soul.
There's no easy choice – too soft and they flop pathetically, too stiff and they stand proud and independent of the performance.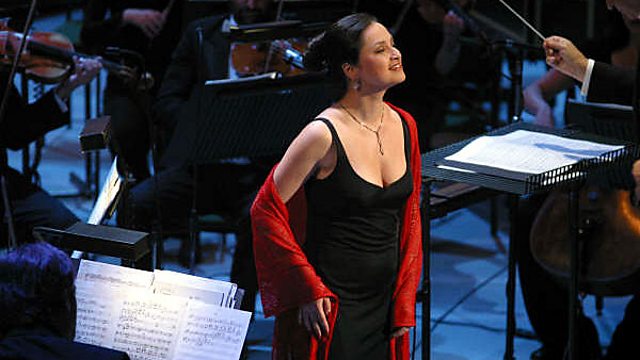 Nino Surguladze (Georgia, 2003) used her shawl to help her get into character as Carmen
Jewellery is less contentious but always to be looked for. The female contestants have usually got the measure of it, filling in gaps at neck and wrists, drop earrings at just the right length to give movement but not distract.
More recently we've seen men adding a jewelled detail. These are often a national symbol – think Bryn Terfel's lapel pin or Tommi Hakala's tie clip.
Presentation starts with the way a singer walks on stage. The joy of Cardiff is that the audience is totally on the singers' side. But the singer must also reach out to them and nothing beats a warm, confident smile. It's also good to acknowledge the orchestra – it shows a confident command of the stage.
The next question is how much do you act the role? This is tough because a balance must be struck between opera house acting and wooden and disengaged.
This is no moment to offer your new interpretation of Don Giovanni as a misunderstood orphan. So don't go over the top, don't blend into the background, don't internalise too much, do convey your character's emotion in that song or aria and do share with the audience. There, it's easy!
And please look as if you enjoy it, even though we are all sure it must be scary up there!
As an audience member, there is nothing more enjoyable than to sit back in your seat and sigh at the end of a singer's performance. Not with boredom, but with the pleasure of having spent 20 minutes in the company of someone who has enjoyed sharing their talent with us and successfully delivered the full package.