It was during our annual college day trip to the beach in Barry last year that two of the staff members at St Michael's College in Llandaff approached me to ask if I would be interested in being filmed as part of a programme documenting people going through a "life-changing" year. This idea later developed into the four-part documentary Vicar Academy, which makes its debut tonight on BBC One Wales.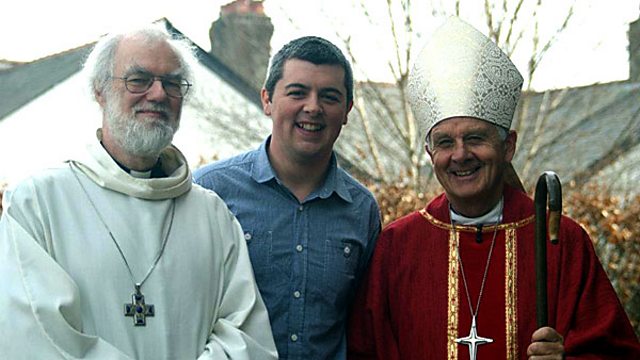 Dr Rowan Williams, Steve Bunting and Dr Barry Morgan
I initially wrestled with the idea of letting the cameras follow my final year in training for a number of reasons. After already completing two years of training to become a priest I was well aware of the physical, spiritual and emotional demands that full time residential training can have on you, and I was concerned that living this out in front of television cameras would make things even more difficult.
Large amounts of our training is also spent practically working in churches and chaplaincies with the general public and I felt the presence of a camera crew could create an unnatural environment and prevent honest and open exchanges with people on placement. I also tend to say things before I think about them and I was worried that this could be problematic when there is a camera watching your every move.
However, I was keen to balance this with the unique opportunity to share with the people of Wales that the church is not dead, it is not just full of old people and that God is still calling people, young and old, to give their lives to serve his church. I also needed to get prepared for a life in the public eye, and I couldn't think of a more dramatic way of doing it.
The programme began filming in September 2011 as I began my final year of residential training, and initially focused on my background story as to why I had decided to train to become a priest. Despite being baptised as a child, my family were not church goers and Christianity played no part in my life when I moved to Swansea in 1999.
Shortly after coming to Wales I began working in banking and finance and it wasn't until my son was born in 2002 that I had a sudden desire to take him to church. Shortly after joining the church I was invited on an alpha course (a basic introductory course to the Christian faith).
It was at the conclusion of the course that I became committed to exploring Christianity very seriously. I realised that a faith in Jesus could change your life for the better and so I studied further and read more about Christianity while continuing working as a manager in consumer finance.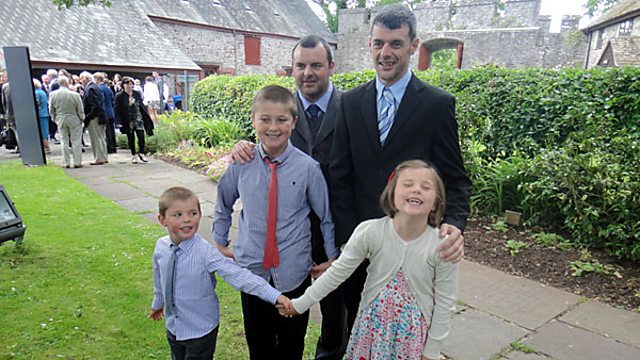 Steve Bunting's children with his brothers Paul and Philip
As my Christian discipleship deepened I soon realised that my job and my faith were incompatible and changes would have to be made. After starting a youth group and being on the church council, I began to test a calling to church leadership. After I realised the difference my faith had made to my life I wanted to share that with others and after several years of discernment, training and interviews I began training full time in 2009.
During the filming the cameras followed me as I wrestled with being away from my children for several days a week while living in the community in Cardiff, as well as accompanying me on placements in churches in Swansea and at Brecon Cathedral. Over my three years in training I have spent time on placements in schools, hospitals and prisons as well as at six churches, including ones in Oxford and Cape Town, South Africa.
I was really keen for the cameras to see the work of the church away from the traditional image of crumbling buildings and ageing congregations. While these things are true, the church is also offering thousands of hours of unseen service to the communities where they are based including in education, youth work, work with the elderly, marriage counselling and preparation, street pastors, food banks, work with farmers and work with the socially deprived. The list is almost endless.
After the initial interview I soon forgot the cameras were filming and so you will hopefully see a genuine insight into what goes into formation for ordination - both the highs and the lows.
I am hoping that by watching this programme, people may see that God is still changing people's lives, He is still working through His church and I would encourage them to go and not rely on what they might have heard or what church was like when they were forced to go as a child, but to take a step of faith and look for themselves to see what church is like today.
Vicar Academy can be seen on BBC One Wales on Monday 15 October at 10.35pm.