Iolo's Secret Life of Birds
Sunday, 21 November at 7.30pm on BBC Two Wales.
In episode two, Iolo Williams investigates the courtship and nesting behaviour of birds, including the amazing courtship display of great crested grebes at a reservoir near Pontypool.
He also looks at the impressive sky dance of hen harriers in the Cambrian Mountains, how nuthatch use mud like cement to prepare their nests and why long tailed tits near Newtown are exceptional nest builders.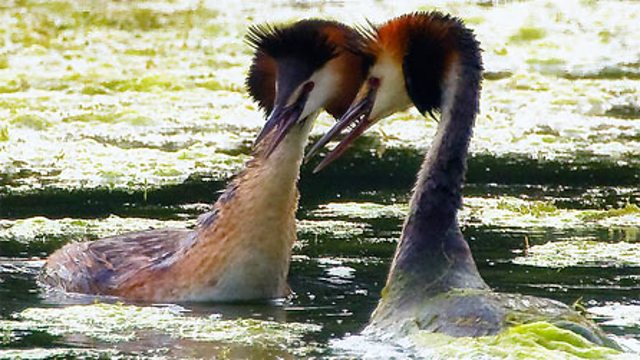 Great crested grebe in a courtship display at Roath Lake by Anthony Cronin.
On the Lleyn Peninsula near Trefor he looks at why one colony of shags nest earlier than any others in Wales and in Pembrokeshire he finds out where house martins nested before they used our buildings.
Iolo looks at the variety of places birds like to nest, from little ringed plovers on shingle banks along the River Tywi to puffins underground on Skomer.
Let us know if you're enjoying the new series and what you've spotted recently in the comment area below.
Gull