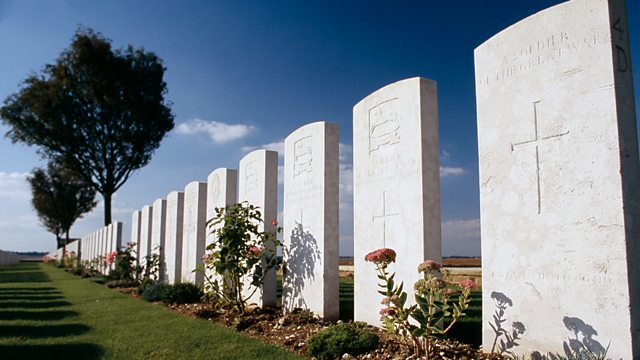 World War One graves
Across the day we'll hear from reporters at the official events including Liege in Belgium, Glasgow and London. Here in Wales, there is a National Service of Commemoration at Llandaff Cathedral at 10pm tonight. You'll be able to hear the service live on BBC Radio Wales from 9.30pm. Sian Pari Huws will be joined by historian Phil Carradice and former armed forces chaplain, Marcus Wyn Robinson, to describe proceedings.
On Good Morning Wales every day over the next month, you'll be able to listen back to how a Welsh radio news bulletin could have sounded on this day in 1914. Throughout Jason's show, the moving account of Tom is told - a soldier from Llanelli who signed up for the Welsh Battalion as soon as war looked inevitable. Tom's story was recorded in his own words by his grand-daughter and is one of a number of World War One at Home stories running throughout our programmes this week.
Throughout the day, we'll be asking who you will be remembering today. Our presenters, like many others, are trying to understand more about what their ancestors were doing a hundred years ago. Owen Money is one of those. He wants to know more about what the Mittells (Owen's real surname) were doing during the war. Owen will be joining genealogist Cat Whiteaway on Eleri Sion's show after 3pm today. Cat will be back on Thursday at 3pm taking your calls.
We're also marking World War One from other perspectives: at 9pm tonight, in Histories of Wales, Professor Angela John considers its impact on Welsh women's lives and opportunities. And there's a new series on Sunday at 1.30pm: Wales and the Great War Today sees the war through the eyes of six people with a connection with modern-day wars. In programme one Thea Davies, whose partner died in Afghanistan, looks at life for those left to grieve a hundred years ago.
Elsewhere this week, we're off to the National Eisteddfod in Llanelli. West Wales reporters David Grundy and Jason Phelps will be there for our programmes all week. Jason will be joining Nicola Heywood Thomas for a special round-up programme on Sunday at 5pm. Also on the Maes are Science Café (Tuesday), Good Evening Wales (Wednesday) and the Radio Wales Arts Show (Wednesday). Bethan Elfyn will be introducing live performances from some of our Horizons 12 into Eleri and Wynne's shows, and she'll be rounding up the best of the Eisteddfod's music scene on Saturday at 7pm.
In fact one of the Horizons 12, Dolgellau's Swnami, are the Radio Wales Artist of the Week this week. You can hear their new song, Cynnydd, across the output.
Finally, Rob Phillips, Simon Davies and the commentary team will be dusting down their microphones for the start of the new football season this week. Cardiff kick off on Friday away to Blackburn plus there will be live commentary of Newport County and Wrexham on Saturday. Call Rob Phillips returns on Saturday at 5.30pm too. Before then Rob gets a shot at restoring his pride as he takes on Nanny the World Cup Wonder Goat one final time on Jason Mohammad's Quizbreak later this week.