First young critics' awards for Welsh theatre
Later this month, a ceremony marking the achievements of the great and good from last year's theatrical offerings in Wales is to take place.
And rather than being led by any one establishment or theatre, it has been dreamt up by a group of young critics from Wales keen to celebrate the talent here.
Through the event the critics are also hoping to make more people aware of their voice and what young people can contribute to debate on the arts in Wales via their reviews.
The Theatre Critics of Wales Awards will be held at Sherman Cymru in Cardiff on 26 January and will be hosted by broadcaster Nicola Heywood Thomas.
The ceremony has been born out of a scheme set up three years ago to encourage young people aged 12-25 to review arts events in Wales. They are offered support from mentors and get to see their reviews published online.
I spoke to Guy O'Donnell, Arts Development Officer for Bridgend Council, which runs the Young Critics Scheme.
He said: "The critics I work with became aware of similar awards in Scotland and thought they would work really well in Wales.
"We have a group of professional critics who mentor the younger ones and the idea was to reflect the range of theatrical work created in Wales in 2012.
"There's a good number and spread of categories as we are trying to cover all disciplines, so they vary from acting to set design, sound and opera.
"We've also got three Welsh language categories as some of our critics and the mentors supporting the scheme are Welsh speakers and we thought it would be nice to honour the huge body of work in the Welsh language too."
Guy and the team of critics are hoping the awards will become an annual event and could be Wales' answer to the Oscars one day.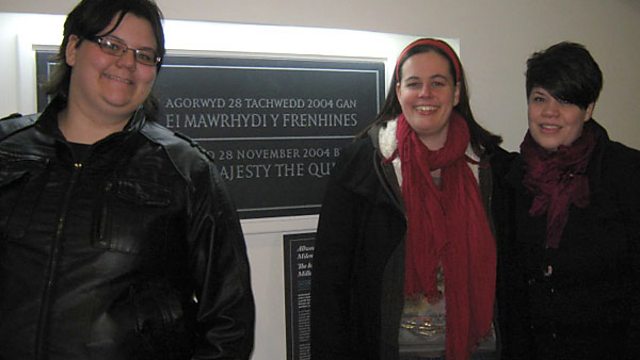 Young critics Emma Louise Faulkner, Rachel Williams and Chelsey Gillard. Photo: Guy O'Donnell
So far the successful Welsh language play Llwyth, which has toured in Edinburgh and Taipei (with subtitles) is leading the nominations, with the critics entering it for 10 categories. See a full list of the nominations.
The drama, by Dafydd James, follows the antics of a group of gay men in Cardiff. The writer and pundit Jon Gower called it the best Welsh language play written in his lifetime and it is nominated in categories including Best Production in the Welsh Language, Best Ensemble and Best Director for Arwel Gruffydd.
Other productions that have won several entries are National Theatre Wales' Coriolan/us, which was staged at an aircraft hangar in the Vale of Glamorgan, and Tim Price's play The Radicalisation Of Bradley Manning.
Guy said that he hopes the event will raise the profile of young critics in Wales. Since the scheme started it has been rolled out to include reviews about art exhibitions and music gigs with the aim being to reflect the ages of audiences more fairly than is currently done with professional reviews.
He said: "Those who are interested in writing should contact me. They don't have to have any experience or want to do it as a career, but just be able to tell me what they are interested in in the arts world."
One of the scheme's prolific contributors is Harriet Hopkins, 27, from Bridgend, who has written reviews about various plays including NTW's A Provincial Life and Dirty Protest's Last Christmas.
She said: "I've really loved having the chance to write reviews. It was a bit scary to start with, especially as you have to learn how to give constructive criticism and that the people you are talking about may well read what you have written.
"The scheme is great because it is such a competitive area if you want to break into it as a job, but this gives you really valuable experience. It's enabled me to really refine my style and learn how to self-edit."
Harriet, who works for Bridgend library, is hoping to introduce review writing to more young people in the area through the library service.
To read some of the young critics reviews visit theyoungcritics.wordpress.com.