Vets 24/7: dealing with the footage
This was my second time working off-site away from the post production department on location with the 24/7 team, the first being Police 24/7 last October.
Going into this series I knew that the shooting ratio would be more, and I'd have far more material to deal with as we had an extra team filming the vets, six this time!
A couple of days before filming I got to see and set up where I'd be spending the next 10 days. I was introduced to the friendly reception staff at Parkway Veterinary Hospital in Sketty and taken upstairs to an empty room located next to the lab where the blood work bit happens.
I thought to myself "no way are we getting all the kit in there". The room was no bigger than the box bedroom I grew up in: two computers, eight hard drives, six laptops, one large monitor, and a mile of cable later we were ready to go!
On an average day I'd receive anywhere from three to six memory cards from each team, which would typically have an hour or so of footage on each. I'd usually start about 8.30am and stay until the last card was inputted into the edit suite overnight, which was usually about 6.30pm.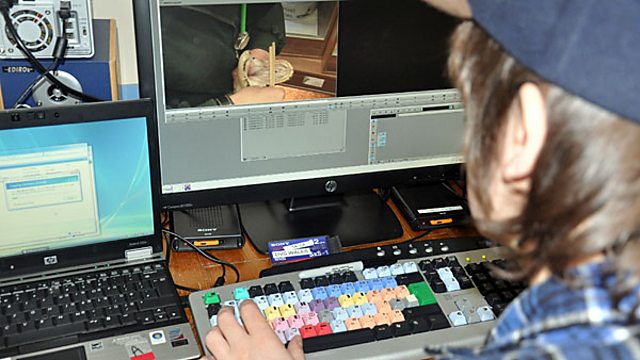 In the edit suite
Most of the teams would film quite late depending on the story they were following and there was also Team E - who filmed overnight to cover emergencies. So there was always enough for me to get started on each morning!
The system we had in place was that whenever a team filled up about two to three cards of footage they'd get them back to me. If a team was at another surgery or, for example, on a farm where a lamb was being born, then they'd have to be picked up by Angharad our runner so we could get them in and out ASAP.
It was a job she relished especially after slipping and falling in a cowpat on one such trip. Each team was allocated only a few cards so the turnover had to be as quick as possible. Thanks Angharad!
My first job was to back up and label the cards for each team onto their designated drives to safeguard the material. I would then input all the footage or 'rushes' into the computer and check that all the media was present.
After that I would check the rushes to make sure there were no picture or sound issues. If there was a problem I would then contact the team to make them aware and they could then check and adjust their kit accordingly.
When I was happy that I had everything, I would then wipe the card and return it to the team. We worked this way so that each team could comfortably film as much as they needed.
At about 5pm, depending on if I had any cards cooking, I'd copy over all the groups or 'bins' of rushes I'd created that day onto the hard drives and then get them ready to head back from Swansea to our base in Cardiff for loading into the main media storage area that night.
This was done so that the editors and Sam, the series producer, would start to look through the footage the following day and start putting together the stories.
For me working on Vets 24/7 was an awesome experience and I gained a lot of knowledge. Getting to work alongside the production crew and getting to know the vets and staff was fantastic.
Another great part of the job was meeting lots of different animals, some sad stories but some truly uplifting ones too. Being a dog owner myself, some of which I could relate to and made me miss my dog Frank all the more.
Dave Davies is the edit assistant for Vets 24/7. Episode four of the second series can be seen on BBC One Wales on Monday 23 September at 7.30pm.