Season two of The Box at Aberystwyth Arts Centre
Following the inaugural season of The Box at Aberystwyth Arts Centre, the second season promises a lot more film action for your money. Though having said that, this unusual exhibition is free anyway - so really, you're quids in already.
I digress. The Box, if you haven't already heard about it, is a new way in presenting, and watching, film. Situated in the main arts centre foyer, the viewing box normally includes five or six different artists' work each season, with one shown per day on a rotating basis. If you're a regular visitor to the centre you could conceivably watch all the works over time.
However, season two - which began yesterday - features an exciting 26 short films - each just 90 seconds long - and are part of DepicT!, an international film competition run by Watershed in Bristol. Also on show is the film Dominoes, by Station House Opera, which shows the creation of a moving sculpture of 10,000 concrete blocks travelling through London.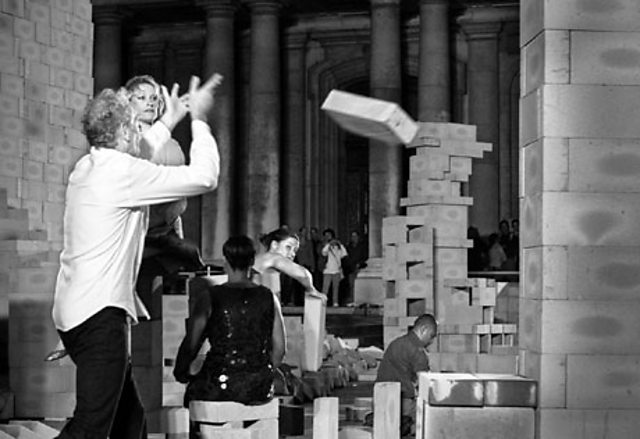 Still taken from Dominoes by Station House Opera
A Pleasing Terror, two ghost stories that were written in the early 20th century by Montague Rhodes James, are performed on film by Robert Lloyd Parry, while Mandy Pritchard's film Between Ourselves presents the differing views of a cross section of people in a south Wales community.
Eve Ropek, the exhibitions curator at the centre, told the BBC Wales Arts blog: "At this winter time of year the Arts Centre is full of busy people attending events, buying Christmas things, rushing everywhere; so I chose films which can grab the attention of the viewer quickly and also reveal their purpose quite fast.
"The 90 second films are a revelation; I think people will be hooked by the ingenuity and variety of these. The film of the sculptural event Dominoes lasts quite a long time but you can dip in and out at any point - the people I've shown it to so far want to keep watching, it's basically the record of a very beautiful kinetic sculpture.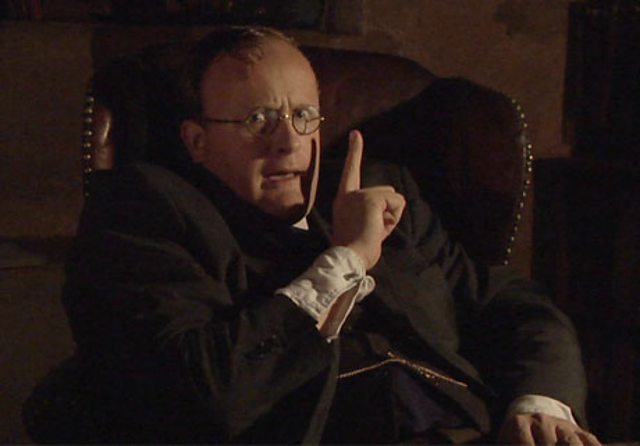 Robert Lloyd Parry tells the ghost stories of M.R. James in A Pleasing Terror
"Robert Lloyd Parry performs a couple of full length ghost stories, they're classic tales by M.R. James which many people will know; if you can't stay long you'll still take away the creepy nature and descriptive prose. And Mandy Pritchard, who is an artist from south Wales, shows a composite piece, a 'vox pop' of people from Monmouthshire, which is like overhearing lots of little conversations."
She added: "Having the box means we can consistently show more, and different kinds of, artists' films - and since so many artists are choosing to work with video this is a good thing."
Season two of The Box runs until Saturday 22 January 2011. For more on the exhibition, and to view a full list of the films on show, visit the Aberystwyth Arts Centre website.
If you are an artist and you're interested in taking part in future seasons, contact Eve Ropek on etr@aber.ac.uk.