Sesiwn Unnos: a creative new project from BBC Radio Cymru
Unnos
, translated as "one night", is based on the idea of the old Welsh regulations on common land, that if you could build a house and have smoke bellowing through the chimney by morning, you were legally able to keep the property.
Wikipedia: "It was believed by some, that if a person could build a house on common land in one night, that the land then belonged to them as a freehold. There are other variations on this tradition: that the test was to have a fire burning in the hearth by the following morning; and that the squatter could then extend the land around by the distance they could throw an axe from the four corners of the house."
Huw Evans clarifies on his C2 blog (translated by me) that "the idea is to build a musical house in the BBC studios overnight, put the place on fire, throw an axe from the doors of the main entrance," and so forth!
The artists have from 7pm till 9am to record four tracks, and the choice of BBC Bangor for the location of the recording is quite perfect. A modern, small, intimate building on the brow of the Bangor hills. I used to work in the building and would often have late night sessions on the radio, and can just picture the mayhem awaiting the 9am news staff as they enter the building with musicians piling out after the 'all nighter'. How fun!
The following evening, an hour's program is collated from the night's activities. For this reason it's the radio producers I feel sorry for, this is quite a task to be there all night and to deliver a radio program from all the fun, but congratulations to BBC Radio Cymru for commissioning such exciting projects, that use and utilise their facilities, that challenge artists, producers and presenters alike, and each week creates a fresh crop of homegrown musical talent to broadcast on the station.
The first show was recorded last week with hip hop crew Pen-ta-gram (Ed Holden/Mr Phormula, Hoax a Alex Moller), and Robbie Buckley from North Wales popular group Gwibdaith Hen Fran. The tracks can still be heard on C2's website with photos and blogs about the night. It's very entertaining!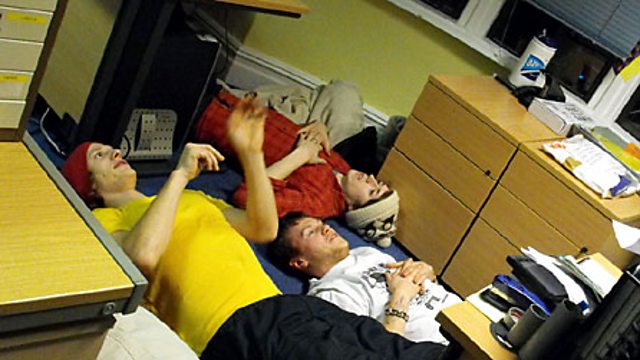 This week Lisa Jen, singer from 9Bach and
Gruff Rhys
' solo tour joined forces with Geraint Lovegreen and his band yr Enw Da. The show was broadcast last night, Wednesday 20 January, at 10pm.
You can hear the whole show for the next 7 days on
bbc.co.uk/c2
or just the session tracks via the website, with specially-commissioned artwork to go with each program and EP.