We've seen a big contrast in the weather across Wales today. The south and west were cloudy and grey but on Anglesey the weather was fit for a king at Trearddur Bay, if a little windy!
There has also been plenty of sunshine on the north coast, Wrexham, and in parts of Powys and Monmouthshire.
Temperatures in Flintshire reached a spring-like 13 Celsius but in the south and west it was much cooler, only 8 Celsius at Rhossili on Gower with a breeze off the sea.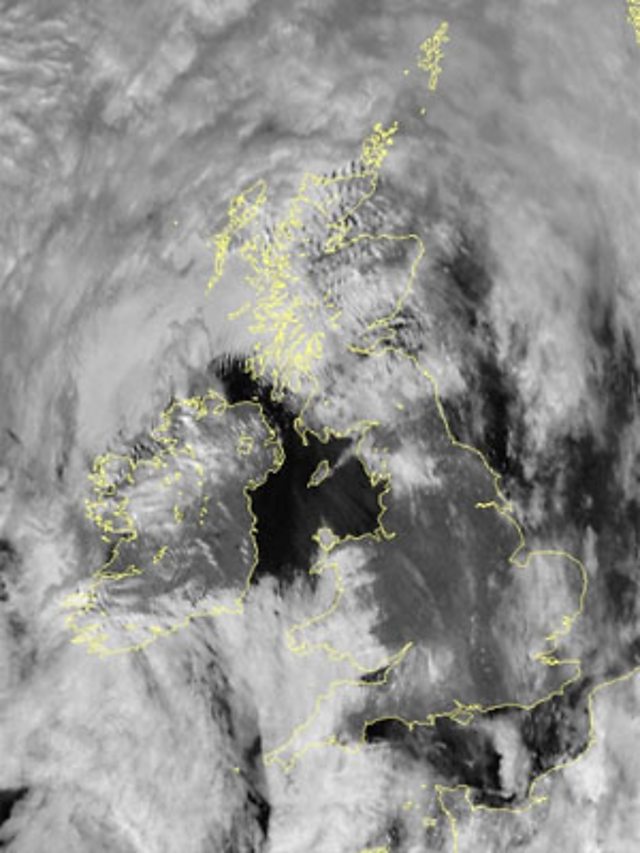 Satellite image by Eumetsat shows the extent of the cloud covering Wales at 12pm today.
The satellite picture from Eumetsat shows the extent of the cloud covering Wales at 12pm today. The cloud is low and not that deep so it can't get over the hills and mountains which act like a barrier. Consequently parts of Mid, North and East Wales are clear and sunny.
Tomorrow a cold front will cross Wales bringing rain and some fresh to strong winds with gales on the mountains. However, the rain and wind will clear away during the evening.
Saturday will be a cooler day with some rain and showers. Some heavy rain possible in the north but turning drier later.
Sunday will be colder with a few wintry showers but on the whole drier with some sunshine.
The start of next week looks promising, dry and settled thanks to high pressure with some frost and sunshine.
In Rome the weather will be fine and sunny for the Six Nations rugby on Saturday. After a frost, temperatures will rise to 10 Celsius in the afternoon with a chilly breeze.
Derek