RS Thomas this year, Dylan Thomas next year. We can't move for centenary celebrations of Welsh literary icons who also happen to be called Thomas.
A third great writer sharing that surname seems to have mostly slipped through the anniversary net. This month marks 100 years since Gwyn Thomas entered the world as the 12th child of a Rhondda miner. "I was born in 1913; the following year was even worse," he quipped.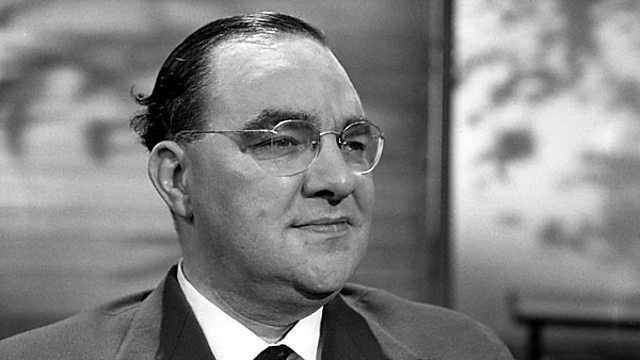 Gwyn Thomas on the BBC's The Brains Trust, 18 August 1960
Those of a certain vintage will be familiar with this novelist, playwright, short-story writer, essayist, broadcaster and all-round raconteur. But most of my generation wouldn't have a clue about Gwyn Thomas. Though we were brought up on his patch he never featured on our literary curriculum.
I stumbled upon his "autobiography of sorts", A Few Selected Exits, as a teenager, laughing out loud at his hilarious portrait of valley life and marvelling at his phenomenal command of language. He is a grand wizard with words, conjuring magical metaphors and similes.
And so the fascination began. His Rhondda was a world away from the one I grew up in but I'd like to think we have a few things in common. He was a Porth County boy, the school where my father would teach. Like my mother he was the youngest child of a large mining family. Like me, he was miserable at Oxford and wrote a column for the Western Mail. Yes I know, it's getting a bit tenuous now. But most of all I related to Gwyn Thomas because he embodied the values of the Valleys I held dear.
I despair when I see how the Rhondda is portrayed in popular culture today – from that degrading MTV reality show nonsense to the "warmer" comedies where we're still all basically simpletons. But Gwyn Thomas was a product of a Rhondda where education was sacred.
In A Few Selected Exits he describes the role of teachers as a kind of emergency service, rescuing impoverished pupils and giving them the tools to escape the hardship of their parents' generation. "They were doing a first-aid job, pushing us up a lift shaft of academic grace, from a ghastly underworld to a lighted surface," he wrote.
His people, as he called them, were literate, witty and passionately political. In the written and spoken word – drawing on his quite dazzling vocabulary – Gwyn Thomas brought Valleys culture to a worldwide audience. And thanks to his gift for finding humour in even the darkest places, they laughed with us, not at us.
To mark his centenary, I wanted to find out more about his life and work. I also wanted to discover whether 100 years after his birth he still speaks to and for the Rhondda of the 21st century. The result is In Search Of Gwyn Thomas, a half hour documentary to be broadcast on Wednesday in the BBC Radio Wales Arts Show slot.
I spoke to those who knew him – including Professor Dai Smith and Professor Gareth Williams who were his pupils at Barry Grammar School; those who studied him – including academics Professor M Wynn Thomas and Dr Sarah Morse; and those who were simply fans.
Actor and writer Boyd Clack falls into the third category. "Looking at Gwyn as an example we realised it was possible to rise up from our lowly beginnings and grab life by the lapels," he smiled.
Gwyn Thomas' own beginnings were lowly in the material sense but, as he explained, he certainly didn't lack intellectual stimulation. "Our kitchen, about the size of an average hutch, was a busy, bilingual bomb of a place. The first six children spoke Welsh; the bottom six English and all at the same time. Politics in English; gossip in Welsh and downright lies in both."
So Gwyn was the baby of this bright, boisterous and bilingual household. There was tragedy too. He was six when he lost his mother, leaving older sister Nana to assume the maternal role. And there was poverty. Of his school peer group Thomas wrote: "We were so deprived we lacked even the sense of being deprived – we had that kind of luck."
Yet despite the hardship, he grew into a fiercely intelligent pupil who won a clutch of scholarships. He left the womblike embrace of the Rhondda to study modern languages at university. He'd fancied Cardiff, where his brother Walt had got a first in French, but there was no chair of Spanish in the University of Wales – the subject he chose because "Argentine tobacco was cheap and sensuality kept on a looser rein."
So he applied to Oxford, a decision he would live to regret. His comic descriptions of the culture shock hide the unhappiness of his student years. "I found myself walking up and down the High Street peering into the beautiful silken, many-coloured waistcoats at the latitude of the navel. Time and again I looked up to find a pair of upper-class eyes staring down at me as if they had just seen their first mole. In relation to these lofty blooms I saw myself as little better than greenfly. I met no-one who could in tune and the lack of close harmony hurt like hunger."
A period of study at the University of Madrid offered Thomas some respite from the nightmare of the dreaming spires. But this proved an ultimately isolating experience too. Marriage to Lyn Thomas, a petite, auburn-haired typist from Porth, ensured his postgraduate life too a less lonely turn. As did his choice of career.
"The profession to which I devoted the central chunk of my life was one of the least solitary," he wrote. "I was a teacher. It was a calling that yielded me much happiness and gaity." It had much the same effect on his pupils, who recall his maverick Dead Poets Society style of teaching with great affection.
But his 20 years in the classroom would be subsumed by his writing and broadcasting success. His literary canon eventually comprised 14 novels and collections of short stories, numerous radio, stage and television plays and essays for assorted national and international magazines.
Though he looked to his own world for much of his material it reached a global audience. Novels such as All Things Betray Thee and The Alone To The Alone were translated into several languages. He was popular in America and, as the late writer Alun Richards recalled, gained a following in the most unlikely places.
"I had an extraordinary experience in Australia where three Chinese professors came up to me after I'd been lecturing and all they wanted to know was whether I knew Gwyn Thomas. One of them had been in solitary confinement for two years during the Cultural Revolution and he had one of Gwyn Thomas' books with him which he must have read 40 times and it offered him insights that no other writer had offered him."
But does Gwyn Thomas' work still cut through and connect with a new readership? His first work, The Dark Philosophers is made up of three novellas marked by "sex, murder and a devastating humour". Almost 70 years after its publication I was delighted to find it has made a big impact on the foremost modern Rhondda writer.
Former Dylan Thomas Prize winner Rachel Trezise reflects a very different valley to the one Gwyn Thomas knew yet she feels a sense of literary kinship with the writer who died in 1981. "I read The Dark Philosophers first and I absolutely loved it," she says.
"He has this talent of writing sweet and sour in every sentence, it's a real skill. I was crying at the first paragraph. It's so emotional. But it's funny as well as dark. And finding this voice that is so amazing to me was fantastic.
"I thought I was the first person to write about the Rhondda and then you realise there have always been intelligent, creative people here writing against this difficult backdrop of unemployment and so on. There have always been fighters – and that's why we're still here."
Gwyn Thomas was modest about the talent that so excites his contemporary counterpart but he once wrote a comment on the importance of humour to humanity that could apply to himself: "In the darkest night of the spirit, laughter is the signal that we are fully and unconquerably still there. And when a fine laughter maker falls still, the night itself, for a while, will be inconsolable."
One hundred years after his birth, this fine laughter maker should not be left to fall still.
In Search Of Gwyn Thomas is on BBC Radio Wales on Wednesday at 6.30pm, and available to download afterwards as a free podcast.