Hit play about bourgeois values is reprised for tour of Wales
Last autumn the Caernarfon theatre company Theatr Bara Caws staged a hit production of Llanast!, a Welsh translation of the award-winning play God of Carnage, which sold out completely at both runs in Cardiff and Caernarfon.
The production was based on a translation by Gareth Miles of the original Le Dieu du Carnage by Yasmina Reza, which scooped an Olivier award for Best New Comedy as well as three Tony awards. The play has also been released recently as a film by Roman Polanski, Carnage.
Following the successful run of the Welsh language version, Theatr Bara Caws has reprised its production for a tour of Wales. It began on 12 November at Galeri, Caernarfon and closes at Aberystwyth Arts Centre on 30 November.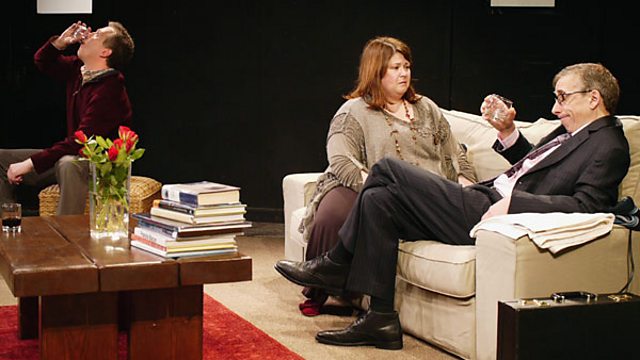 Emlyn Gomer, Rebecca Harries and Llion Williams in Llanast! Photo: Dewi Glyn Jones
I caught up with director Betsan Llwyd to find out just what it is about the play that engenders such a positive response. 
She told me: "According to Yasmina Reza, 'Theatre is a mirror, a sharp reflection of society'. So in truth a great deal of themes and issues are touched upon in the play like pretention, hypocrisy, sexism, racism.
"But for us the main issue explored was what lies just beneath the vulnerable and delicate 'skin' of politeness, and how easy it is to forget and ignore all 'social graces' when pushed. 
"The fact that Gareth Miles is a fluent French speaker played a great part in commissioning him to do the work in the first place, as he could translate directly from the original.
"His use of language is sublime. The rhythms and nuances of the Welsh language are carefully considered, and a delight to deliver and to listen to – a truly masterful translation." 
Llanast! was the first production Betsan was responsible for bringing into the company's repertoire. She thinks a section of the audience came to see the show as they wanted to know what sort of contribution she would bring to the company's overall vision. But she also admits the play's track record and success in London spoke for itself. 
"We felt inspired to put it on again because of the extraordinary response we received following our short tour last year and wanted to please the many disappointed audience members out there who didn't manage to get a ticket." 
Fortunately for Betsan, she has been able to secure exactly the same cast as last year, including Llion Williams, Lauren Phillips, Emlyn Gomer and Rebecca Harries (Belonging, Pobol y Cwm, Con Passionate) who scooped a Theatre Critics Wales Award for Best Actress in a Welsh Language Production for her role in the play.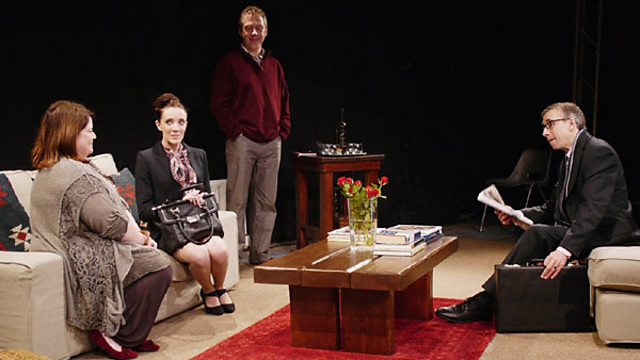 Rebecca Harries, Lauren Phillips, Emlyn Gomer and Llion Williams. Photo: Dewi Glyn Jones
She said: "Rebecca is an extraordinarily truthful performer, always living in and reacting to the moment. I was very glad to have had the opportunity of working with her at last. 
"I have worked with Llion many times over the years and he is a consummate professional with a delightful way of engaging with the audience while Emlyn has a certain subtlety and stillness on stage, and is solid as a rock. What has always struck me regarding Lauren as a performer is her extraordinary physicality, and her ability to deliver the unusual." 
Because the cast is the same, and each actor is familiar with their role, the rehearsal process has been swifter and each has been able to explore the nuances of their character in far greater depth. 
However, elements of the staging will be different due to practicalities: "Though we have kept the same set, we have had to compromise somewhat on the staging due to the nature of the venues we will be visiting.
"When we performed in Caernarfon last year we had the audience sitting along two sides of the stage, which resulted in a remarkably intimate performance, but the call for tickets has been so great we decided to go for the more traditional theatrical venues, the majority of which call for a proscenium arch presentation." 
Llanast! will be at venues including Glanaethwy, Bangor, Theatr Fach, Llangefni, Sherman Cymru and Aberystwyth Arts Centre. For a full list of dates visit theatrbaracaws.com/y_cwmni.html.