Gallery transformed into milk museum as artists explore dairy trade
The challenges facing dairy farmers in north Wales may not seem a likely subject for an art exhibition.
But local farmers young and old have helped curate a large-scale installation that takes in the work of two prominent artists and sees a scale model of a dairy museum built at Oriel Mostyn in Llandudno.
Inside the temporary museum model are exhibits relating to the daily life and history of local farming contributed by people living nearby.
They include an old milking machine, photos of working farms in the 1970s, machinery, portable mastitis kits and even a milk collection receipt from the 1950s.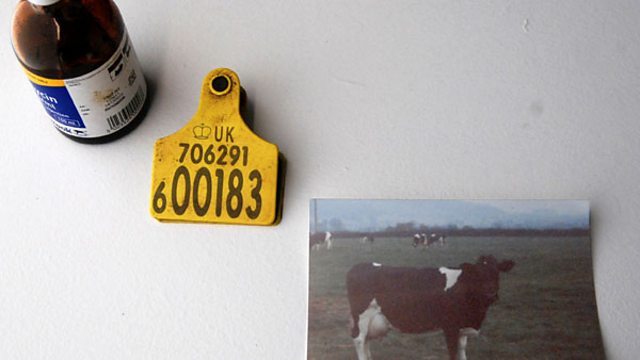 Fernando García-Dory, A Dairy Museum 2012 (detail). Photo by Lin Cummins
The idea for the museum came from artist Radovan Kraguly, who hails from Bosnia but spent a portion of his life living in mid Wales in the 1970s, which is where he discovered his interest for the challenges facing the milk trade.
His plan has been brought to fruition by another artist, Fernando García-Dory, who was invited to create a piece for Oriel Mostyn as part of Artes Mundi 5.
The model is based on Kraguly's own drawings and features alongside an exhibition of his own work, a collection which highlights his long-lived interest in the estrangement of man from nature.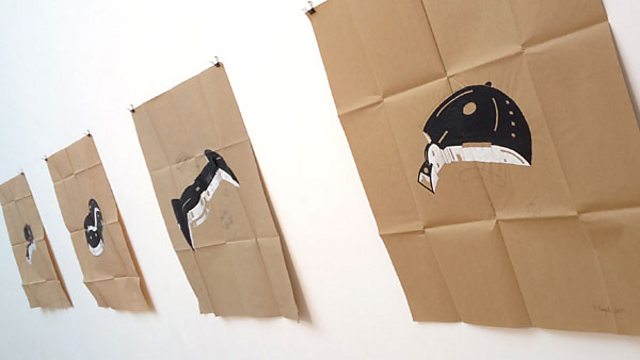 Radovan Kraguly, sketches for proposed Dairy Museum 2000
Lin Cummins, audience relations manager at Oriel Mostyn, told me: "Kraguly sees dairy production as a metaphor for the rift between man and nature, a rift that means many children now don't realise milk comes from cows and presume it comes from the supermarket.
"He is interested in how farmers have been trapped in a situation where supermarkets can dictate the price of milk and how this has a knock-on effect for animal welfare, because cows have to be farmed so intensively.
"Meanwhile García-Dory is more of an artist activist and he doesn't necessarily produce work that goes on the wall, but that facilitates discussion and debate.
"It's a really engaging exhibition which reaches out to people who perhaps wouldn't normally visit a gallery, something which is really bound up in the ethos of Oriel Mostyn."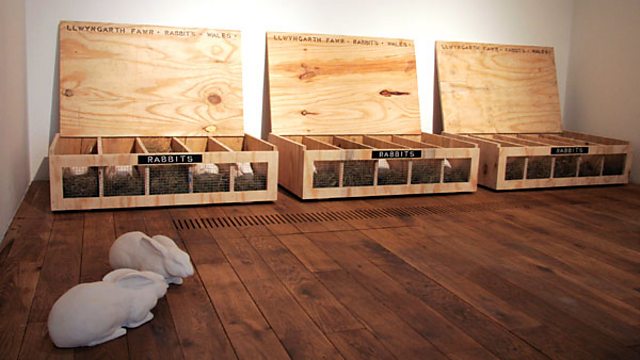 Radovan Kraguly, Rabbit Boxes and Rabbits, 1980/2010. Photo by Lin Cummins
The exhibition, which runs through five galleries on the ground floor, has also been used as a way of reaching out to young farmers in the area.
Nia Roberts, visual arts programme manager at Oriel Mostyn, told me how the farmers have been offered training and asked to go out and film video diaries and stories that can be streamed on the internet.
She said: "We have been encouraging them to document their lives and the changes they have seen through the experience of their parents and grandparents.
"We are not asking them to produce masterpieces but to film things on their smart phones and think more visually about what goes on around them and what happens in their daily lives."
The weekend that the museum was opened to the public, local farmers met at the gallery for a discussion group which saw them hold a Skype conversation with William Taylor, coordinator of Fairness for Farmers in Europe, a movement which represents farmers' groups in Britain, Ireland and the EU.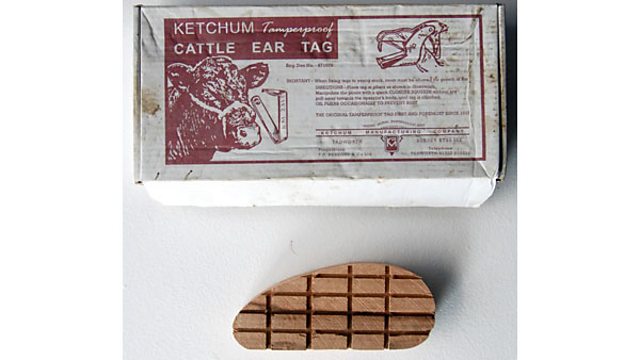 Fernando García-Dory, A Dairy Museum 2012 (detail). Photo by Lin Cummins
Roberts added: "The whole exhibition really shows how you have to develop and change as a farmer in order to survive – it's a real eye-opener. One of the farms that has donated items told us they have moved into the New Zealand pasture system of farming, where they efficiently graze large numbers of cattle.
"We really hope this will provoke thought among visitors and build strong links with farmers in the local community."
The gallery hopes there will be more discussion events involving farmers at the gallery before the end of the two exhibitions, which run until 6 January 2013. For more information about the dairy museum and the exhibitions visit mostyn.org.