National Museum Wales unveils William Dyce painting
National Museum Wales today revealed that it has made an important purchase for Welsh art - William Dyce's painting Welsh Landscape with Two Women Knitting, dating from 1860.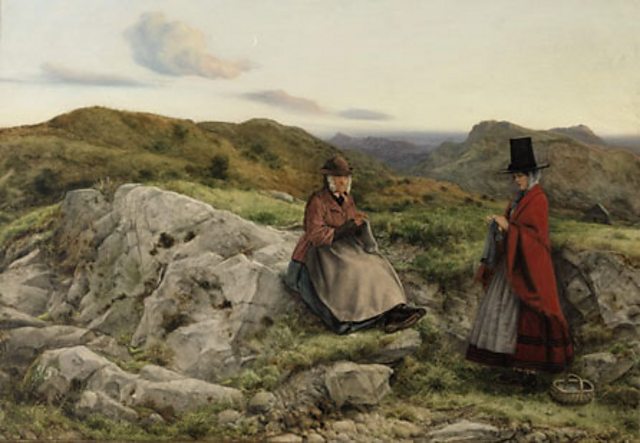 William Dyce's Welsh Landscape with Two Women Knitting, 1860 © Amgueddfa Cymru - National Museum Wales.

The painting will become part of Wales' national art collection, which is currently being re-displayed at National Museum Cardiff. Initially, it will be on show in the Museum's new Victorian Art display which includes works by Turner, Landseer and Etty.
The purchase of Welsh Landscape with Two Women Knitting has been possible due to funding grants from the National Heritage Memorial Fund (NHMF), membership charity the Art Fund, one major private donor and a number of gifts and other donations.
The painting, which cost £557,218, is a celebration of Welsh rural life. It depicts two women in folk costume on a Snowdonia hillside.
Dyce (1806-1864) was originally from Scotland and came to Wales for his health and a change of air in 1860. The artist was immediately captivated by the area. This painting, based on sketched material from his excursion, was probably painted in the studio on his return to London.
The keeper of art at the museum, Oliver Fairclough, said: "We have hoped for many years that this very beautiful work by Dyce would one day come home to Wales. We are delighted that this has now been achieved and are deeply grateful to NHMF and the Art Fund for their support."
Feel free to comment! If you want to have your say, on this or any other BBC blog, you will need to sign in to your BBC iD account. If you don't have a BBC iD account, you can register here - it'll allow you to contribute to a range of BBC sites and services using a single login.
Need some assistance? Read about BBC iD, or get some help with registering.