I'm not sure that I've ever seen our producer Nick Skinner so excited about making a film for X-Ray. Or our camera operator Geraint. And after spending the day with Jim Jones in Llanelli, I am starting to see why.
Model railways! Boys – whatever their age – just love their toys!
Our day began with the lovely gentlemen of the Swansea Railway Modellers Group who have built a series of enormous, very impressive models - from a wild west scene to Thomas (the Tank Engine) Land. They looked brilliant on camera and it was difficult to stop Geraint filming! In his element.
Filming a model railway
It was here that Jim told me how he had always dreamed of having a proper train set. He'd only ever had a small wind-up set as a boy. So Jim splashed out on a computer controlled set from Hornby, described as "easy to use". Well it wasn't easy for Jim, despite him being pretty good with computers. Find out how X-Ray was able to help tonight.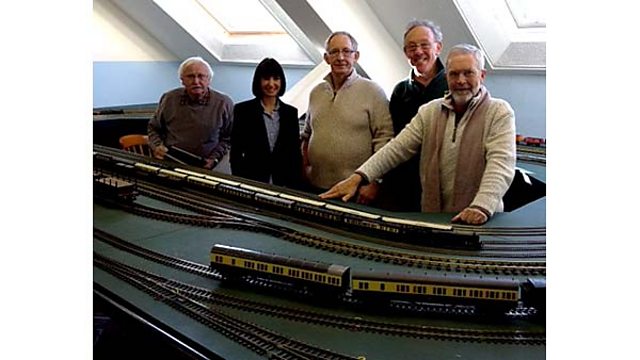 With the Swansea Railway Modellers Group
Also on the programme, we're looking into what's in your takeaways tonight. We're joining a crack team of trading standards investigators who are looking into whether the food you take out, is actually what's on the menu. I think the results from the lab will surprise you.
And don't forget if you've got anything you want to say about the stories on the programme or if there's anything you need our help with, we're here for you. Email xray@bbc.co.uk or call 03703 334 334.
X-Ray is on tonight, Monday 11 November, at 7.30pm.