Bang Bangor Day 2 - Gallops/4 Sticks/Ryan Kift/Jamie Cee
You put a gig on and you put your neck on the line. Promoters rarely make enough money to cover their costs. Many of the most interesting gigs that happen across the UK do so at a loss to the promoters. You could blithely say that they're not doing their job properly if they lose out every time, but for those enthusiasts who create the space and opportunity for interesting new bands to play, it's a labour of love. It's not about money. And without them, the music industry would be entirely in thrall to Simon Cowell and his cronies and the British musical landscape a barren wasteland.
All of the most popular bands of recent years got their break from promoters willing to risk a few quid to give them the opportunity to play.
I stuck Coldplay on at Telfords Warehouse in Chester at the end of the last millennium. It was a couple of quid to get in. They pulled a smallish crowd including some of Jonny Buckland's old schoolmates from Mold, and that was it. We covered our costs, just.
We could have pulled twice the number with a Stone Roses tribute band, or a hellish karaoke, or by not having anything on at all and having Happy Hours and drinks offers on luminous card cut-outs, but - instead - we, like hundreds of other promoters - took the risk, full in the knowledge that we could lose some hard-earned pennies.
I'm not bemoaning the situation. However I would get irritated when only a couple of months later I'd be buried under requests for Coldplay songs at the DJ booth from people who couldn't be bothered to come and support them when they were on their own doorstep, and I will, no doubt, return to that subject before the end of this rant disguised as a review.
Served 'em right for asking for Coldplay is my revisionist take on it, for now.
So promoting isn't easy. You have to find a venue, a decent PA, a sound engineer (maybe), bar people, security, somewhere to get your tickets and posters printed. You then have to find places to promote your events and in North Wales, that can be tricky. For the most part, the local media pay lip service to the indigenous talent until, despite them, it goes supernova. This is the way it has always been, with some honourable exceptions.
Then, after a sleepless night, you roll up at the venue having probably had to take the afternoon off work and hope that the bands turn up on time to soundcheck.
That's a laughably forlorn hope.
Bands have a timezone all their own.
If you're lucky and the bands actually get to the venue within three hours of the agreed time, at this stage you're probably getting your ear bent by the pub/venue manager:
"You're going to have to turn it down!" "I thought you said they sounded like the Beatles." "I've decided I'm only going to give you 5% of the door. Take it or leave it."
You can feel the ulcers forming in your stomach as each obstacle flings itself in your face with a sadistic glee.
Finally, soundchecks done, managers appeased, feeling dizzy and sick and wondering why the hell you put yourself through this rigmarole, you throw the doors open and hope - pray, even! - that your efforts will be rewarded and people will come.
But here comes the most insurmountable mountain of a problem that blights the efforts of many promoters, no matter how good they are or how good the bands they are promoting are: the public - your potential customers - can only be bothered to part with their hard-earned money if it's for a band they've heard of, or read about in some bible of hyperbole. The bands you're sticking on are beneath their radar and, in general, their contempt, too.
Being in an unfamous band is like having a terrible BO problem, weeping sores on your face, a misleading murderous glint in your one-eye and trying to thumb a lift at night on a bleak moor during a thunderstorm.
No one wants to know you.
The unknown band, though, has a solitary, early champion - the promoter. That fool whose specs are fixed with insulation tape because all their spare money gets wasted on a consuming passion to find the best new music and share it with their tiny, beer-stained corner of the world.
I don't think the picture I'm painting is too melodramatic.
Again, there are exceptions. But successful, financially viable promoters are at least as rare as successful, financially viable bands. Pretty darned rare. Osprey-rare.
Taking all of that into account, why would anyone burden themselves with a task like organising
Bang Bangor
? An inaugural city-wide festival of new music. Not one gig, but over 10 of them; not one band, but 60.
I arrived in Bangor for night two of the festival typically late. I'd picked a couple of friends up and dallied, slightly. Still, we got the Y Menai in Upper Bangor and it was surprisingly quiet. I was convinced that I would have missed at least the first two bands but, in fact, no one had played yet. The organisers were, I think, waiting for an audience to turn up so that they had someone to play to.
Y Menai wasn't the only venue participating in Bang Bangor last night. Other, successful and busy events were going on elsewhere in the city. We'd chosen Y Menai because one of Wales' most talked about and highly-regarded new bands, Gallops, were playing there. A band who were one of the critics' choices at the recent Swn Festival. A band who had also earned excellent reviews for their appearance at In The City in Manchester.
Both of those events had occurred in the last fortnight. They'd even had their music used on the late night version of Hollyoaks. It takes a lot to drag me 80 miles away from home when I've had no more than 30 hours sleep in a whole week, I've got a sore throat, gut rot and I've taken to naming individual cats eyes as I drive past them, again-and-again, on the A55 at 2 o'clock in the morning.
Gallops, though, are worth it.
But, like I say, Y Menai was more-or-less deserted.
Jamie Cee - a fine songwriter who understands innately how to hotwire his soul to some fine songs without employing the usual cliches - is the first on stage. An hour and a half late. He has to battle a venue that is empty with the exception of a gaggle of people who aren't remotely interested in listening to his songs. It's their loss. Really. They're fine songs.
Local troubadour Ryan Kift is up next. He does his best to engage with the audience that is there. My friend Ben enjoys his set and he's about as easy to please as one of Paris Hilton's chihuahuas. Ryan can hold a tune, for sure. But there's a boorish sexism to some of his songs (a story about a 'slapper' and the artwork on one of his singles) which I find objectionable. Nice bloke, I'm sure; but it's 2009 not 1999.
The next band on, Prestatyn's 4Sticks, are convinced its 1969. Their psychedelic blues groove is as traditional as the folk songs I heard the previous night at Hendre Hall. But as I argued in my review of that, it's what the personalities of today do with their older, classic influences that determines its validity in 2009. Given my despondency at the lack of attendance, 4Sticks were a wonderful tonic.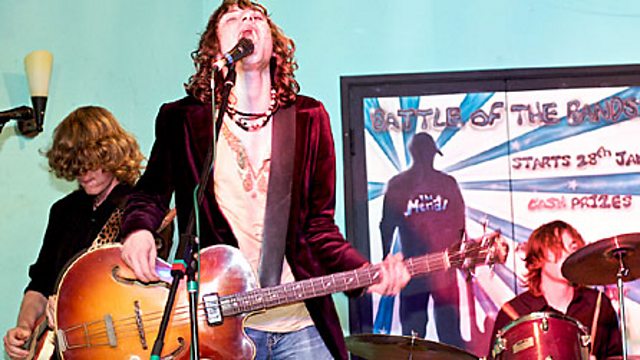 They're an amalgam of some of the greatest music ever made: The Stones, The Byrds, The Band. They were tight, louche and thoroughly enjoyable. But any wider success that they might hope to achieve would be predicated on an audience's willingness to ignore the elephantine influences in the room.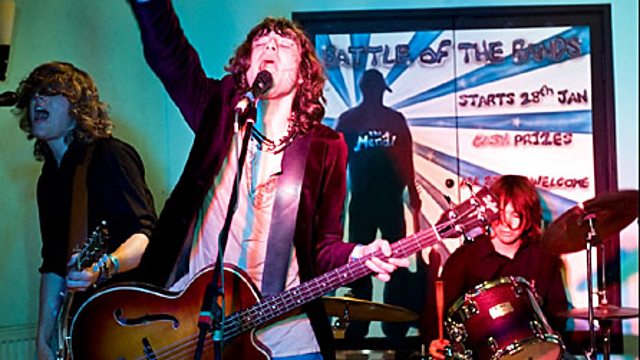 When Liverpool's The Stairs were doing something similarly well-informed, authentic and impassioned in the early 90s, the reissue culture (CD reissues/digital remasters/most of the past's musical glories available at anyone's fingertips, internet-allowing) wasn't as well-established. These days when a band is so obviously in thrall to its influences, you have to give people a reason to not just go and buy those influences instead. Outstanding songs is one way to do that. And 4Sticks are getting there.

I can't imagine what it must be like for Gallops. As I mentioned, they've been rightfully-lauded at two of the UK's most influential music events in recent weeks - playing to packed out, feverish rooms.

Now they're in Y Menai in Bangor and the crowd size has just diminished by a quarter because 4Sticks and their retinue have left. There's no evidence of egos going out of control in Gallops but a reality check will at least give them something to laugh about when things inevitably get more hectic over the coming months. I did something similar to The Pipettes at Rhyl Town Hall a few years back. They still remember the strangest gig they ever had to play with a certain perverse fondness!

The situation isn't helped in Y Menai, however, by the fact that the organisers have pushed the bands' start times back so far that Gallops, the headline band, are being told they've only got 20 minutes to play - not the promised hour. I learned many things at Swn Festival and this particular lesson the hard way: stick to your schedule. It's the first rule of putting on a professional event. I only learned that myself last Thursday, so I hope this doesn't come across as too patronising.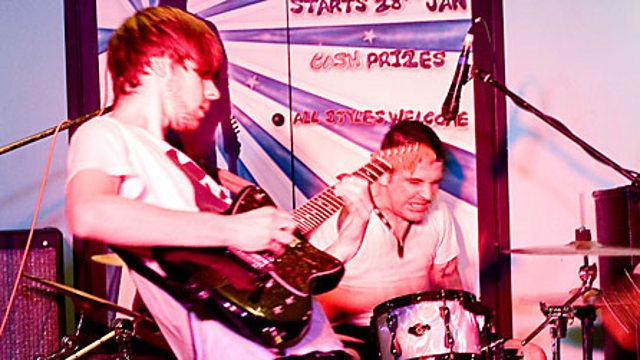 Eventually Gallops do hiccup into life. The sound engineer, whose welcome to correct me if I'm wrong, seems to have given up. Requests to have drums and laptops turned up to requisite volume in the monitor are seemingly ignored. We therefore only get a slight inkling of Gallops volcanic power. But it's a cameo that demonstrates exactly why the music lovers of Bangor were the ones who missed out tonight.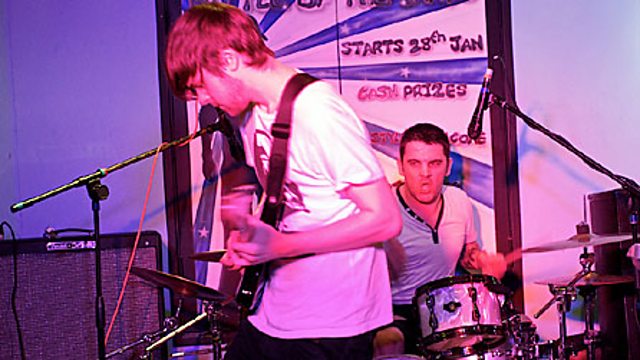 There's lightning in this music - a serrated edge and cataclysmic power that feels like a whole new, thrilling incarnation of the spirit of rock n roll. It's progressive without being indulgent, complex without being opaque, and so damn good that even the tinnitus it induces sounds better than many of their contemporaries.
Their drummer, Moz, lets his frustrations erupt out of him at the end of their curtailed set. Bashing tonnes of holy hell out of his kit. It's a thrilling insight into how the best musicians use their music as a release valve.
So we thank Bethan, the promoter, for her troubles. She looks gaunt. Exhausted by her own efforts and expectations. I don't half feel for her. And I applaud her work and ambitions.
Bang Bangor continues over the weekend. Information about the line-ups and the venues can be found at:
myspace.com/bangbangor
bangbangor.com
As a last thought, as I was driving home I wondered how much busier the night would have been had even just a handful of North Wales' finest musicians and most engaged new music fans made the effort to support this festival on their doorstep. Next year it'll be Coldplay tribute bands, if we're not careful.