Remember, remember the fifth of November
Since I first started coming to Cardiff, eventually becoming a full time member of the BBC National Orchestra of Wales in 2009, the face of the city has changed so much.
Cardiff has, of course, incredible shopping (I love the arcades in particular) and a sporting pedigree to be proud of. There is the legendary Cardiff night life, Mecca of the young and scantily clad. There are the lovely green spaces and the beautiful castle. Those are the obvious things, but Cardiff also has such a vibrant arts scene, with little independent venues dotted all over the city.
This Saturday, 5 November, the Wales Millennium Centre in Cardiff Bay is throwing open its doors in an unprecedented, access all areas open day. The whole event is free and will give people the opportunity to explore all of the spaces of the centre and generally, to have a good nosy at what goes on behind the closed doors of Cardiff's largest arts venue.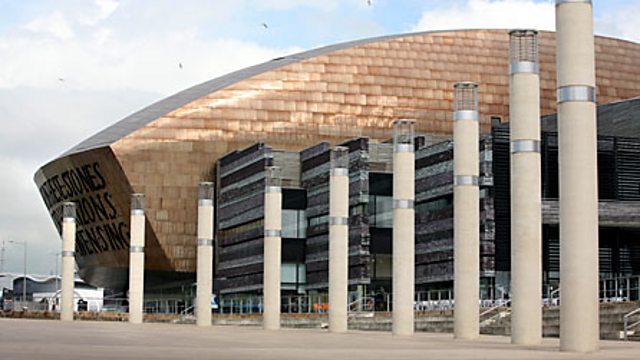 Wales Millennium Centre, Cardiff Bay
When my parents first came to visit me here, we took a tour of the WMC and it was really quite fascinating to hear all about its conception and to see behind the scenes. The centre boasts Wales' own national orchestra (that's us), an internationally recognised opera company (WNO - can't wait for their Tristan and Isolde in the summer! - a fantastic contemporary dance company (National Dance Company of Wales) as well as a myriad number of other music and theatre groups, including the Touch Trust and Hijinx Theatre Company.
After our week of education work, we will also be involved in the Millennium Centre Open Day, and you are welcomed to come and view our lovely studio. Gone are the days when the orchestra was locked in a windowless, colourless, airless studio!
We moved to Hoddinott Hall in 2009 and it is our rehearsal studio, recording studio and also a concert space. We record all the Doctor Who soundtracks here and it was also used for the Young Musician of the Year category finals last year. We will be playing several concerts throughout the day and it's a great opportunity if you haven't had the opportunity to see the studio and hear the orchestra free of charge.
We are very proud of our role as Wales' national orchestra and want to continue playing an ever more active role in the cultural life of Wales and its capital. Saturday's concerts will be family friendly and very relaxed. You don't have to dress up in anything fancy and you don't need to know anything about music at all. Perhaps you aren't too sure if orchestral music is your thing, but I would thoroughly recommend you give it a go.
BBC Hoddinott Hall, the orchestra's home, will be open to visitors on Saturday 5 November, between 12pm and 5pm, as part of the Wales Millennium Centre's Open Day.