Wyn Davies on Llangollen International Eisteddfod
Only Men Aloud's Wyn Davies, presenter at this year's Llangollen International Eisteddfod, reveals his memories of performing at Llangollen when he was a child.
I started competing in Llangollen when I was small, and luckily enough managed to win the junior folk song solo on two occasions - as a 10- and 11-year-old. I've got two Llangollen medals in pride of place in my mother's cabinet at home, so I've got a bit of an affinity with the place.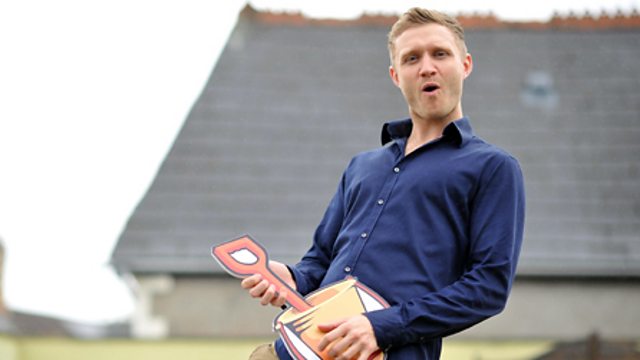 Wyn Davies
I used to look forward to it every year, and just enjoyed the whole experience, going to see the parade and being on the Maes. I always love the parade - I look forward to seeing all the people in traditional costumes celebrating their culture; it's very special.
As well as giving a general flavour of the Eisteddfod, I'll be hooking up with two choirs that I filmed with in South Africa. One is the Fezeta choir, started in the Guguletu township just outside Cape Town who will be taking part in the Karl Jenkins concert.
The other is the Pietermaritzburg Midlands Youth Choir, made up of pupils from 14 different schools with very different backgrounds, who will be competing. Given South Africa's recent past it's fantastic to see all these young people coming together just because they have this common interest in music.
It's a massive stage to perform on. Particularly when I was a 10-year-old, to go and stand on that stage and look out at that enormous auditorium, it's quite a feeling! When you're competing, it's not always full, but luckily enough, when I won the folk song solo I went on to perform at one of the concerts in the evening, when it's jam-packed.
And I was also there with Only Men Aloud a couple of years ago - it was much less daunting having the choir with me, than singing on my own as a boy, but equally enjoyable. The great thing about Llangollen is that you always have a very knowledgeable audience who love their music. It makes performing on stage even more rewarding.
All in all I've got good memories of Llangollen - it's a lovely place and more than that, it's a fantastic experience.
The festival takes place from 3-8 July. Llangollen 2012 is on BBC Two Wales on Friday, 6 July at 10pm. Share your photos of the festival on the BBC Summer in Wales Facebook page.