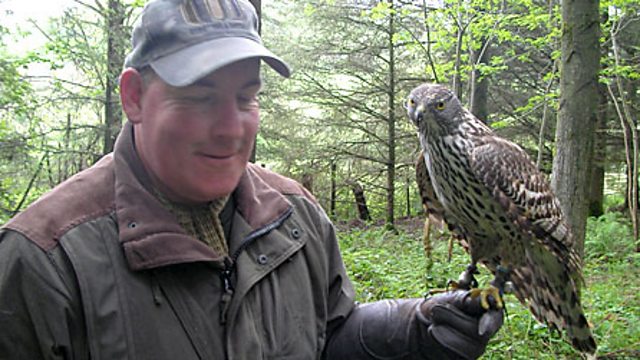 The view as you arrive is absolutely breathtaking and I almost ran resident birdman Iolo Williams down, as I pulled into the carpark.
The teams were already heading out for the day's filming so I literally had just enough time to sling my bag into my room and hop in a car with Simon King and Ed Charles.
We were off on a mission to film Gelert, a young male juvenile goshawk, flying at speed through a pine forest using a special high speed camera.
After lugging the kit down through a steep, dark, pine forest we arrived at the quagmire and set up for filming.
Chris and Scott from Mid Wales Falconry joined us to handle Gelert and encourage him to chase the bait, which in this instance consisted of a dead chick of some description.
It's not what I'd want for breakfast but then again, I'm not a bird of prey.
Despite drizzle and poor light, Gelert was keen to perform so we attempted two fly-throughs before he became bored and disappeared up a tall tree somewhere; no doubt scoping out the local pheasant population!
The sun made a brief appearance for our final take and the results were absolutely stunning - all will be revealed on monday night!
Right - I'm off to clean my boots ready for tomorrow...

The Gull